The future of location scouting is upon us. Repeat visits to locations due to missed pictures, sifting through thousands of still shots, and burning time and money on travel, could soon all be a thing of the past.
Virtual location scouting with 360 cameras is changing the game, making location scouting safer during COVID-19, and turning chaos into order. Portable 360 cameras like the Insta360 ONE X, ONE X2 and ONE R allow production teams to scout locations remotely and more efficiently.
Highly acclaimed American cinematographer Shane Hurlbut, ASC has adopted the ONE X for location scouting on his recent projects, including the Disney+ exclusive film "Safety". We interviewed Shane to learn more about his work on this exciting film directed by Reginald Hudlin.
As Shane explained:
"Having the power of that camera in your pocket is impressive as hell."
Check out below one of Shane's virtual location scouting videos for the Disney+ exclusive film "Safety".
Clemson Work Out Facility Insta360 X from Filmmakers Academy on Vimeo.
1. Can you tell us a little about the movie and the locations that you scouted?
The film follows Ray-Ray McElrathbey and his younger brother Fahmarr. Ray is a freshman defensive back at Clemson University who takes custody of Fahmarr as their mother struggles with addiction. This forces Ray to balance classes, football and raising a child.
It's a fantastic film that transcends the game of football. It illustrates a deeper story where Clemson and its football organization warmly embrace Ray and Fahmarr as part of the Clemson family.
For Safety, we scouted a wide variety of locations ranging from impoverished areas in Atlanta to Clemson University. Clemson is approximately a two-hour drive away from Atlanta, which is one of the main reasons we needed to streamline the location scouting process. Having to go back and forth to locations for missed measurements and pictures would have been a nightmare.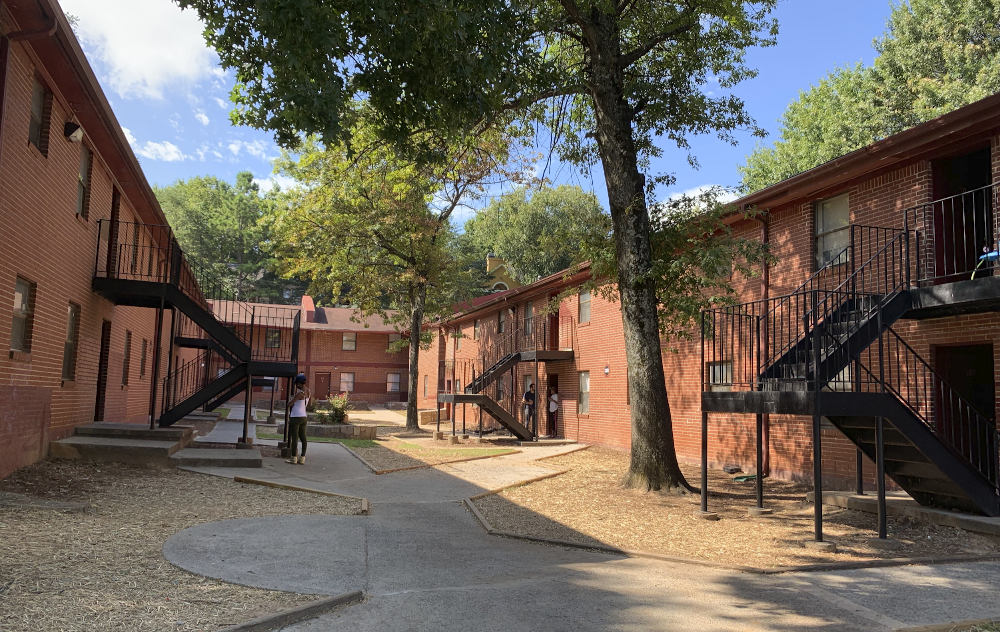 2. Before 360 cameras, what was a standard location scout usually like?
The process of location scouting has hardly changed in over a century. You all hop in vans and drive to a location, and you're typically there with a production designer and your grip and electric team. You then begin scouting the location taking hundreds of pictures and measurements.
Having to go back and forth to multiple locations 10 and 12 times to take more measurements and pictures isn't unusual. There's nothing more exhausting than prepping for a movie and as you probably realize, this is not the most efficient way to operate.
Before 360 cameras, I would have to take the time to try and do 360 snapshots and videos on my DSLR. It was a real hassle downloading all the material due to pure volume and large file sizes. Then began the task of trying to locate and piece together all of the pictures into a seamless panorama, which was incredibly time consuming and highly inefficient.
3. How are 360 cameras helping change the game for location scouting?
First of all, the speed of capture and simple workflow is incredible. I literally put it on the end of the selfie stick and walk the whole room and document the space in its entirety. I can usually do a room in under 45 seconds.
In pre-production, we are racing against the clock, so a solution like this is huge. Also, by massively reducing the time spent at locations, we are less of a disturbance when scouting. As a result, we have much better relationships with location managers and property owners.
Secondly, having that much power in your pocket is mind-blowing. The Insta360 ONE X shoots 360 videos in 5.7K resolution and 360 pictures with 18MP HDR capture. I'm already in the mindset that I don't need to see a location in-person if I see a good virtual location scout.
"With 360 cameras you're able to document the whole location thoroughly and efficiently, and then immediately share this with everyone."
We also shot locations using Matterport. Matterport integrates seamlessly with Insta360 cameras and allows us to quickly capture and create a virtual walkthrough of a location.
Within the scan, we can pull accurate measurements, and easily tag items of interest and even add in pictures and videos, using the Mattertag feature. This makes it a dream for grip and electric teams who can take measurements and make detailed notes within the scan. All this is done so beautifully.
Virtual location scouting is going to be a big part of our future.
4. How much time and money does the 360 camera save you on productions now?
Virtual location scouting with a 360 camera is incredibly efficient. It gives me much more time to focus on the filmmaking process and allows me to do my best work.
I'm not wasting hours trying to put pictures together or trying to figure out what was in the ceiling and what was on the floor. I'm no longer panicking that we had to rush out of a room, and that I didn't get enough photos. Repeat trips to locations due to missed documentation are exhausting. They increase production costs and cause delays.
Once the scan is done, I can then immediately download the virtual location scout, and start working on schematics, schedule, lighting lists, cameras or testing equipment. This solution gives me more time to concentrate on other high value activities.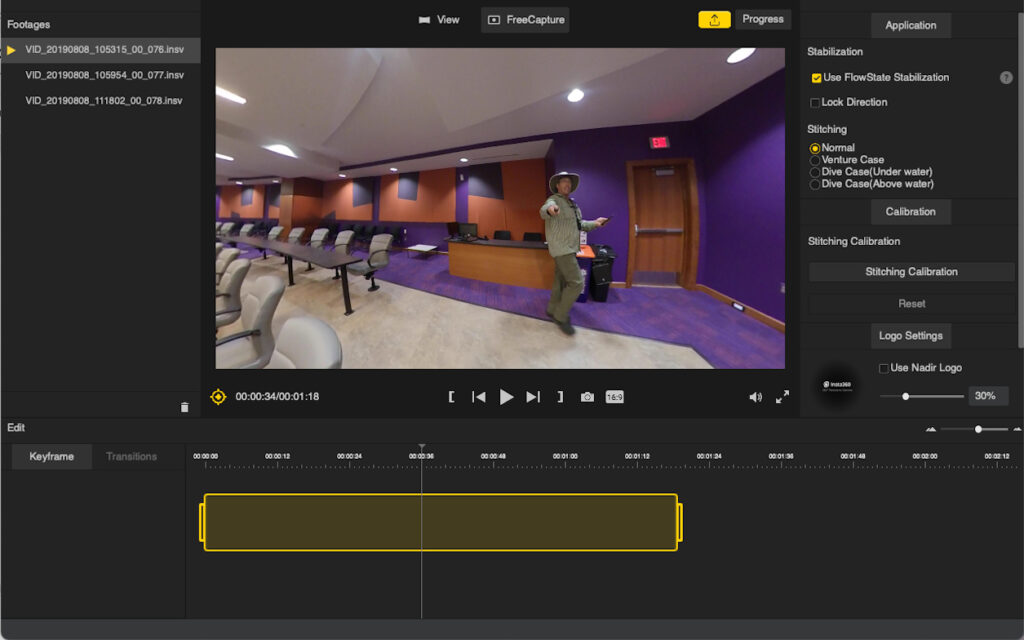 In addition, virtual location scouting with a 360 camera means that you can conduct a virtual scout without the grip, lighting, art department and need for transportation. All of the teams' work can be done virtually using the 360 footage. Less bodies on-site reduces the production costs massively.
We will continue to educate our teams on how to use these tools efficiently and effectively. It has made all of our lives much easier while saving a ton of time and money in the process.
5. How has COVID-19 affected the location scouting process?
As with most industries, COVID-19 has really shaken things up and changed the way we work. We aren't all able to jump in a big van together and head out to a location anymore.
On my last movie we all self-drove and had to pay for parking. I racked up somewhere close to $200 worth of parking meter payments and that was just me. Imagine the total cost of everyone involved in the scout.
Ensuring the safety of our industry professionals is of the utmost importance. This tool not only saves us time and money, but also helps keep us safe and socially distanced through being able to location scout virtually.
6. How do you review the 360 footage after?
I transfer the footage from the camera to the Insta360 Studio app that's on my computer. Anytime that I want to share files, I simply lock the position on the video, download in 1080p, and send. I also meet with department leads, and we sit around a big-screen television and go through each location in detail, breaking down the specifics.
Using the Insta360 Studio app, I am able to block and create shot lists for the whole movie, all based on virtual videos.
Alternatively, we use Matterport to create virtual walkthroughs as mentioned previously. For these, we simply upload the tour to the Matterport Cloud, and then share a link to access it.
7. What advice do you have for others in the filmmaking industry who are looking to start using 360 cameras?
Firstly, it is important to ensure that the production team is educated to use this tool and how to integrate it into their workflow. This is especially the case for grip and electric teams. They are generally still in the mindset that if they don't see a location in-person, then they can't commit to it. This will change.
Grip and electric teams need to be trained to use apps such as Matterport which they can use to pull measurements and obtain floorplans from the 360 scans. This then allows them to measure cable runs and figure out where to put generators among other tasks.
I would also encourage experimentation with 360 cameras due to their extreme versatility. The applications of this tool go far beyond location scouting. The next level is having the set deck teams, production designers and art directors using 360 cameras to stage locations and prep virtually.
For future productions, I plan to utilize 360 cameras for image capture in many different ways. Particularly with a lot of sport dramas that I work on, I can use this tool to put the audience in the game and give them more of an immersive experience.
The learning curve for using a 360 camera is very shallow, but we need to give our teams time to learn and adjust. As the technology evolves, we must too. This is the future, and we need to commit to education and training.
"Safety" is now available to watch on Disney+. Check out a trailer of the film here:
---
Keen to keep up to date on Insta360 stories? Keep an eye on our blog and sign up for our mailing list.