Insta360 announced today a new firmware release for its AI-powered webcam, Insta360 Link. The firmware brings all-new features and improvements to Link, including Smart Adjustment.
The update is available to download now via Insta360's website.
New Smart Adjustment
Don't worry if you're on the move all the time, Link will adjust to your new location with you! With the Smart Adjustment option enabled, Link will automatically adjust to the best angle when connected.

It'll pitch up and down to look for you and once you're found, Link will adjust and center your face.
If you're not in frame when Link is smart adjusting, Link will default to its original orientation. When you're back in frame, manually activate tracking and Link will continue centering you in frame.
New Position Recovery
You asked for it, and now it's here! When Smart Adjustment is disabled, the Position Recovery function is enabled. This means Link will return to the last position it was in when connected: presets, parameters, and related settings will be remembered. Never fiddle with your settings again!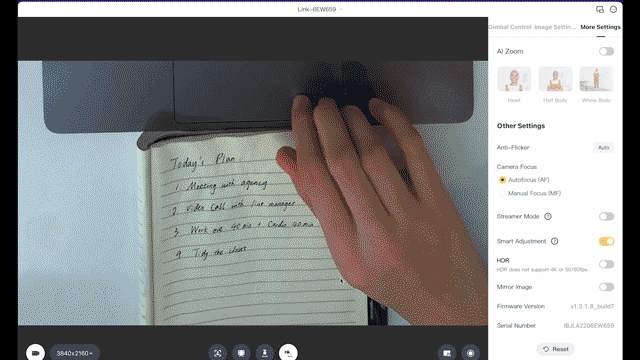 Buttons and Shortcuts
Being able to quickly switch face tracking on/off is essential, especially if you're in a position where you can't or don't want to use hand gestures. With that in mind, the Link software now has a single-tap button to switch on/off face tracking.
Streamers will now also be able to use Link with Stream Deck. Stream Deck lets you automate basic tasks and pairing Link with one is sure to give streamers finer control of their stream.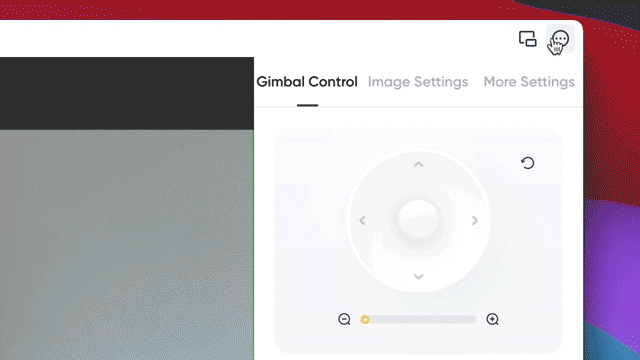 Setting up and connecting Link and Stream Deck is fast and simple. Connecting the two gives you access to Hotkeys that can help you control Link. Easily switch between different modes such as Tracking, Whiteboard Mode, Overhead Mode, and DeskView Mode with a press of a Hotkey. Presets and even switching between different devices can also be quickly enabled.
More Zoom & New Portrait Resolution
Presenters and teachers will love this one: you can now zoom in up to four times in 4K mode. Free from the confines of your desk, you are able to move around without losing your audience. Use the space around you and zoom in to capture specific details in crystal clear 4K.
1080x1920 is now also available in Portrait mode. Switch between 1080x1920 and 1088x1920 to best fit your streaming needs. Depending on what software you use, 1080x1920 could be the future of streaming. For example, clips from your stream could directly be cut and uploaded as a YouTube Short without losing quality.
It also allows you to post directly onto social media platforms and can transfer your videos directly to your mobile device for editing without losing video quality.
Available Now
Having the best face-tracking webcam is essential if you're serious about working online. A built-in laptop camera will put you in front of people, but it provides limited-quality visuals and audio compared to Link.
Insta360 Link is available to buy from Insta360.com and select retailers. It retails for US$299.99, including the webcam, 4x reusable whiteboard recognition markers, USB-C cable and USB-C to A adapter in the box.
---
Keen to keep up to date on Insta360 stories? Keep an eye on our blog and sign up for our mailing list.