Insta360 today announced the 20th and largest update yet for the Insta360 ONE X app, alongside the first major update to Insta360's latest camera Insta360 GO. iOS 2.0.0 (ONE X) and iOS 1.3.0 (GO) will go live in mid-November to bring better visuals, better audio and an optimized editing experience for creators.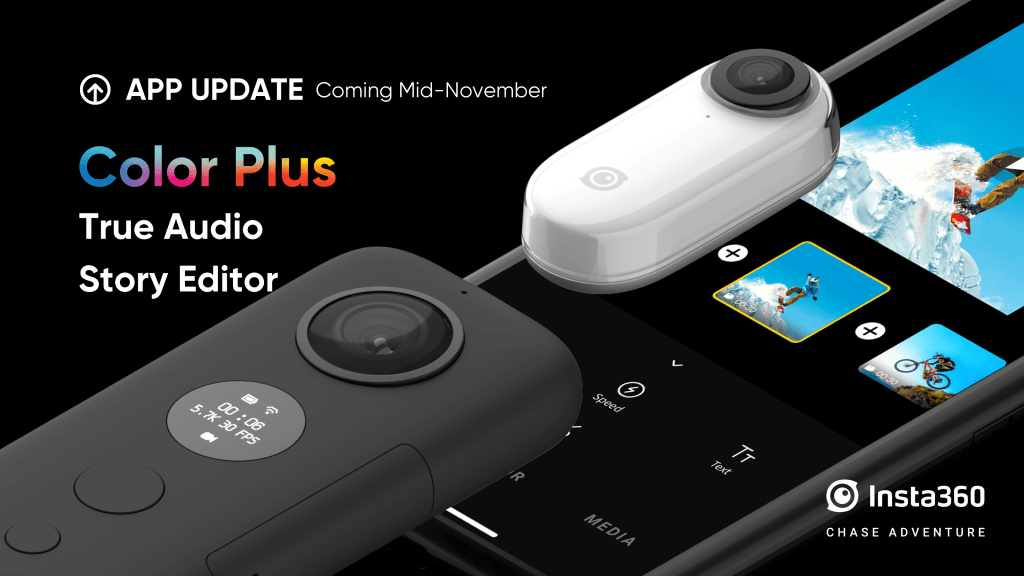 Here's a preview of what you can look forward to with the coming update.
1. Better Visuals
The big feature coming with the update is Color Plus. When toggled on, it adjusts your footage after the fact, accounting for tough lighting conditions and color differences in your video. The end result is more vivid colors and a more balanced dynamic range in your footage.
In addition to iOS versions of the ONE X and GO apps, Color Plus will also be available for the Android GO app and desktop Insta360 Studio in mid-November.
2. Better Audio
The second big feature coming to ONE X is True Audio (the feature is optimized for multi-mic 360 cameras and is not supported by the single-mic GO). When toggled on, it uses AI to filter sounds in your footage, balancing audio to be closer to how the human ear perceives it. The algorithm will detect and separate noises, singling out unwanted sound and boosting your voice, resulting in a natural sound profile.
True Audio can help significantly reduce ambient noises made by:
Wind
Vehicles
Alarms
Machines
Construction
This new feature will prove useful for scenes where environmental sounds get in the way of shooting a great video. Whether riding a bike on a windy day or walking through city streets, True Audio makes sound more true to how the human ear perceives its surroundings.
This feature can toggled on or off as desired. True Audio will also be supported on Insta360 Studio.
3. Story Editor
GO users can already create a story in the GO app, with multiple scenes being edited together to create a longer narrative. This has long been a desired feature of the ONE X app to reduce dependency on third-party solutions. With the new update, ONE X will deliver on that with its very own Story Editor.
In Story Editor, users can now compile and merge multiple clips and edit them into a single video. Users can also add and edit together footage from other cameras, including smartphone cameras and GO, with their ONE X footage. Story Editor also offers a host of effects, filters and text options to choose from. It makes editing on your phone even easier than it already was.
Creators can download the Insta360 ONE X, GO and Insta360 Studio updates starting mid-November.
---
Keen to keep up to date on Insta360 stories? Keep an eye on our blog and sign up for our mailing list.