A lot goes into ensuring a city's sewer system is maintained in optimum condition. Pipes need to be regularly inspected to check if they need repairing or even replacing. Otherwise, pipes could collapse, causing contamination of water resources and serious consequences for communities.
Surveyors must therefore regularly check pipes for cracks, blockages, leaks, corrosion and other defects. But traditional sewer inspection processes are often time-consuming and inefficient. They rely upon manual processes to check for defects on-site, which can potentially lead to missed defects.
Mr. Yoon Seong Su of BlueFox Systems, a sewer maintenance software development company, has 21 years of experience in sewer CCTV surveying. According to him, VR sewer cameras have the potential to replace traditional solutions.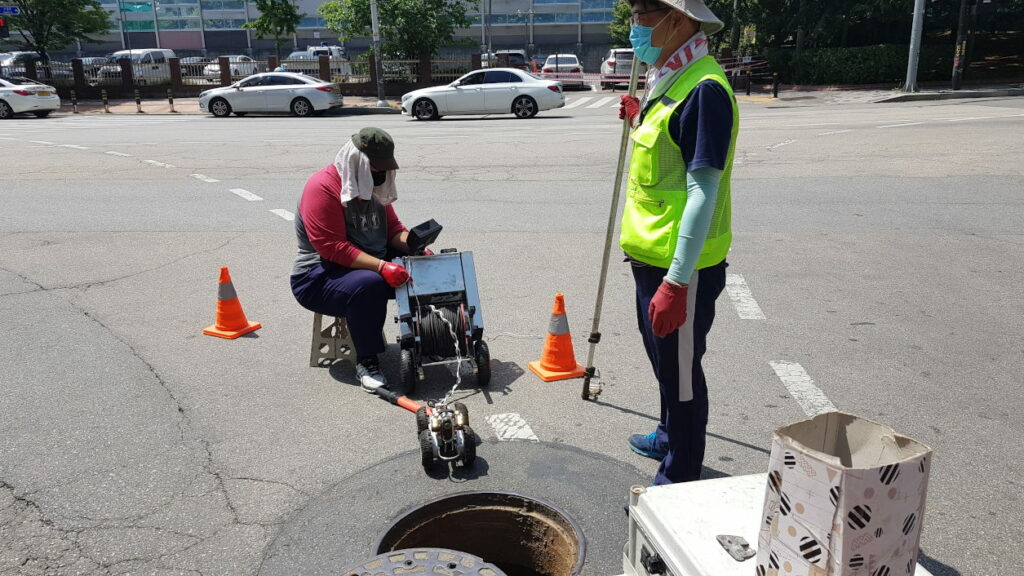 VR technology offers the ability to capture pipes in 360 degrees, ensuring no defects are missed and enabling the ability to check for defects after leaving the site. Read on to find out more about these VR sewer camera solutions from Yoon.
Traditional Pan and Tilt sewer inspection solution
Because surveyors cannot inspect pipes from above ground or physically access pipes underground, the most common solution is therefore to use a robotic CCTV camera crawler transportation unit.
This traditional sewer inspection method is known in most countries as the Pan and Tilt survey. You insert a CCTV camera crawler into the sewer pipes through a manhole. There is a CCTV camera mounted on the crawler which is able to rotate or change direction as needed.
The operator will monitor the CCTV camera above ground and remotely control the camera, manually rotating it to capture defects and different points of the pipe.
According to Yoon, this operation can be quite time-consuming on site. "In Korea for instance, operators must pan and tilt the camera to each defect and every connection of pipe point. In the case of a 50-meter length survey, it can take 12 to 15 minutes to record a video," said Yoon.
This operation also depends on operator skill—if the operator misses a defect on site, it will not be correctly recorded in the video. If the customer requires, the operator might need to go back on-site after to retake the video.
The potential of a low-cost VR sewer camera inspection solution
VR has the potential to replace traditional Pan and Tilt surveying solutions. With a VR solution, all the local operator needs to do is direct the crawler to move forward and then capture VR video in all directions—no panning or tilting required.
In the past 10 years, some large companies have since turned to VR cameras to create a more efficient sewer inspection solution, like IBAK's RapidView IBAK Panoramo Sewer Pipe Inspection System. But these systems are very expensive, often costing more than $100K USD. The cost of a traditional PT crawler is usually only around $25K-30K USD. So their systems haven't been adopted widely in the market and only a few contractors have used them, according to Yoon.
But in recent years, VR technology has become a lot more accessible and low-cost 360 cameras are now widely available on the market.
Yoon has tried Samsung, GoPro and other 360 cameras in the search of a low-cost VR solution. But according to Yoon, "We've found the Insta360 ONE Series cameras to be the most ideal for capturing sewer surveys. With this small camera, the video quality and performance is very good and the end result is not that different from the $100K VR sewer inspection equipment."
We've found the Insta360 ONE Series cameras to be the most ideal for capturing sewer surveys.

Yoon Seong Su, BlueFox Systems
Check out this raw 360 video footage shot on Insta360 ONE X:
*The plastic front case of the crawler has been scratched in this video due to wear and tear. 
VR sewer cameras save operators time on site
With 360-degree footage captured on site, the panning and tilting of the camera can then be simulated by reframing the video in editing software. This can be done in an office environment, saving operators time on location.
Check out this video from BlueFox systems to see how the video pans towards a defect at 0:25. Rather than the operator having to manually turn the camera at this point, the operator can now just reframe the 360 video in post to point the camera at this point.
"By filming with a 360 camera, this saves the operator time and they don't have to worry about missing a defect and having to come back later to reshoot. The 360 camera will capture in all directions," said Yoon.
BlueFox Systems is also designing a new crawler specifically for VR sewer cameras that helps save operators more time on site. Traditional crawlers are very big, weighing up to 20kg, because it needs to support a heavy PT camera. But a VR crawler can be very light, saving human labor at the site. BlueFox's VR crawler weighs in at only 6kg.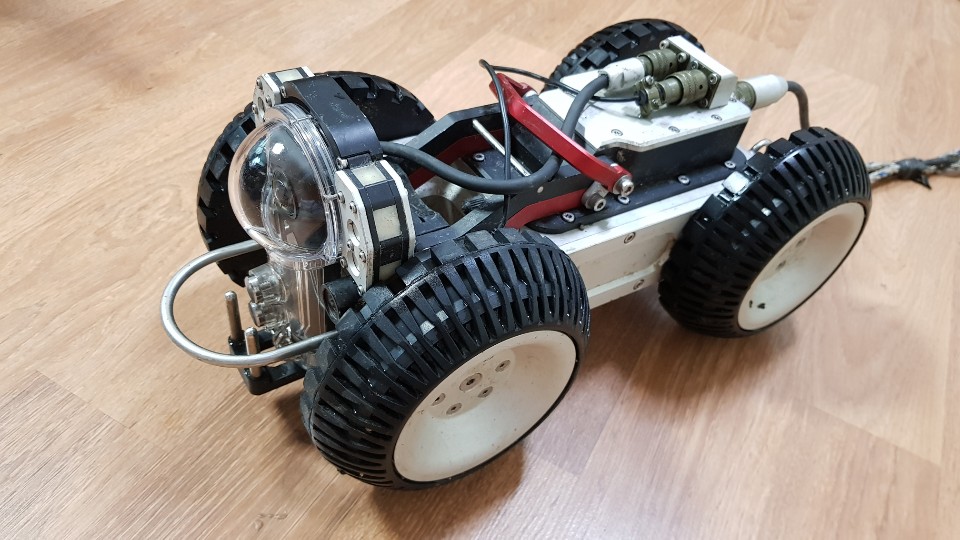 "Our crawler also moves 13 meters a minute, meaning a 50 meter survey only takes about 4 minutes, compared to 15 minute traditional solution," said Yoon.
Meeting government regulations with VR sewer inspection solutions
An issue with some VR sewer inspection solutions on the market is that they don't support adding captions to the video. Captions are very important because the customer (in most cases, a government officer) needs to check the meter data on certain defects, referring to how far the crawler has moved inside of the pipe. And all videos need to have the pipe reference number and other important info recorded on the video as a caption.
In many countries, sewer inspection processes and results must meet local government regulations. VR sewer inspection is allowed in Japan, USA, and some places in Europe, but not yet in other countries because of this.

BlueFox Systems has therefore designed a new software tool to help add the necessary captions to 360 sewer camera videos. In the above video, you can see the pipe information is added as a caption and the meter display is shown on the top left side. This is identical to the traditional survey record (Note: some captions have been blurred to protect customer information). The meter display and PT data for defect points are recorded in an xml file and some survey results can also be used in GIS tools for road view mapping.
BlueFox Systems is also working on developing a software solution using 360 images. "It is faster to find defect points with a 360 image than through video. Now our partners are developing automatic defect recognition algorithms through video patterns," said Yoon.
---
Keen to keep up to date on Insta360 stories? Keep an eye on our blog and sign up for our mailing list. You can also contact our Enterprise team directly to see how 360 cameras can benefit your business.