Imagine watching a live concert in VR, on stage with your favorite performer. Or, learning how to perform a surgery in real time from the perspective of the world's most pre-eminent surgeon. These are just some of the possibilities of VR live streaming.
Some other ways VR live streams have been used in recent years include:
Compared to a traditional live stream, VR live streaming offers a more immersive experience and as a result, better audience engagement. You can also show unique points of view that you might not be able to with a traditional broadcast, for instance by mounting the VR live streaming camera on a goalpost.
But VR live streaming also comes with technical challenges compared to traditional live streams. The general steps for any VR live stream include capture, encoding, packaging, transcoding, delivery and playback. So here's the ultimate guide to pulling off a VR live stream, from choosing a camera to the right playback device.
1. Choosing a VR live streaming camera
First, you'll need a professional VR live streaming camera to get started. In choosing a VR live streaming camera, you might consider factors such as:
Live streaming resolution: Industry-leading cameras can stream in at least 4K or even up to 8K quality
Supported live streaming protocols and platforms, e.g. RTMP, RTSP, HLS, Facebook and YouTube.
Supported live streaming software and workflow: Does the camera come with software or will you use a third-party software?
Insta360 Pro 2 and Titan are two VR live streaming cameras which support both 4K and 8K live streams. They both come with a free streaming software, as well as support third-party software as well.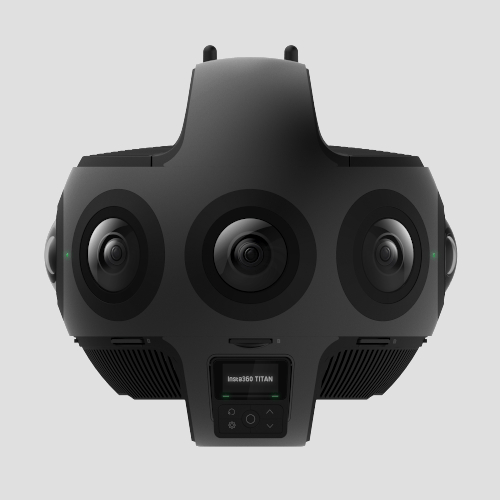 VR live streaming in 4K
For a 4K live stream using Insta360 Pro 2 or Titan, all you need is the camera, a computer, phone or tablet, and a stable internet connection.
Using the Insta360 Pro or Insta360 Titan free camera control software, you can stream in 4K and customize your stream's property settings, bitrate and frame rate. Then you can easily push your video stream to major social platforms like YouTube and Facebook in just seconds. Check out the tutorial below to see how it works:
The Insta360 cameras have a built-in server that will encode and package the streaming feed using common protocols like RTMP, RTSP and HLS. The built-in server also stitches the footage for streaming automatically, eliminating the need for a separate stitching software. You can also save the full-quality 8K unstitched files for later productions.
VR live streaming in 8K
In-camera stitching is faster and makes for an easier workflow than using a separate stitching software. But you also sacrifice some accuracy and resolution with in-camera stitching due to hardware limitations.
If you want to further immerse your audience in 8K quality, you can use the Insta360 8K Live software (license sold separately).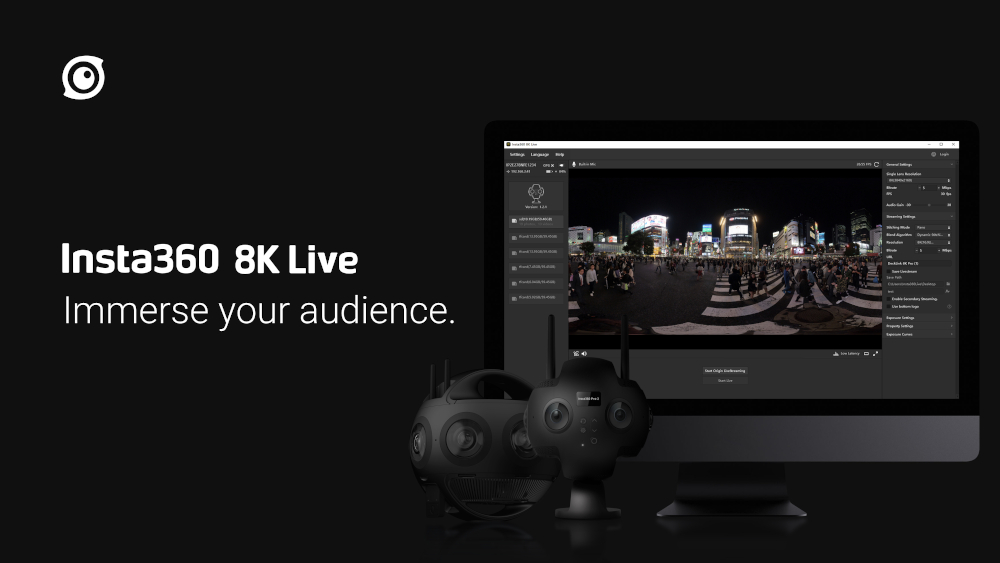 With Insta360 8K live, your footage will be stitched in real time in 8K HDR at 30fps, ready to be streamed through a cloud-connected streaming server. Insta360 8K Live supports:
RTMP and RTMPS protocols
H.265 codec
HDMI and SDI output, which can be inserted into a traditional TV broadcast.
Simultaneous recording of the stitched live stream
2. Customizing your VR live stream further
If you want to customize your live stream further, you can use an additional desktop or web-based streaming software. Some common software options include:
OBS Studio
Open Broadcasting Software (OBS) is a free and open source software encoder for live streaming. It provides powerful encoding and data transmission functions with the ability to adjust scene composition, enable picture in picture, switch between multiple cameras, and add titles and additional text.
The broadcasting is done via the Real Time Messaging Protocol (RTMP), and any platforms that support the RTMP protocol can ingest the feed, such as YouTube and Facebook.
Wowza Media System
Wowza Streaming Cloud is a web-based live streaming service platform that ingests, transcodes, and delivers the live stream through a cloud server. You can set the parameters in the browser-based interface, and Wowza Media System will perform adaptive bitrate transcoding to accommodate different network connections. It supports RTMP and HLS protocols.
Check out these Wowza tutorials for Insta360 Pro 2:
3. Using a CDN to live stream to a global audience
If you have a large global audience, you can use a content delivery network (CDN) to deliver the live stream through a server closer to your audience. A CDN helps to reduce video latency, making the playback as close to real time as possible.
Here are some common CDN and cloud server platforms, which you can evaluate based on your business needs:
4. Choosing playback devices
You're almost ready now, aside from the playback device. VR live streams can be watched using an internet browser, an app on a mobile device, a TV or a VR headset. These different devices often require different streaming protocols and have different screen resolutions depending on internet connection speeds.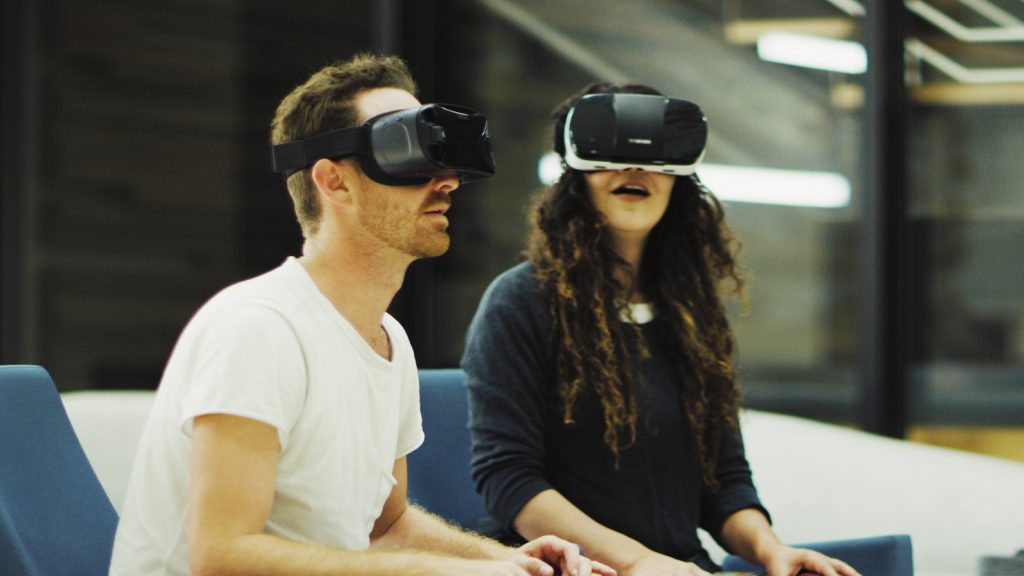 Common desktop or mobile players like PotPlayer, Insta360 Moment Player or YouTube and Facebook can all support 4K VR playback.
If you want to playback an 8K live stream, the device needs to be capable of 8K hardware decoding. Some options available include:
8K televisions like the Samsung QLED 8K Smart TV, which can playback the 8K resolution video stream
VR headsets like the Skyworth V901 headset, which can decode a 8K stream and playback in 4K
Due to internet bandwidth and playback device limitations, many VR live streaming projects are still limited to 4K. But 5G technology has the potential in the future to deliver lower-latency, higher-resolution live streams to more devices than ever.
---
Keen to keep up to date on Insta360 stories? Keep an eye on our blog and sign up for our mailing list. You can also contact our Enterprise team directly to see how 360 cameras can benefit your business. 
*Insta360 is not affiliated with nor endorses the brands and services mentioned above.