What does immersive virtual reality (VR) mean to you? Is it something for entertainment? Education? Advertising? For JF Malouin, founder of Super Splendide, a specialist VR production company, VR is much more than that: it is a powerful tool that can contribute to society and make a difference in people's lives.
Super Splendide is currently developing an app which will bring immersive virtual reality experiences of nature, beauty and culture to people who are physically unable to reach them. They hope the app can primarily help elderly people, people with disabilities and those in palliative care, after the success of a prototype experience for a patient in palliative care and in respite homes.
As JF explained:
"It is often the people who can't reach nature that are the ones who need it most."
JF recently returned from a shooting trip for the project in Canada's Côte-Nord, a coastal region of Quebec, using the Insta360 Titan.
1. Can you please introduce yourself and your company, Super Splendide?
My name is JF Malouin, I'm a digital artist and entrepreneur. I've shown my work, mostly in VR form, all over the world, including Montreal, New York, Sao Paulo and Seoul. Before I started exhibiting I spent 15 years at Ubisoft, as an artist and managing creative teams.
What I like about VR is that it's a great way of exploring the human condition because it deals with perception and feeling.
VR has a reputation for being a cold, technological medium but actually its very warm. It's all about sensitivity, perception and sensorial systems.
At Super Splendide we focus on positive development, using immersion & virtual reality as a means for better quality of life and social improvement. We have lots of projects related to psychology and mental health therapy. We also work closely with heavy industries to develop virtual training programs for health and security in the workplace. More recently, we became interested in how immersion can help elderly people, people with disabilities and those in palliative care.
2. What is the story behind the immersive virtual reality app you're creating?
During the pandemic we brought all our social projects together under a general theme of 'meeting nature'. We thought all the different groups of users could find some benefit from nature in a VR format. We wanted to create something where people have control of their surroundings, and where they can spend time with someone, rather than an isolated VR experience. Plus, we're talking about groups that aren't used to VR or tech, who are sick/tired, or don't have control of their limbs, so accessibility is important.
Overall, the goal is bringing nature and beauty to people who can't reach it, in an accessible, multiplayer format. The app will be for anyone who badly needs to get in touch with nature and beauty but unfortunately can't. There are so many people who have neither the means, health or ability to go out to a peaceful lake, to enjoy forests, beaches, mountains, cliffs and seas. And it is often the people who can't reach nature that are the ones who need it most.
Of course, there is a huge concentration of this population in retirement homes, nursing homes, hospitals, palliative care, respite homes and so on. That's why we collaborate with these establishments, since they already serve the various populations we're focused on with this project. We figure we can support the system that's already in place, and learn from them as we go.
Going a bit further, we have also reached an agreement with the McGill Mindfulness Research Lab (MMRL) at McGill University, Montreal. Researchers at MMRL will measure the actual effects of our app on users' mood and mental resilience. Involving science in our work is important , especially as we aim to help people who can be considered vulnerable.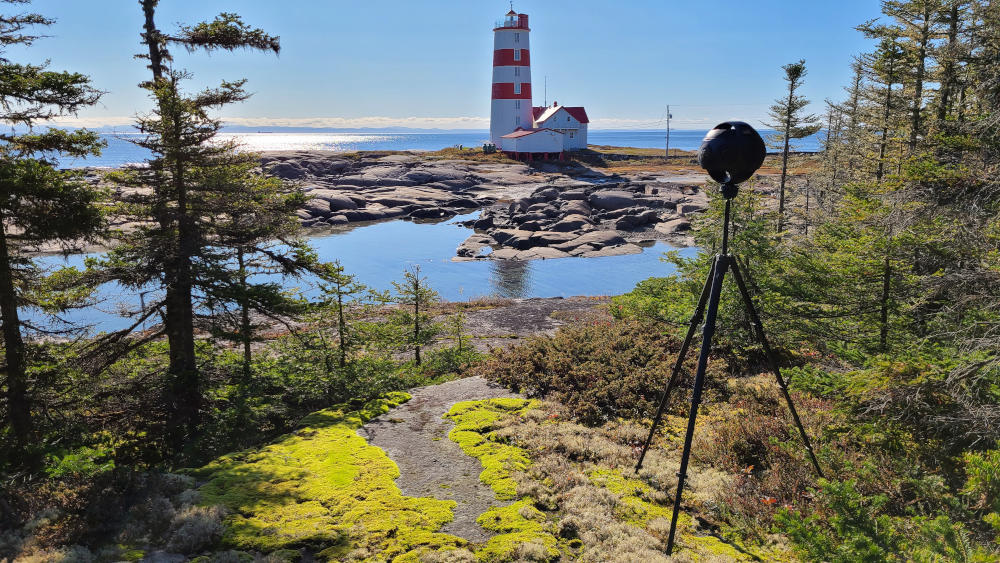 3. What were you shooting on this trip and why?
We were searching for special, inspiring locations to shoot in three rough groups:
Breathtaking nature, untouched by civilization. We selected landscapes for their purity, uniqueness, scale, theatrical quality, etc.
Unforgettable pieces of heritage. Peculiar churches, abandoned settlements, little treasures of architecture, sacred sites, inspiring man-made beauty, etc.
Performances of deep-rooted culture. Singing, playing music, storytelling and traditions such as cooking or hunting, any form of human culture hidden within the land and true to its region, unpolished by the media or showbusiness.
We mostly focused on nature as this is the main aspect of the project; nature with personality. We shot powerful waterfalls, lazy streams, dramatic rocks facing crashing waves, forests of green and gold, even woodlands destroyed by fire.
We want people to be both peaceful and stimulated when using the app.
We want our users to be in awe of nature's beauty, whether for its strong, marvelous temper, or its incomparable aesthetics.
And the second aspect we would play around with was light: cold blue light, golden sunsets, heavy grey skies, etc. This brought a different dimension to nature's character each day.
We also wanted to explore aspects of culture and heritage. We did some testing and found that including art, culture or tradition in a natural setting had a huge emotional impact on people. Visiting places of heritage such as important architecture or meaningful landmarks, listening to music, and other things that relate to culture, they're all things that move you. We want our content to be moving.
The ideal situation for the final experience would be as you explore nature through various landscapes, you come across a certain heritage site, and then maybe a musician or orchestra. That's how I imagine them working together in an immersive virtual reality experience.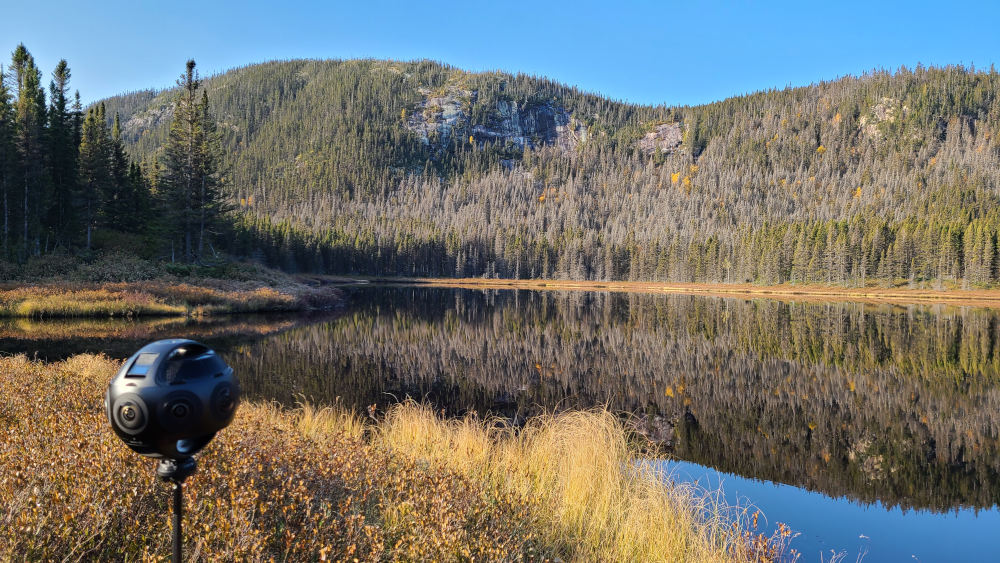 4. What made you choose Insta360 Titan for this project?
Well to start with, we bought two Insta360 ONE R cameras that we used to do the prototype shooting for this project. I was really impressed with the app for ONE R and the workflow. The camera was so easy to use and very flexible.
From that point we did a lot of research online, watched lots of YouTube tutorials on different cameras. We wanted the best quality camera with the best resolution and easiest workflow. Based on our research, Insta360 Titan looked extremely versatile, and it was clearly high quality, with top-class resolution and 10-bit color.
Especially compared to other cameras we researched, Titan just felt reliably good quality. And there wasn't any big tradeoff. With other cameras it was like "one thing is really nice but… the focus is odd, or it won't work in that situation". Titan was constant and just had solid performance all round. We couldn't mess around.
We needed our camera to be as reliable as a tank! That's what Titan is, which was perfect for us; we didn't have to worry about it.
The second thing was the app. All the software that surrounds the Insta360 environment is really impressive. The way the company thinks about the user is something I really appreciate because its professional stuff but at the same time it feels like a toy. So overall, the camera was great and we were really happy with it.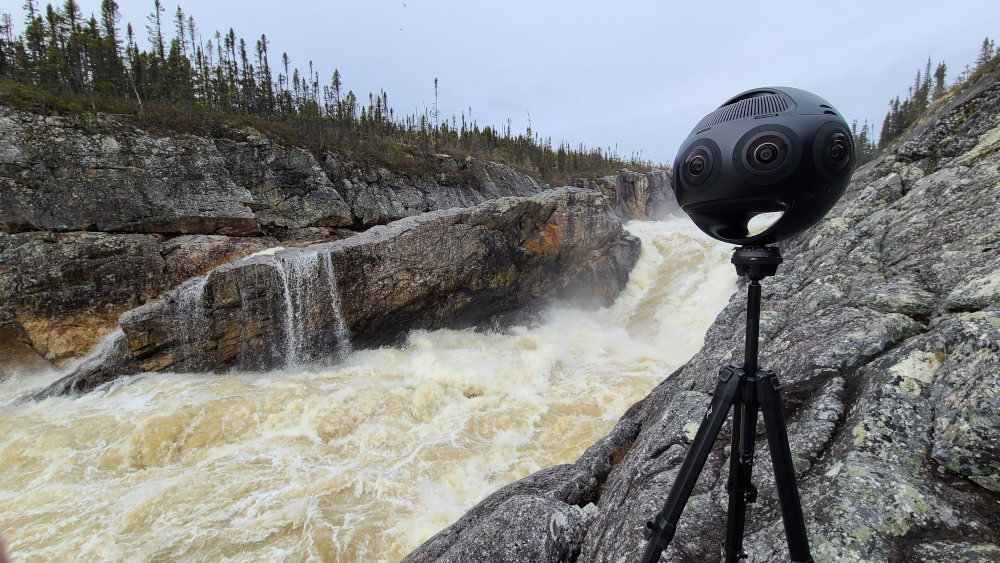 5. What advice would you give to someone thinking about buying a professional camera like Insta360 Titan?
For now, my advice would just be to play with it. If you have zero experience with 360 cameras, maybe start with a smaller camera first, like ONE R. If we hadn't done that it would have been much harder to get to grips with shooting in 360. We made a lot of mistakes and learnt a lot playing with ONE R. That said, we also learnt a lot just from YouTube tutorials, for example CreatorUp is a good channel.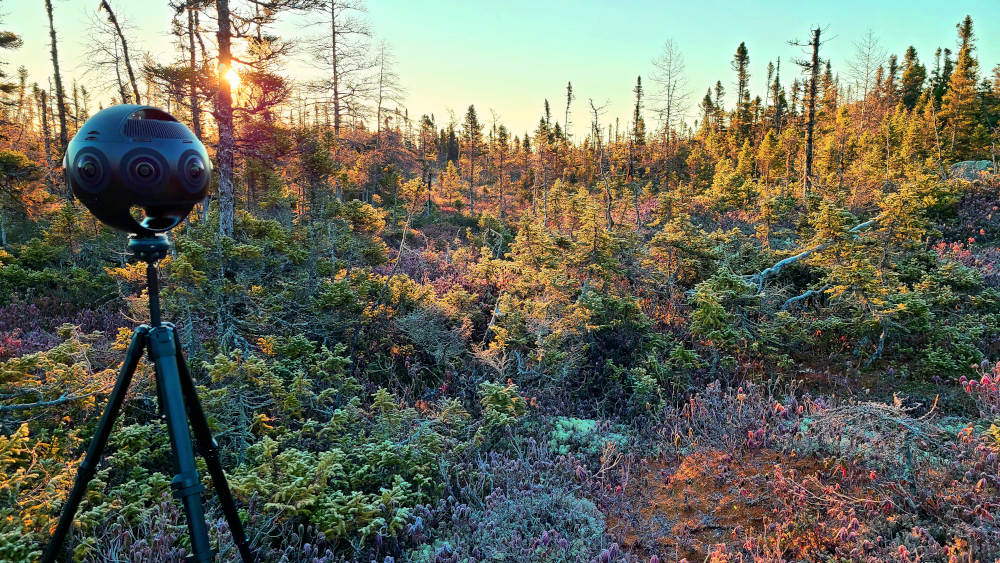 6. When will your immersive virtual reality app be available to the public?
So right now, you can play multiplayer with the prototype footage we have, VR headset to VR headset. But we are still deep in development. See, we aren't just making 360 movies you can passively watch on your VR headset; we are creating a whole new technology to explore beautiful landscapes. And since we aim for high accessibility, we need to work closely with the populations we wish to serve, as part of the design process. Considering all that, we aim to have the beta launch in September, in multiplayer and with all of the Titan footage. Then the full, paid version will be released around February 2022.
Despite launching a paid version, we will always maintain a free version of our app. We want to make it as easy as possible for more vulnerable people to use it. The money we make from the paid version will enable us to improve the experience and add more content. And we received such a positive reaction from people when filming that we will also launch a crowdfunding campaign to raise money for the project.
In fact, the social aspect of this project is so important to us that we are currently setting up a Non-Profit Organization in support of this goal: Super Sublime. Working side by side, Super Splendide will soon pass this project on to Super Sublime. In this way, the only people to benefit from the app will be the users themselves. This is quite an evolution in our work on immersive virtual reality, and we are very proud of this latest development.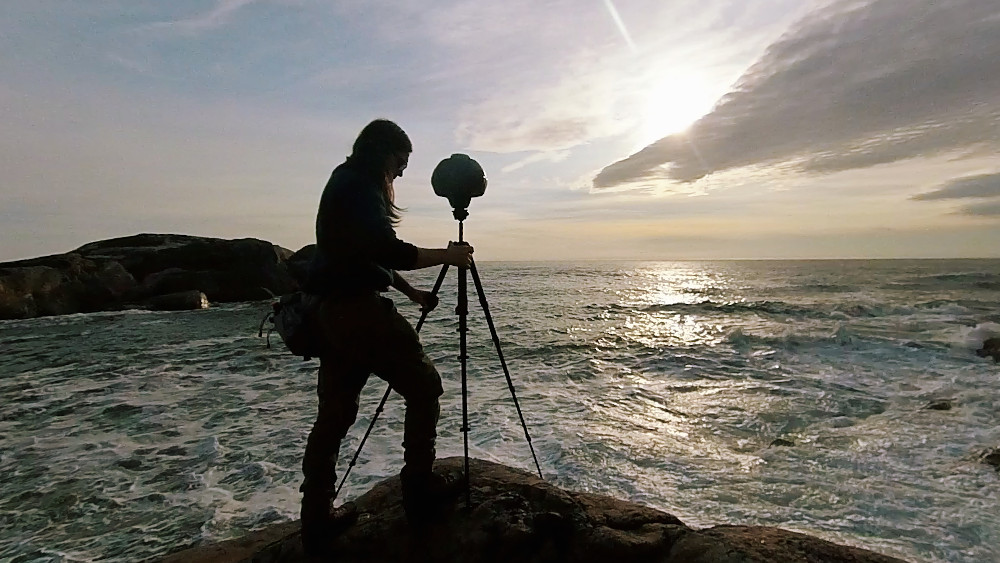 ---
Keen to keep up to date on Insta360 stories? Keep an eye on our blog and sign up for our mailing list. You can also contact our Enterprise team directly to see how 360 cameras can benefit your business.