The new Insta360 X3 Apple Bundle is now available at Apple.com and Apple stores!
The ultimate 360 action cam, X3 features 1/2" 48MP sensors, 5.7K 360 video recording, Active HDR, and the Invisible Selfie Stick effect. With 72MP photos for ultra-detailed stills, the Insta360 X3 delivers the highest megapixel count in a 360 action cam. And with 8K 360 timelapses, it's also perfect for capturing cinematic cityscapes and landscapes. The Apple Bundle comes with all the accessories needed to capture an unforgettable moment or bring a creative vision to life.
"X3 is revolutionizing the creative process for creators. Creators can edit their footage in endless different ways by shooting first in 360 and reframing later," said Max Richter, Vice President of Marketing at Insta360.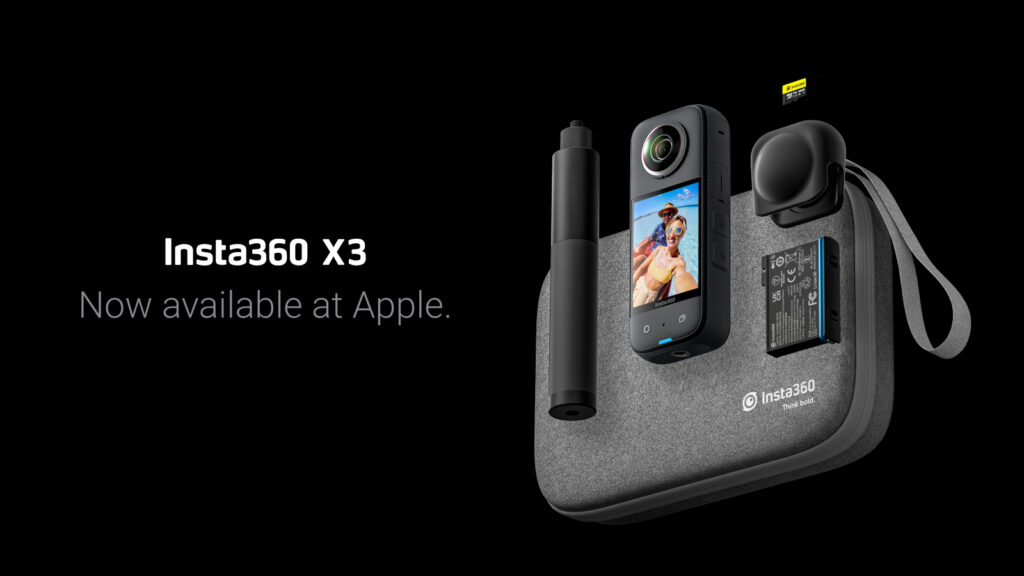 What's in the box?
The Apple Bundle includes an Insta360 X3 camera, two batteries, a lens cap, a carry case, one 64GB SD card, and everyone's favorite: the Invisible Selfie Stick. Thanks to the camera's dual-lens design, the selfie stick disappears in your final edit, creating a video-game-like effect. This bundle has everything you need to start creating and filming projects however you want, whenever you want.
Why pick the X3?
The X3 Apple Bundle marks the 8th Insta360 camera sold on Apple.com. Insta360 has been innovating 360 action cameras for 7 years with the mission of helping people capture and share their lives.
As the successor to the Insta360 X series, the Insta360 X3 was launched in September 2022. With AI-based reframing and extensive editing features, the Insta360 app uses AI technology to democratize content creation, putting tools and effects at creators' fingertips that might otherwise require years of experience. From the goofy Nose Mode to the cool Sky Swap, creators can edit more than 30 viral-worthy effects with just a few taps in Shot Lab. Insta360 X3 redefines what's possible with action cameras.
Creators can buy the Insta360 X3 Apple Bundle (US$499.00) starting today at Apple.com and in over 200 stores in the U.S., Canada, Australia, New Zealand and other select regions.
---
Keen to keep up to date on Insta360 stories? Keep an eye on our blog and sign up for our mailing list.