The new Insta360 ONE RS Apple Bundle is now available at Apple.com!
An action camera or a 360 camera? Why not both! The Insta360 ONE RS Twin Edition gives you the versatility of both an action camera and a 360 camera with one simple lens switch. Equipped with a powerful new core, interchangeable lens, and a larger battery, the ONE RS Twin Edition is built to adapt to anything and everything you do! The Apple Bundle packs everything together for creators to go wild and capture their vision on their terms.
"ONE RS was designed to adapt to our users' needs. With the versatility of ONE RS, we hope that our users are able to adapt on the fly without being over-encumbered and limited by their equipment," remarked Max Richter, Vice President of Marketing at Insta360.
What's in the box?
The Apple Bundle includes Insta360 ONE RS Twin Edition (including the 360 Lens and 4K Boost Lens), an exclusive carry case, one 64GB SD card, and everyone's favorite: the Invisible Selfie Stick. This bundle has everything you will need to start creating and filming projects however you want, whenever you want.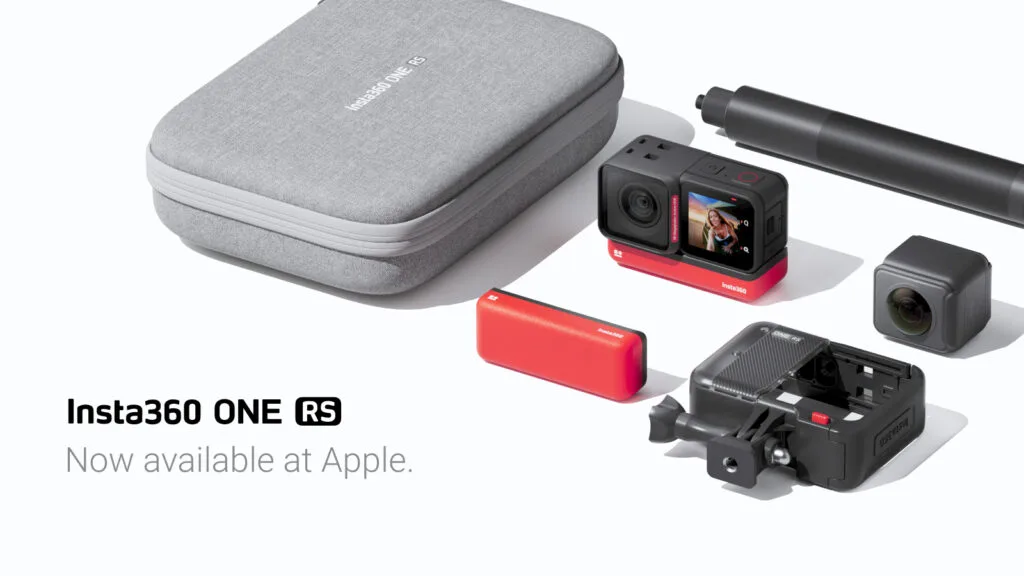 Why pick the ONE RS Twin Edition?
The ONE RS Twin Edition is built to adapt. With total flexibility and no compromises, users can shoot mind-blowing 360 and wide-angle action shots with just the swap of a lens. With the adaptability of the ONE RS Twin Edition, you can capture any angle or every angle, unlock cinematic perspectives thought impossible for an action camera, and have the best of both worlds with a simple switch. Editing is made easy with the AI-powered features in the Insta360 app and desktop software. Using the power of technology, you can find and edit your best shots in just a few taps and clicks!
Creators can buy the Insta360 ONE RS Twin Edition Apple Bundle starting today at Apple.com. Available worldwide. It retails for US$599.99.
---
Keen to keep up to date on Insta360 stories? Keep an eye on our blog and sign up for our mailing list.