One of the coolest techniques you can pull off with an Insta360 camera is also one of the simplest: You can make your selfie stick instantly disappear.
Having an Invisible Selfie Stick unlocks some pretty insane creative potential, and when you get rid of the stick, your camera's perspective is exactly the same as if it were floating in mid-air.
All you need to make the magic happen is one of our 360 cameras. Insta360 X3, ONE RS, ONE X2, and any of our other 360 cameras will do the job. Even magic has limits though, so if you've got a GO 2, your Invisible Selfie Stick will be a very visible selfie stick.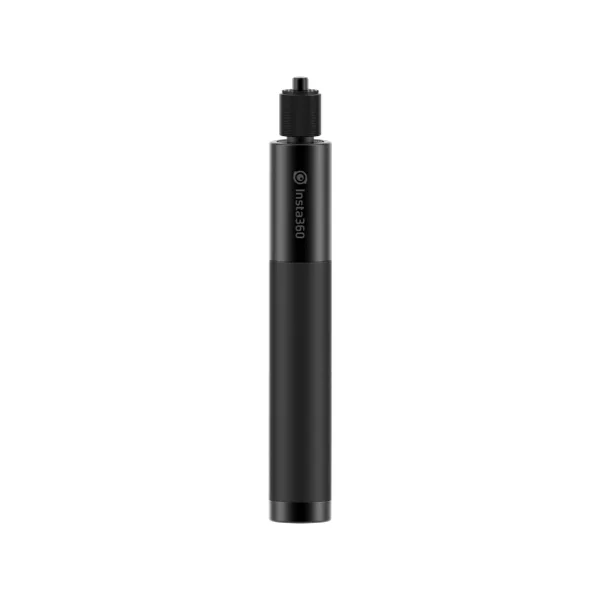 So what can you do with it? Well do you want to shoot drone footage in places where it's inconvenient or illegal to fly? Or do you want to go easy on your wallet while still getting some sweet aerials? Well, we say #NoDroneNoProblem - but there's a whole other article about that!
In a sticky spot where your cameraperson can't reach?
Want to create your own #RealLifeGTA shots?
And of course, if you're looking to capture an unobstructed aerial perspective that gives viewers the full context of a scene, the Invisible Selfie Stick does it like no other tool. 
The Invisible Selfie Stick makes all of this possible.
How the Invisible Selfie Stick works.
First, you need a 360 camera. Whether that's Insta360 X3, ONE RS, ONE X2, or something else, 360 is where it's at. If you're using ONE RS or ONE R, make sure you're set up with the 5.7K 360 Lens. If you're using GO 2, that doesn't shoot 360, so sorry but you're out of luck!
To make your selfie stick disappear, the cameras use two 200-degree lenses. Math majors will have already realized that 200 + 200 does not equal 360. That's because the cameras capture more than a full 360 degrees. There's some redundancy built-in — the content that's right at the border between the two lenses gets captured by both sides.
That overlap between lenses is the key to the magic of the Invisible Selfie Stick. It gives Insta360's stitching software the freedom to decide exactly where to stitch those two images together.
So where did we decide to place the line in our stitching algorithm? Well, we decided to cheat the stitch ever so slightly so that we could neatly edit the selfie stick straight out of existence. We have absolutely no regrets.
How to use the Invisible Selfie Stick.
The Invisible Selfie Stick is incredibly easy to use. All you have to do is … nothing. Seriously. You attach the stick, shoot photos or videos, and it's gone.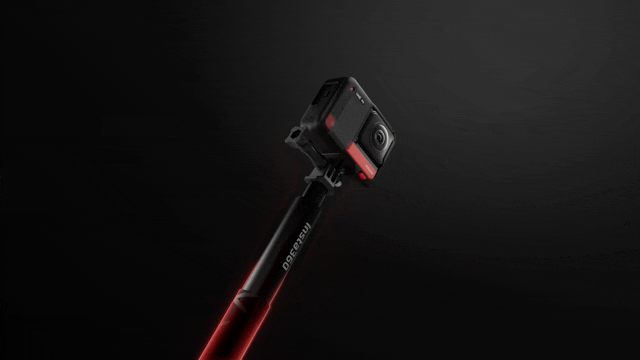 The only thing you need to do after shooting is to import your content into either the Insta360 app or our desktop software, Insta360 Studio. Both of these softwares will automatically stitch your photos and videos, and once your shots are stitched, the selfie stick is gone. Just like that.
Still, there are a few simple tips we recommend for making sure you get the most of out of your Invisible Selfie Stick:
Tips for nailing your Invisible Selfie Stick shot.
1. Get the mounting right
This tip mainly applies to Insta360 ONE RS, which supports both 360 and standard wide-angle shooting modes and allows you to swivel the camera's mounting angle on the Invisible Selfie Stick.
When you mount ONE RS on the Invisible Selfie Stick, make sure you keep the two lenses of the 360 Lens parallel with the stick — right down the middle.
2. Set the length
When you're shooting with the Invisible Selfie Stick, you don't have to worry about pointing your camera — it captures every direction at once.
But there is one thing you'll want to give some thought to before you shoot: the length you extend the stick. This can have a big effect on your final shot.
For a vlog-like shot where you're the main subject, we recommend a distance of about 50-70 centimeters.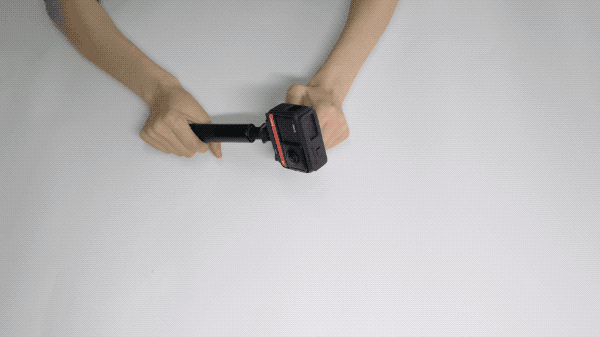 If you're doing a behind-the-back, video-game-style third-person shot, you should extend the stick to its maximum length.
And of course, if you really want to take your camera aerial, you're going to need more firepower.
That's where the Extended Edition Selfie Stick comes in. The Extended Edition Selfie Stick is a marvel of modern technology. Our engineers forged it in an advanced selfie stick smithy after years of dissatisfaction with what can only be described as much shorter selfie sticks.
So what is it? Technically speaking, it's a giant-ass selfie stick (3 meters to be precise.)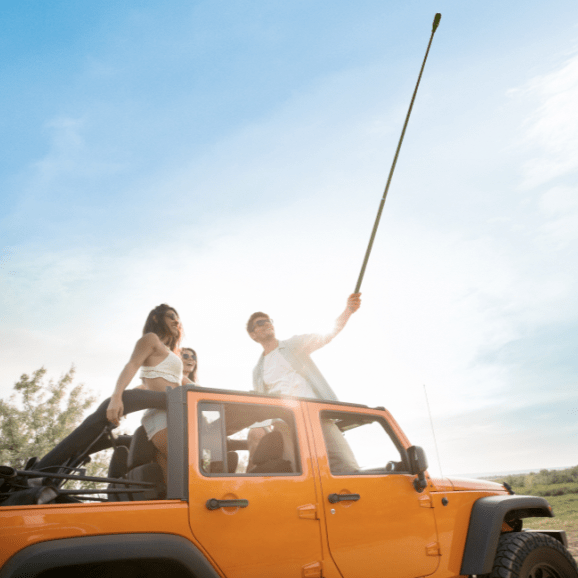 It opens up some incredible possibilities and lets you convincingly mimic a drone. Try it next time you're capturing a crowd or filming a car commercial on a budget.
Shout out to @karenxcheng for being the undisputed master of the Extended Edition Selfie Stick.

3. Position like a pro
Along with the length of the stick, the other key factor that's going to influence your shot composition is where you position the camera.
Again, the direction you point the lenses doesn't matter at all, but placement makes all the difference.
A common tip when shooting with a 360 camera on a selfie stick is to think of it more like a boom mic than a camera. Rather than the angle of capture, what you want to control is the camera's proximity to the action.
Due to the way that fisheye lenses can exaggerate distance, it's best to err on the side of putting the camera closer to your subject than you might with a standard camera. The Insta360 app also lets you get rid of the fisheye with a tap and revert to a natural, undistorted perspective.
Charge as you shoot with the Power Selfie Stick
Power up your shots as you go with the Power Selfie Stick. It's like the regular Invisible Selfie Stick, except it's loaded with a 4500mAh battery to keep your camera charged as you go.
Bonus Tip: Explore Shot Lab
In the Shot Lab section of the Insta360 app, you'll find a variety of unique effects that take full advantage of the Invisible Selfie Stick.
The best part: You don't even have to invest any time in the edit. Shot Lab uses a smart AI-powered editing algorithm to analyze your shots and automatically combine them into a stylish edit.
All you need to do is follow the step-by-step guide to capturing the right content.
Here are a few Shot Lab effects that take advantage of the Invisible Selfie Stick:
Time Flip
All you need to do for this effect is to swing your Invisible Selfie Stick across a 180-degree arc. The app does the rest.
Dolly Zoom
This is an updated take on Hitchcock's classic effect, made famous in "Vertigo". No equipment needed except your Insta360 camera and the Invisible Selfie Stick.
Shot Lab is continuously updated with new techniques. Download the app here to start exploring. And when you're ready to get started creating on your own, just pick up a camera like ONE RS or ONE X2 and the stick.
---
Keen to keep up to date on Insta360 stories? Keep an eye on our blog and sign up for our mailing list.