The legendary Insta360 ONE X2 has been a fan favorite since its release in 2020. We knew it was high time for an upgrade, so in September 2022 we launched the much-anticipated Insta360 X3!
If you're new to the scene or considering an upgrade, we've got the low down on what's new with our latest action camera. Let's get into it!
The Nitty Gritty
| | | |
| --- | --- | --- |
| | Insta360 X3 | Insta360 ONE X2 |
| Image Sensor | 1/2" 48MP | 1/2.3" 12MP |
| 360 Video Resolution | 5.7K@30fps, 25fps, 24fps 4K@60fps, 30fps | 5.7K@30fps, 25fps, 24fps 4K@50fps, 30fps |
| Single-Lens Video Resolution | 4K@30/25/24fps 3.6K@60/50/30/25/24fps 2.7K@60/50/30/25/24fps 1080p@60/50/30/25/24fps | Single-Lens Capture: 1440p@50/30fps 1080p@50/30fps |
| Photo Resolution | 72MP (11968x5984) | 18MP (6080x3040) |
| Touchscreen | 2.29" | 1" circle |
| 60fps Me Mode | Yes | No |
| Active HDR | Yes | No |
| Invisible Selfie Stick | Yes | Yes |
| Timelapse | 8K | 5.7K |
| Bullet Time | 4K@120fps, 3K@180fps | 3K@100fps |
| Battery | 1800mAh | 1630mAh |
| Price | $449.99 | $429.99 |
NOTE: Prices vary by region.
New Processor, Better Detail
X3 packs all-new, 1/2" 48MP sensors, bringing boosted image quality over ONE X2. You'll notice better performance in low-light conditions and more detail, whether you're shooting photos or video. With all of that new power comes the ability to take 72MP photos, 8K Timelapse videos, and our signature Bullet Time mode up to 120fps (3K@180)!
All-new from X2 is Active HDR. This makes a marked difference in video quality, as seen here: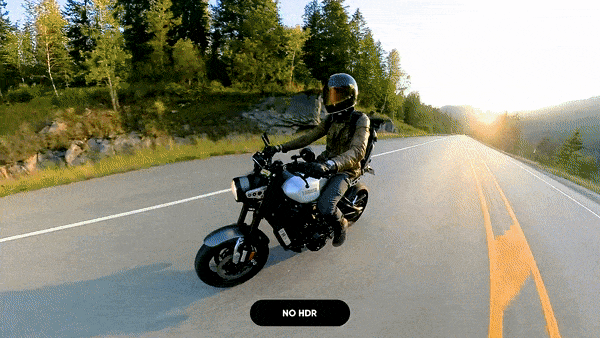 Even with tough lighting conditions, Active HDR shines, picking up detail that other cameras simply can't. This represents a major breakthrough for shooting high quality video with an action camera, and we'll continue to develop the technology going forward.
With spec improvements and the max. bitrate now bumped up to 120Mbps from 100Mbps, your 360 videos will look crisper than ever before.
Me Mode, Single-Lens, Modes Galore!
Me Mode is another new addition, allowing you to be effortlessly filmed mid-action at 60fps, with no need for reframing! All with our classic invisible selfie stick feature. Capturing slow motion action has never been easier!
We've also beefed up Single-Lens mode, now supporting 4K. If you're a biker, snowboarder, or the like, strap your X3 to a chest mount and you'll get crisper shots than ever. There's also a new 170-degree MaxView mode at 2.7K to nail those wider POV shots. Simply tap a button to switch between lenses on the fly, making your workflow easier than ever.
Our signature FlowState Stabilization returns to deliver smooth action footage, and Horizon Lock means even through flips and turns, your footage stays completely focused on the horizon: perfect if you've got a mad stunt in mind. Deep Track is back, allowing for easy tracking of a target in your 360 footage. Humans, animals, you name it!
Usability
From the outset, you'll notice a few revisions to the design. Most noticeably, X3 has a new, ultra-bright 2.29" touchscreen, which is a significant improvement compared to its predecessor. The buttons are larger and easier to use, with handy vibration feedback. There's also improved Voice Control, a refreshed UI, and a larger battery (1800mAh).
We've also spent time updating our Wi-Fi transfers, with a 50% increase in transfer speed over ONE X2.
You can also capture more immersive audio with the new Direction Focus audio mode. With this option toggled on, the audio will be enhanced according to the direction the camera is pointing.
X3 retails for $449.99, whereas the ONE X2 goes for $429.99.
If you're considering upgrading or you're new to the game, a $20 dollar difference between the two is clearly money well spent. X3 is our latest and greatest in the action camera space. Whatever you have in mind, get out there and capture it. This is magic in action!
You can shop X3 and the full accessory range here.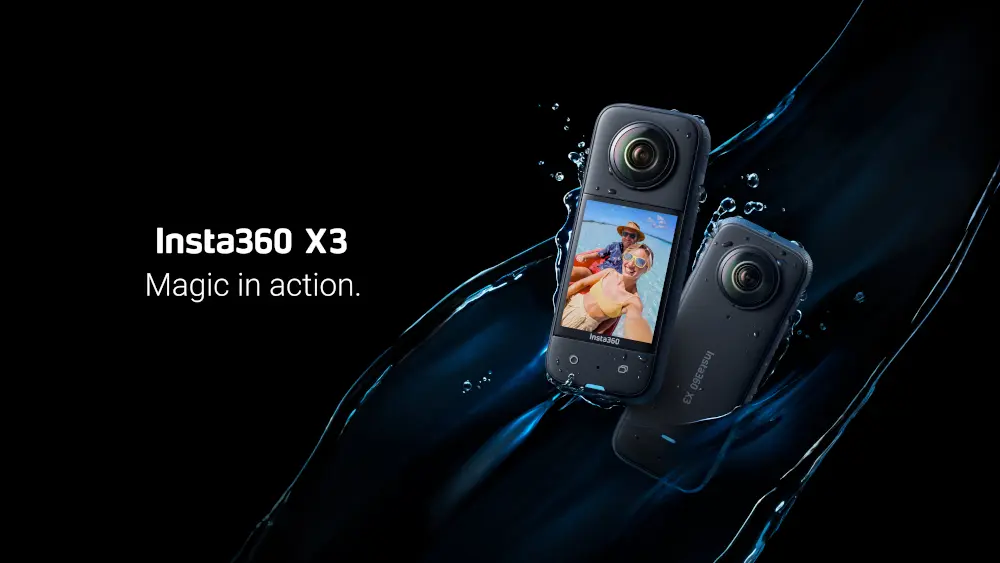 ---
Keen to keep up to date on Insta360 stories? Keep an eye on our blog and sign up for our mailing list.