We've designed two Insta360 ONE X cases so that you've got the right tools for any adventure. The Venture Case, and Dive Case. In this blog, we'll show you what scenarios each is designed for so you can get the most out of them.
This Insta360 ONE X case is designed to provide an extra layer of protection for when your out and about. Its rough and ready plastic protects your ONE X from dirt, dust and splashes. It's the most versatile case going for the ONE X and is ideal to take on the slopes, tracks and trails. Just don't go deep sea diving with it.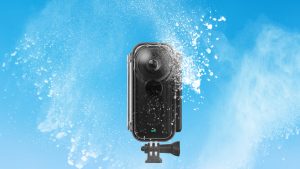 The Venture case comes sporting a standard 1/4" mounting point. This means you can mount it almost anywhere, including on our invisible selfie stick, it'll be edited right out of the shot. Just remember to check "Stitch for Venture case" in the ONE X companion app.
We designed this Insta360 ONE X case for divers. Its unique dome-like structure combats underwater light refraction and is designed in a stitch friendly way. That means your underwater videos look seamless and stunning.
Its resilient plastic is tough enough to take you way down to 30 meters underwater. Perfect for diving. Don't forget to check "Stitch for Dive Case" in the ONE X app when editing your footage to keep it seamless.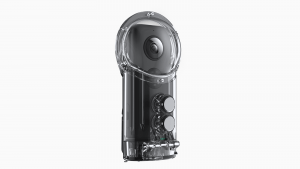 The Dive Case also comes sporting a 1/4" mounting point, so it's also ready to mount anywhere, however, its tough plastic can be seen in a part of the 360 video to allow for its diving functionality. Your best bet is to reframe your shots to keep the nadir out of frame. A small price to pay for 30 meters deep 360 shots.
So, which Insta360 ONE X case do I need?
We suggest picking up the Venture case for all your above water uses as you can still get the benefits of the invisible selfie stick, and unobstructed 360 videos. Pick up the Dive case if you want to go for a dip with your ONE X. That'll get you prepared for any adventure.
---
Keen to keep up to date on Insta360 stories? Keep an eye on our blog and sign up for our mailing list.