Both Insta360 GO 2 and GO are tiny wearable cameras, weighing in at 26.5 and 18.3 grams respectively. At first look, they seem quite similar, with the same thumb-sized, white design. Due to their small size, both cameras can be mounted in creative spots for unique angles.
So you might be wondering what's the difference between Insta360 GO 2 and GO? What sort of upgrades are hiding underneath the hood?
Insta360 GO 2 brings a host of new features and improved functionality compared to its predecessor. Here are some quick Insta360 GO 2 vs. GO specs to kick things off:
FEATURES
Insta360 GO 2
Insta360 GO
1/2.3" Sensor
✔
x
Video Resolution
1440p@50fps, 30fps
1080p@25fps
Waterproofing
IPX8 Waterproof to 4m (13ft)
IPX4 Water Resistant
Lens Guard
✔
x
Charge Case
✔ Charger ✔ Remote Control
✔ Tripod
✔ Charger
Run Time
Standalone: 30 mins
With Charge Case: 150 mins
Standalone: 16 mins
With Charge Case: 60 mins
Max Clip Length
FPV Mode: 30 mins
Video (Basic Stabilization): 15 mins
Pro Video (FlowState Stabilization): 10 mins
FPV Mode: 5 mins
FlowState Stabilization: 1 min
Stabilization
✔ FlowState Stabilization
✔ Basic In-Camera Stabilization
✔ FlowState Stabilization
Field of View Options
✔ UltraWide ✔ ActionView ✔ Linear ✔ Narrow
✔ UltraWide
Wi-Fi Preview
✔
x
Storage Capacity
32GB
8GB
Image quality
On the surface, the upgrade from 1080p to 1440p resolution video might not seem like much. But don't underestimate the image quality upgrades with Insta360 GO 2 vs. GO.
The secret to GO 2's image quality improvements lie in its brand-new sensor. GO 2's 1/2.3" sensor is the standard for flagship action cams, which enables it to capture more crisp, clear and detailed ultra-wide shots. With this sensor, GO 2 packs in the same high-performance hardware as flagship action cams, in a sixth of the size. Take a look at the video below to see how the footage stacks up:
In addition to a new sensor, GO 2 also has a new HDR video mode and a new vivid color profile. These updates help deliver punchy shots straight out of the camera.
Durability and endurance
Some of the most frequently requested updates by Insta360 GO users were in regards to durability and endurance. While Insta360 GO was only IPX4 water resistant, GO 2 is fully IPX8 waterproof to 13 feet (4m) straight out of the box, with the Lens Guard installed.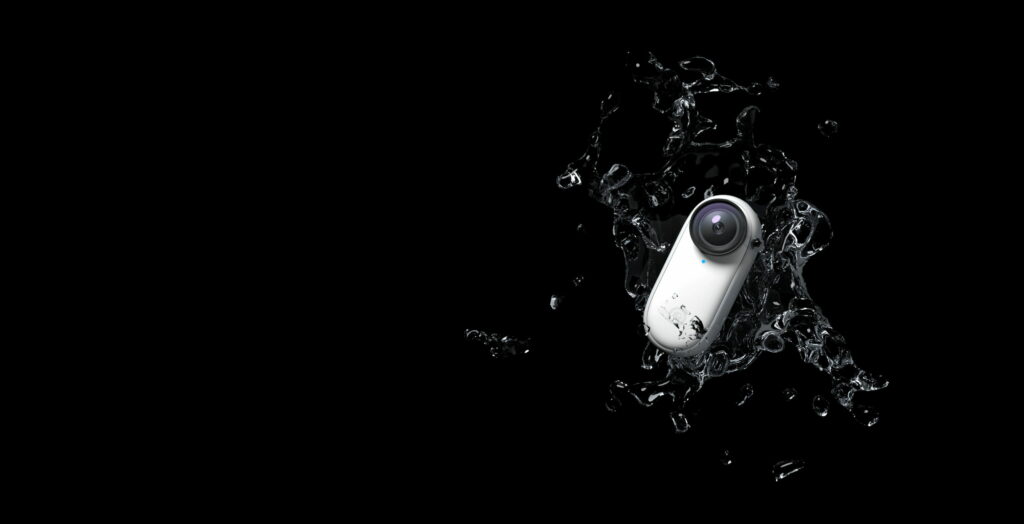 And that brings us to our next point—the replaceable Lens Guard. GO 2 comes with a scratch-resistant, hardened-glass protective lens that screws right on and off.
And what about battery life? GO 2 comes with a major upgrade in this department as well. GO 2 can keep going for 30 minutes on its own or up to 150 minutes with the Charge Case, compared to 16 minutes and 60 minutes respectively for GO.
And with the beefier battery life comes a bump in the max. clip length as well. GO 2 can record up to 15 minutes video on its own, compared to 1 minute for GO. And if you've got an FPV, it's even better—record up to 30 minutes with GO 2 compared to just 5 minutes with GO.
Lastly, for those longer clips, you also get more storage. GO 2 comes with 32GB of internal storage (about 28GB usable), a 4 times increase from GO.
Accessories
Insta360 GO 2 comes with the same type of accessories as GO—but they've all got an upgrade too.
The biggest improvement is with the Charge Case, which is no longer just a charge case, but also a remote control, tripod and selfie grip. Using the Charge Case's screen and two buttons, you can change modes and settings, as well as start and stop recording from up to 33 feet (10m) away.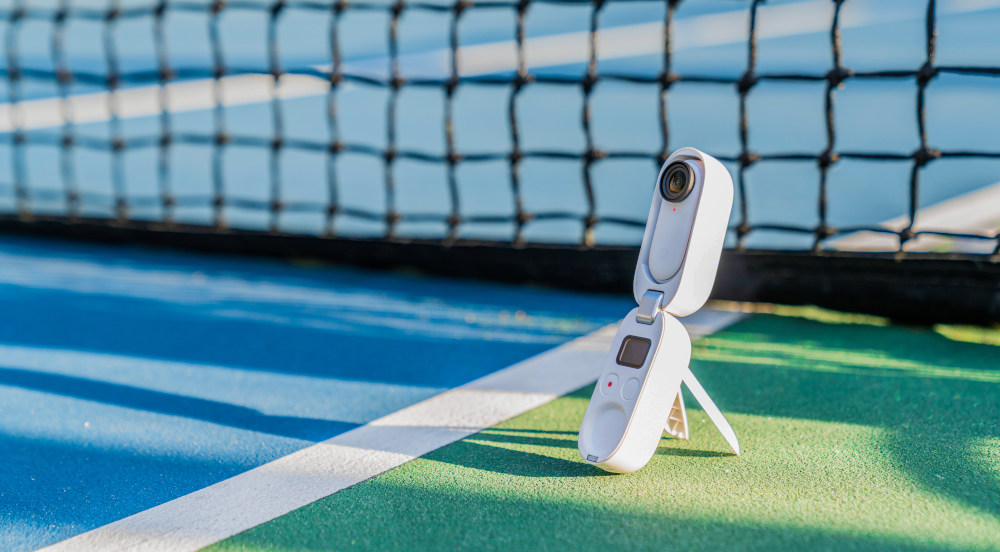 You can grip the bottom of the case to take a selfie, or pull out the tripod legs on the back to set up a quick tabletop shot. It's also got a ¼" mounting point on the bottom for screwing in a selfie stick. Best of all, it charges up GO 2 in just 35 minutes and charges itself via a Type-C connector in 65 minutes.
All the mounting accessories have also been upgraded, including:
Magnet Pendant: A stronger magnet for more security
Easy Clip: A new adjustable design so you can get the angle right
Pivot Stand: Redesigned completely, now foldable and adjustable, with a reusable sticky base, a built-in handle and wrist strap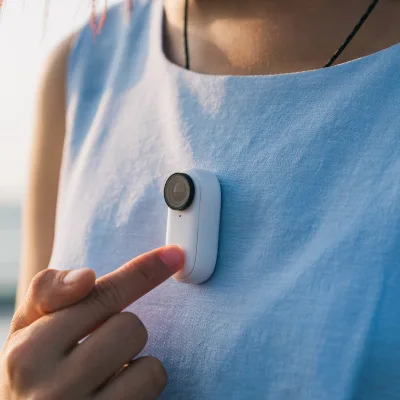 There are also some new GO 2 accessories sold separately, including:
Mount Adapter Bundle: A set of two magnetic mounts for use with two-prong and ¼" screw mount accessories, as well as a two-prong adapter for action sports
Pet Strap Mount: A velcro strap with a pocket for the Pivot Stand, perfect for capturing your pet's POV
ND Filter Set: A set of four ND filters, designed for balancing colors and contrast in tough lighting conditions and reducing the "jello effect" in FPV drone footage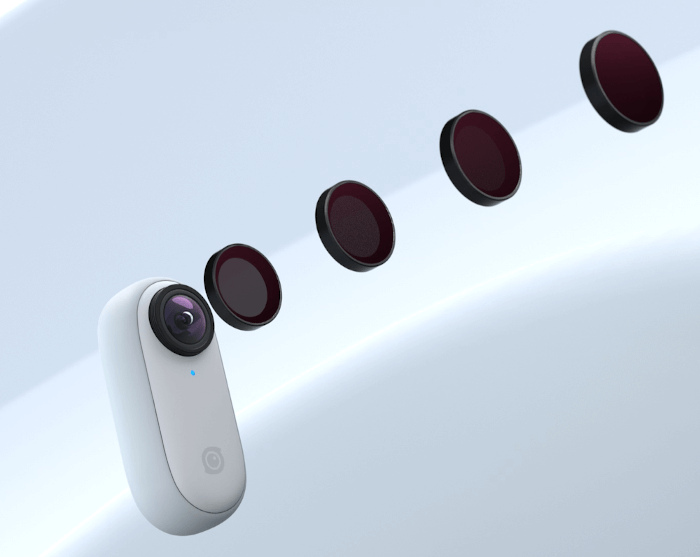 Field of view
Insta360 GO had just one field of view (FOV) option—UltraWide. Insta360 GO 2 adds three new FOVs, including ActionView, Linear and Narrow. ActionView is an FOV optimized specifically for action POV shots, with a taller height than the other FOVs to better show your body in the shot and give a better feeling of speed.
Here's the breakdown of each FOV in Pro Video mode:
| | | | | |
| --- | --- | --- | --- | --- |
| Aspect Ratio | FOV | Horizontal FOV | Vertical FOV | Diagonal FOV |
| 16:9 | UltraWide | 120 | 71.9 | 134.1 |
| | ActionView | 110 | 85.3 | 132.2 |
| | Linear | 110 | 76.3 | 116.7 |
| | Narrow | 86 | 55.1 | 93.7 |
| 9:16 | UltraWide | 71.9 | 120 | 134.1 |
| | Linear | 76.3 | 110 | 116.7 |
| | Narrow | 55.1 | 86 | 93.7 |
| 1:1 | UltraWide | 93.4 | 93.4 | 125.6 |
| | Linear | 90.5 | 90.5 | 109.9 |
| | Narrow | 69.2 | 69.2 | 88.6 |
All numeric values are in degrees and are estimates. FOV varies for Video mode (basic stabilization).
In Pro Video mode, the FOV remains the same for different resolutions and frame rates.
The app
Both Insta360 GO and GO 2 have a full-featured compatible app with editing features. While Insta360 GO uses the standalone GO app, GO 2 uses the integrated Insta360 app.
GO 2 users can use the app to connect to their camera over WiFi and preview their shot in real-time. With such a small POV camera, this can be helpful to monitor your shot. You also get access to more manual settings in the app.
On the editing side, both Insta360 GO and GO 2 users can use the FlashCut auto editing feature. But with GO 2, FlashCut is even more powerful. You now have two options:
Themed templates: Pick from themes like sports, pets and travel. Then just pick the number of clips needed for the theme and the AI will pick out the best parts and edit them together with music and transitions.
Within the Story Editor: Pick however many clips you want of any subject matter and the AI will pick out the best parts and edit them together with music and transitions.
Either way, you'll have a social-media-ready cut in just seconds!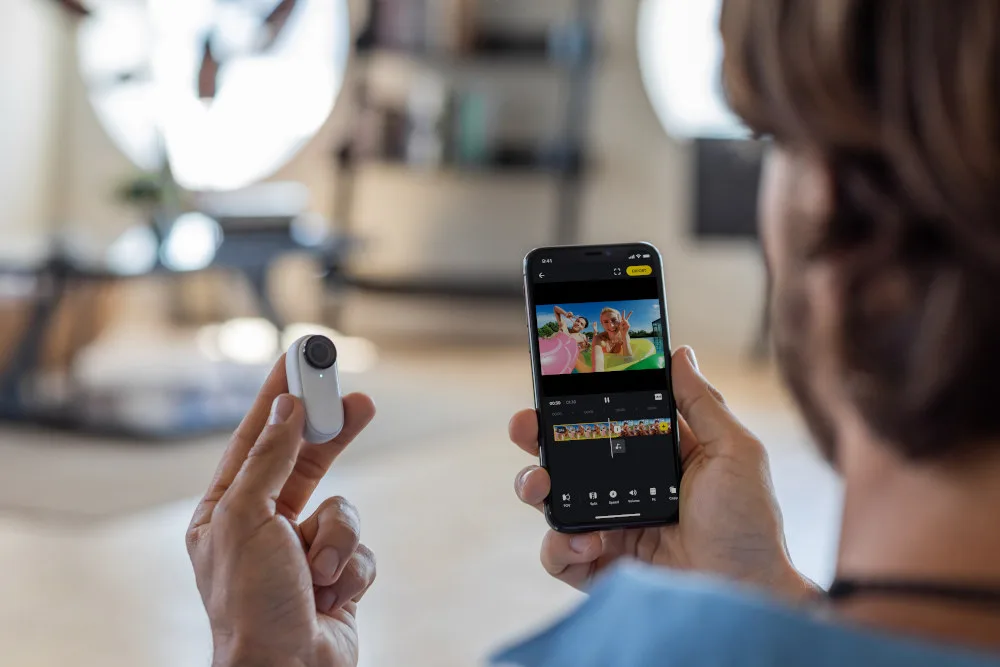 The common ground
Both Insta360 GO and GO 2 are tiny mountable cameras that offer a hands-free shooting experience with the in-the-box accessories. They both have a magnetic design, allowing them to be mounted in places where other action cams can't fit. The cameras are so small you don't even notice you're wearing them most of the time.
Both cameras are also backed up by Insta360's FlowState stabilization and horizon leveling algorithms. With both GO 2 and GO, you'll get super smooth shots that look like they were shot with a professional gimbal.
Insta360 GO 2 vs. GO: The bottom line
That's a wrap on Insta360 GO 2 vs. GO!
GO 2 brings some big updates compared to its predecessor, including improved image quality, durability and a smoother workflow. And its robust build offers more versatility for any kind of action. Whether you're surfing, mountain biking, running or flying your FPV drone, this tiny action cam gives you the freedom to shoot hands-free without bulky accessories.
If you're ready to upgrade, Insta360 GO 2 is available now on Insta360.com.
---
Keen to keep up to date on Insta360 stories? Keep an eye on our blog and sign up for our mailing list.