With the weather heating up the trails are calling. If you're looking for a way to capture your best runs from unheard-of angles, this blog post is for you. Read on to discover if Insta360 X3 is indeed the best mountain bike camera in 2023.
Must have features in a camera for mountain biking
When looking for the right camera for mountain biking, it's good to consider what features it packs to see if it's right for you. MTB - unlike more casual sports - can mean serious rough and tumble. That means your MTB camera needs a few standout qualities.
Stabilization - When tearing it down a slope (or set of stairs) it's easy to get shaky footage. Insta360 X3 comes with FlowState Stabilization, the best in the game. It's designed to keep your footage smooth as butter regardless of your conditions.
Waterproofing - There's a pretty good chance you're gonna get covered in mud this season. That's why you need to look out for cameras with decent waterproofing. X3 is certified IPX8, so not only will rain or mud not be an issue, you can even take it to the beach on your next trip or go as deep as 33ft underwater.
Lightweight/compact - Any decent MTB camera has to fit in your palm and not be too heavy. As long as you've got a camera that's easy to mount, doesn't weigh you down, and is small enough not to get in the way - you're good. X3 delivers on all three.
Easy angles - The last thing you're thinking about when riding is aiming your camera. Traditional action cameras don't give the freedom to reframe your footage, nor do they give the freedom of creative mounting positions. Insta360 has three things that make it stand out among the crowd here. The invisible selfie stick, 360 reframing, and creative mounting gear allow for impossible shots. More on that to follow...
How to mount your mountain bike camera for impossible shots
Getting impossible-looking shots on your next ride - be it on the slopes or road - doesn't have to be difficult. The video below takes you through exactly how to get six unique shots using accessories including the Chest Strap, Helmet Chin Mount, Unicorn Helmet Mount, and more. Don't fancy a watch? Read below for an explainer of each shot type.
Shot #1 Helmet Chin Mount
Mount X3 on the chin of your helmet for a perfect first-person point of view. It helps give a sense of speed, especially with an extremely wide field of view. And as luck would have it, there's a dedicated mount just for this! The Helmet Chin Mount attaches securely onto the helmet, doesn't block your vision, and stays nicely in place through any bumps or jumps. Mount X3 facing down for the best angles.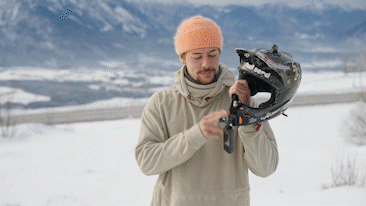 Shot #2 Chest Mount
This mount is a comfortable way to get a POV from your chest. Just use the Chest Strap, keep it tight, and position one lens facing forward to prevent any stitching issues. This angle is great for showing off the technical aspects of the trail and how you navigate them.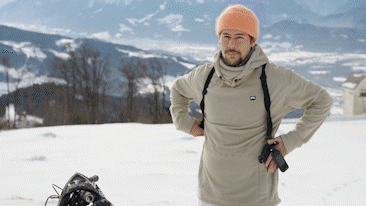 Shot #3 Top of the Helmet (Follow Cam)
This angle is perfect for capturing a third-person point of view. To set it up, attach the camera to the top of your helmet using the adhesive mount in the Bike Bundle. This is ideal for showing off the scenery along your trail or reframing from front to back to show off your whole surroundings.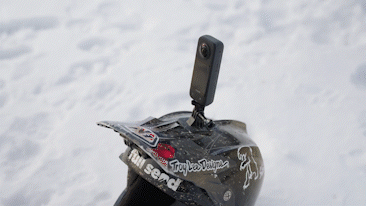 Shot #4 Unicorn Mount
This insane angle relies on the Unicorn Helmet Mount, a carbon fiber pole mounted atop your helmet, poking in front as though it was a horn. The shot is totally unique, allowing for the lightweight pole to be removed from the shot thanks to the magic of 360.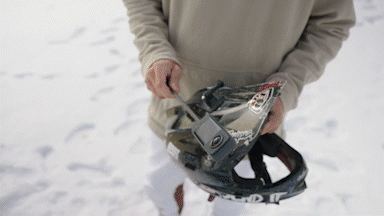 Shot #5 Ponytail Mount
This one is pretty much the same as the Unicorn Mount but in reverse. Just extend the rod behind you for a follow-shot that'll turn heads.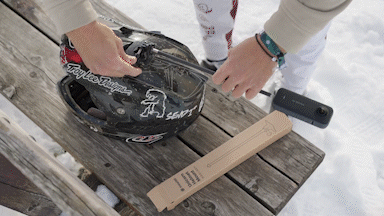 The best settings to get clean shots
To get the most out of your shots, we recommend shooting at 5.7K 30fps on AUTO, if you're shooting in 360. This allows for crisp shots every time.
If you're shooting POV, another option is 4K Single Lens mode. Instead of spreading 5.7K across the two lenses, you can instead use one lens at 4K, giving a higher image quality but sacrificing some of the benefits of 360 editing. In 4K Single Lens mode, you can choose between the default FOV for the best quality, or FOV+ for a wider FOV (with slightly lower 2.7K resolution), plus the option to choose any aspect ratio after filming. Great for your socials!
Oh, and one final tip. Make sure to clean the lenses with the included cloth before hitting your run.
So, is X3 the best mountain bike camera?
X3's features are designed to thrive on the trail. Be it the waterproofing, unique angles made possible, or the easy 360 editing. When paired with a few accessories, you can achieve shots that seem impossible. If you're looking to level up your MTB content with a new camera, you can pick one up today via this link.
---
Keen to keep up to date on Insta360 stories? Keep an eye on our blog and sign up for our mailing list.