Insta360, the leading 360 action camera company, is proud to announce the addition of actor Will Smith to Team Insta360 as a brand ambassador. In recent years, Smith has been known for his creative, fun and authentic approach to social media, with entertaining videos that take his fans along with him on his daily adventures. Insta360 cameras will help Smith share these adventures with the world from a new perspective.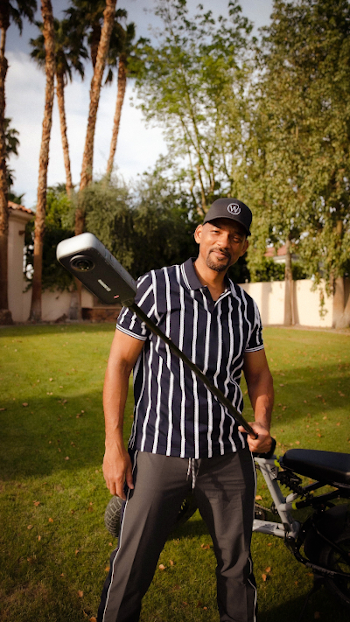 "Capturing the human experience and sharing it in a way that truly immerses the audience is one of the most exciting driving forces for what I do. Team Insta360 is at the absolute forefront of the technology that enables us to share our adventures and art in an enriching and vibrant way that we've never seen before. I'm thrilled to be joining them and to be a brand ambassador for such an innovative company. I was first introduced to Insta360 cameras through my videographer, Jas Davis, in 2020 and we even climbed the Burj Khalifa together with this camera. I had never seen anything like the video the Insta360 camera captures before—it looked like we had a drone!" said Will Smith.
Insta360 has been making waves in the action camera industry with its cutting-edge 360 capture technology and easy AI-powered editing app, becoming the go-to for adventurers and content creators alike.
To kick off the partnership, Smith posted a short video shot on the Insta360 X3 camera, highlighting the camera's Invisible Selfie Stick effect.
Thanks to the camera's 360 capture capabilities, the selfie stick is removed in the footage, creating amazing third-person views that look like they were shot with a drone or cameraman. By "reframing" the footage in the Insta360 app, the camera switches between multiple different angles for a captivating viewing experience.
"Will Smith's passion for adventure and creativity aligns perfectly with our mission to help people capture their boldest ideas," said Insta360 Vice President of Marketing in North America, Michael Shabun. "We look forward to seeing Smith's creativity on full display with our cameras."
In partnership with Westbrook Media, as an Insta360 brand ambassador, Smith will showcase the unique capabilities of Insta360's camera technology and editing app. Fans can expect to see Smith's adventures and creative projects captured on Insta360 throughout the year on his social media channels, including Instagram, YouTube and TikTok.
About Insta360
Insta360 creates boldly innovative products that help people capture and share their lives. With a "Think bold" mindset, Insta360 is reimagining the limits of action cameras, 360 VR cameras and traditional photography solutions. For more details visit: http://www.insta360.com/
About Westbrook Inc.
Launched in 2019 by founders Jada Pinkett Smith, Will Smith, Miguel Melendez, and Ko Yada, Westbrook is a media company that empowers artists to tell stories that connect the world. Westbrook Inc. houses Westbrook Studios, the premium film and television studio; Westbrook Media, a vertically-integrated IP incubator, brand content studio, and production company; Westbrook International Holdings, home to German licensing and distribution firm Telepool; and Good Goods, which creates unique consumer products around the company's IP and talent partners. By leveraging the Smith Family's deep experience in entertainment and media, Westbrook curates and produces content – from short and mid-form digital to traditional television and motion pictures – for all major platforms.
---
Keen to keep up to date on Insta360 stories? Keep an eye on our blog and sign up for our mailing list.