When Insta360 Nano creator Orion published a video showcasing London's famous sites in 360 degrees, he had humble hopes of topping 10,000 views.
Instead, his "Tiny Planet" romp around the city earned him an enthusiastic write-up in the Daily Mail – whose monthly readership ranges in the hundreds of millions.
http://www.dailymail.co.uk/embed/video/1418275.htmlWe talked with Orion, an avid Periscoper with a day job as a marketer, to find out how he's grown his 46,000-and-counting audience with his Insta360 Nano (the only 360-degree camera supported by Periscope) and where to see the best sunsets in London.
Tell us about yourself! What do you do as a viral video marketer?
I'm Orion and I'm from London. I'm originally from the Philippines but have been living in the UK for 7 years now. I make videos go viral for work. My boss makes videos for brands, and I do the marketing side of it.
How did you get into using Periscope? What has your experience been like on the platform?
I started using Periscope the first week it launched. I was amazed by how you can easily show the world what you're up to. But in the beginning no one would watch me and I had no idea what to broadcast. I was more of a viewer than a broadcaster. Then after a few months I saw someone walking around Paris streaming the sights – that's when I thought, I can also do this in London. From then on I've been out and about around the city showing the places I love and sharing my adventures with my viewers. It has been a wonderful experience so far and I love that I've made really good friends from the app.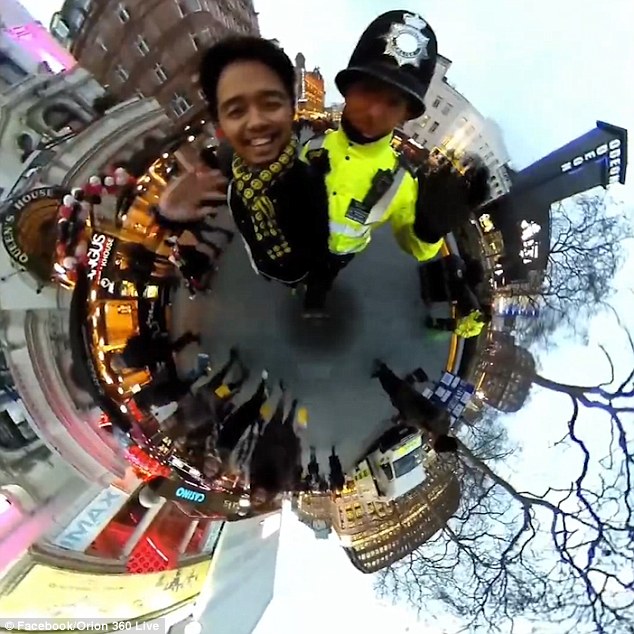 What drew you into 360 creation?
The first time I saw a 360 video posted on Facebook, I fell in love with it straight away. And having the Samsung Gear VR at home made me more excited about it. I love that 360 photos/videos are very immersive and the experience is just crazy awesome. I started creating content when I received my Insta360 Nano. I love that I can use it for livestreaming in 360 on Periscope.
What inspired you to do your "Tiny Planet" London video?
A friend had created a "Tiny Planet" San Francisco video before and I said to myself I want to do a London version as well. The main goal was to create a fun video featuring the hotspots in town.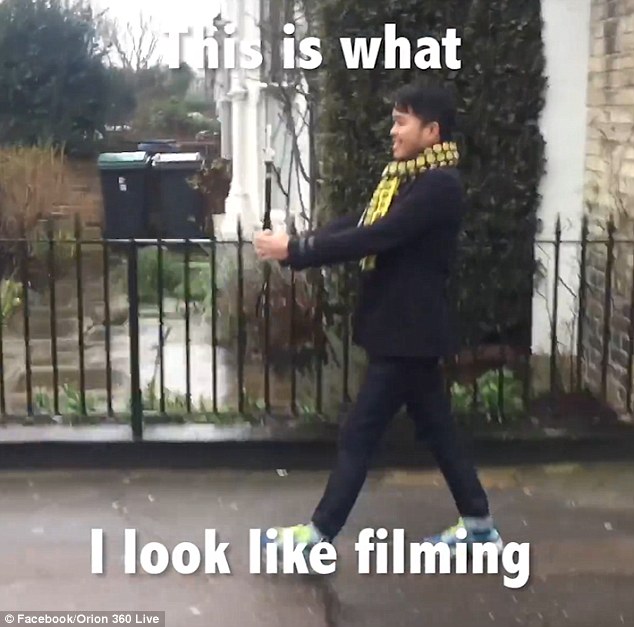 What did you do to get the Daily Mail's attention? What do you think made this video go viral?
I didn't have high expectations for this video. I told myself I'll be happy with 10k views. As a viral media marketer I understand what could make a video go viral. I did reach out to some contacts and got the video shared and posted on some Facebook pages. But the Daily Mail post was a different story.
I woke up to a Twitter DM from the video editor of the Daily Mail asking for permission to post my video. I believe she saw the video on my Twitter feed. It's not the first time she reached out to me, she asked about using some of my Periscope videos before.
There are different factors that could make a video go viral – sometimes it just happens and you ask yourself why. I think with my "Tiny Planet" video, it could be the fun music, the cool "Tiny Planet" effect, my incorporation of the London landmarks, my face *lol*, and maybe because it is fairly new and people haven't seen that type of video that much.
What do you predict for the future of 360 media? Is it going to go mainstream or stay relatively niche? What impact is 360 going to have on marketing and marketers?
Don't get me started with this *haha*. I already have crazy futuristic 360 ideas going on in my head. I believe this is the future of video. I understand that it is not for everyone, but this is where technology is heading. With gadgets like the Insta360 Nano, people can easily take 360 photos/videos and share it in social media. We will only be seeing more of it and this means a great deal for marketers. It opens a door to a lot of possibilities. The immersive experience that you get from 360 can be capitalized on by marketers in many ways.
Do you have any advice for creators aspiring to become influential livestreamers? What's the key for attracting and maintaining an audience?
I would say just be yourself and have fun but there's more to it in livestreaming. A YouTuber could be very successful in his edited videos but not do well in livestreaming. I believe interaction is very important. This is what most people forget – you have a live audience so you have to engage them.
The rawness of the video and the ability to interact with your viewers in real time is the beauty of livestreaming. Use that to your advantage.
Do you have any tips for creating good content in 360?
I started creating content in 360 just recently when I got my Insta360 Nano. At the moment I'm just experimenting. I love going out just filming and trying out stuff with the camera. I've also been watching a lot of 360 videos online, getting ideas and doing my own version of it. I suggest others do the same.
What's your favorite off-the-beaten-path spot in London?
There are so many hidden gems in London. One of my faves is a canal bridge near Victoria Park. That is one of the best spots to watch the sunset in London. You get to see a picturesque view of the canal, the boats, and the sunset reflecting on the water. It's just stunning.
Gorgeous sunset awaits after an hour long run.

A post shared by Orion (@orionhombre) on Jul 31, 2014 at 12:28pm PDT
----------------------
We'll be sure to follow Orion on Twitter @OrionHombre and Periscope to see where he takes his 360 creation from here.
So what's the next city that's going to get "Tiny Planet" famous?
---
Keen to keep up to date on Insta360 stories? Keep an eye on our blog and sign up for our mailing list.