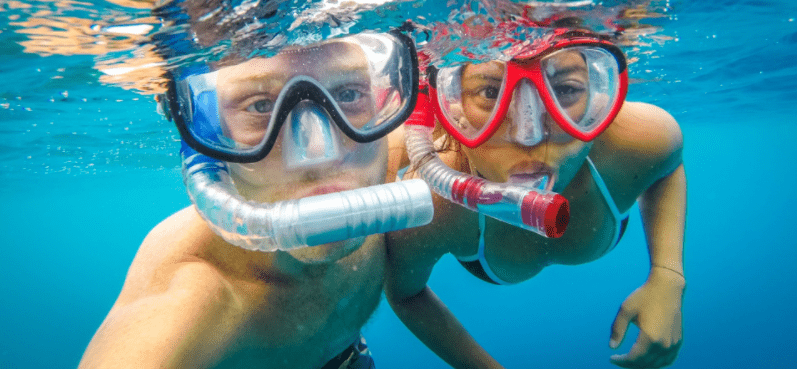 Kach and Jonathan Howe, the couple behind travel blog Two Monkeys Travel, have been traveling non-stop since 2013.
They started their journeys alone, with the conviction that there was more to life than their 9-to-5 jobs. Then, after a chance encounter in Luang Prabang, Laos, they sparked a connection that has since brought them to more than 80 countries around the world together.
https://s.insta360.com/p/2bb500b8e3d22d7ded0ecf7d129399bb?e=true
Now married, Kach and Jonathan fund their travels with what they earn through their blog and with the skills they've picked up along the way — including Yoga instruction, massage therapy and English teaching.
Insta360 caught up with Kach midway through her latest African adventure to find out how she uses immersive media to help tell the Two Monkeys story.
Could you tell us a little about yourself and what you're up to lately?
We are Kach and Jonathan Howe, the travellers behind Two Monkeys Travel and Mr and Mrs Howe! We've been travelling full time for about four years now and building our business to create a truly sustainable life on the road! Our latest adventure is all about the 40-foot offshore sailboat we've just bought and Jonathan is currently restoring while I am traveling around Africa and preparing to publish my first book!
How do you use 360-degree cameras for your travel blogging?
We use our Insta360 Air and Insta360 Nano with our iPhones and Android smartphones to capture new angles of all the amazing activities and experiences all over the world. Most recently, we have been able to share our experiences live in 360, in locations like the Kennedy Space Centre in Florida's Space Coast!
https://www.facebook.com/plugins/video.php?href=https%3A%2F%2Fwww.facebook.com%2Ftwomonkeystravel%2Fvideos%2F861977167273352%2F&show_text=0&width=560
What kind of stories do 360 videos and photos work best for? Any pro tips for creating compelling 360 content?
We find that the best 360 content comes from destinations that speak for themselves, yet we're able to show them in a completely different way to how most people are able to see them. Huge landscape views make for astounding 360 images, whereas 360 degree video can literally make the viewer feel like they are experiencing an adventure activity right there with us! Actually the same rules apply as with normal photography - make sure that everything in the frame counts! The viewer wants to see something cool and interesting all the way around!
You've traveled to more than 80 countries — you've been everywhere from ultra-developed megacities to off-the-map villages. What kind of reactions do you tend to get from people when they see you using a 360 camera? We had one user who got a free airplane ride during his travels after he introduced some locals to his 360 camera. Has your 360 camera led to any adventures?
People are always interested in the 360 cameras, especially when they see how compact and simple they are. We can't say that using the cameras themselves have led to any adventures in that way. As with our standard cameras, we love the 360's because we can just keep travelling how we normally would, with the camera there to document that!
https://s.insta360.com/p/8dccb524a97afee3d1386e06ceba52d3?e=true
Currently, you're traveling through Africa, touring luxury hotels. How's the trip going? Any unexpected discoveries or advice for a would-be African adventurer?
This trip to Africa has been incredible! Obviously the luxury accommodation speaks for itself, but this is such a diverse and captivating continent! The only piece of advice I can give to someone planning a trip in Africa would be to be prepared to throw your plans out the window, because you will have to at some point, and to learn to laugh in any situation! In Africa, things will change that are completely out of your control, but that's part of the beauty of it. It's not a place you simply travel around, it's a place that pulls you through it, however it sees fit!
https://s.insta360.com/p/124aee239c408db344f10e4c3a3360df?e=true
You're about to embark on an around-the-world sailing trip. How are you going to tell that story?
Jonathan is currently based in the Florida Keys working on our boat and getting it ready to sail around the world! We have already started our Youtube channel - Mr and Mrs Howe - where we post our videos about buying and fixing up the boat. We will also be posting articles and guides on Two Monkeys Travel and Mr and Mrs Howe so that people can follow and be inspired to try something similar themselves!
Keep up with the latest in 360 photos and video by joining Insta360's user group on Facebook and signing up for the Insta360 community mailing list.
---
Keen to keep up to date on Insta360 stories? Keep an eye on our blog and sign up for our mailing list.