Insta360 has been named to Fast Company's prestigious annual list of the World's Most Innovative Companies for 2020.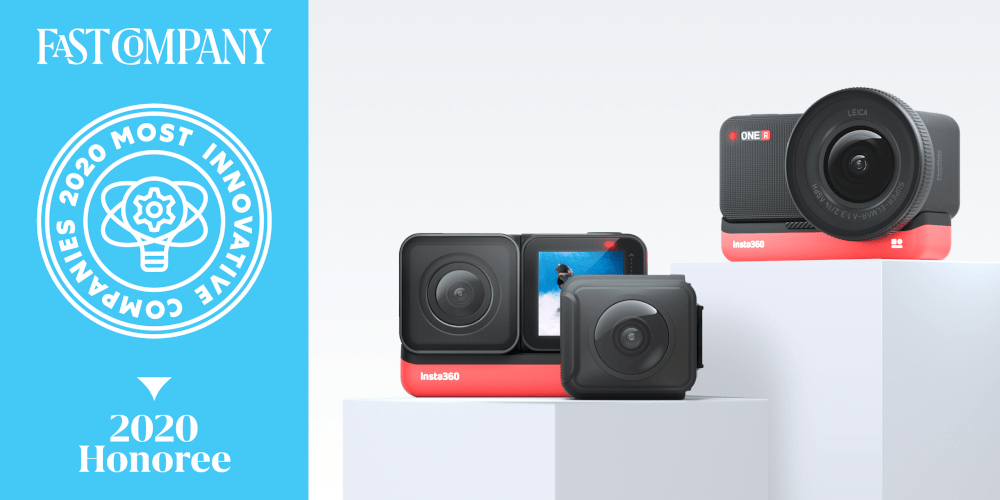 The list honors the businesses making the most profound impact on both industry and culture, featuring 434 businesses from 39 countries. Insta360 was honored as one of the top ten innovators globally in the Consumer Electronics category.
"Innovation is at the core of Insta360's mission to help creators capture and share their lives in new ways," said Max Richter, Insta360 Director of Marketing. "This award reaffirms our commitment to reimagining what's possible with cameras in 2020."
The MIC award comes on the heels of the launch of Insta360 ONE R earlier this year, the world's first interchangeable lens action camera. With three quick-swapping lens Mods, Insta360 ONE R transforms in an instant from a dual-lens 360 camera to a wide angle action cam.
Insta360's boldly innovative cameras come in both big and small packages. On the consumer side, Insta360 GO is the world's smallest stabilized camera, weighing in at under 20 grams. The camera's small size and hands-free shooting enable creators to easily capture great moments on the fly. In the professional market, Insta360 Titan is a premium 11K unibody virtual reality camera that raises VR production to a cinematic standard for the first time.
Fast Company's editors and writers sought out the most groundbreaking businesses on the planet and across myriad industries. The World's Most Innovative Companies is Fast Company's signature franchise and one of its most highly anticipated editorial efforts of the year. It provides both a snapshot and a road map for the future of innovation across the most dynamic sectors of the economy.
"At a time of increasing global volatility, this year's list showcases the resilience and optimism of businesses across the world. These companies are applying creativity to solve challenges within their industries and far beyond," said Fast Company senior editor Amy Farley, who oversaw the issue with deputy editor David Lidsky.
Fast Company's Most Innovative Companies issue (March/April 2020) is now available online at fastcompany.com/most-innovative-companies/2020, as well as in app form via iTunes and on newsstands beginning March 17, 2020.
About Insta360
Founded in 2015, Insta360 makes boldly innovative cameras that help people capture and share their lives. The brand's ONE series cameras pioneered the use of a compact dual-lens design to redefine what's possible with an action camera. The ONE series brings together groundbreaking stabilization, the ability to easily capture drone-like aerial angles, and the freedom to reframe a shot in any direction after the fact — all in a palm-sized device. Insta360 also offers a premium range of professional VR cameras. Their best-in-class imaging and streamlined workflows make it easy for filmmakers to jump into immersive content production.
---
Keen to keep up to date on Insta360 stories? Keep an eye on our blog and sign up for our mailing list.