Insta360 announced today that its flagship 360-degree action camera, the Insta360 ONE X, is now available at Apple.com as part of an exclusive camera bundle.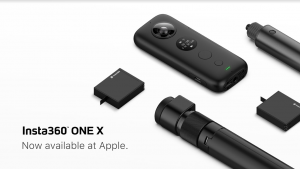 The launch of the bundle coincides with the release of a major product update that brings to the ONE X a new HDR (high dynamic range) video mode and easy, integrated support for uploading content to Google Maps Street View. The update is available via a free download for all ONE X users.
The Apple-exclusive ONE X Camera Bundle comes with a range of versatile accessories, including a multi-function Bullet Time Handle that also serves as a tripod, an Invisible Selfie Stick, two batteries, and a protective carry pouch.
Insta360 ONE X Apple Bundle Unboxing Video:
First-Ever Action Camera with Built-In HDR Video
With a free software update (version 1.1.0) available today, the ONE X becomes the first-ever action camera to offer built-in HDR video capture.
HDR mode shoots video that looks natural and vibrant, with accurate highlights and lowlights — all with no post-production work necessary. When capturing 360 video, lighting conditions vary in every direction, and high dynamic range is essential for getting video that looks and feels right.
The HDR video mode shoots 5.7K at 25 FPS. Here's a look at the difference it makes:
Insta360 ONE X HDR Video Comparison:
---
Keen to keep up to date on Insta360 stories? Keep an eye on our blog and sign up for our mailing list.