Dinner is served 🍽️ Introducing the new #Insta360Eats Challenge!
Main course: a $500 prize for five lucky winners! Now that's what we call delicious.
All you need is an Insta360 camera that shoots in 360 and some tasty snacks! Keep reading to learn how to enter and how to film a real feast-for-the-eyes video.
We're talking midnight feasts, buffet meals, sushi trains and weird and wonderful combinations. Embrace the fun of 360 and get creative!
The competition runs from October 17th – November 29th, 2023. The five winners will be announced on December 12th, 2023!
Here's how to win $500!
Enter your mouth-watering videos for the chance to win in just three simple steps:
1️⃣ Take an Insta360 Eats video with your Insta360 camera – remember to include behind-the-scenes footage!
2️⃣ Share your shots on social media with the hashtags #Insta360Eats and #Insta360
3️⃣ Tag and follow @insta360_official (TikTok) or @insta360 (Instagram, Facebook and X)
That's it! Let your imagination run wild. Try different foods, film in different locations and add creative effects to your videos.
Maybe it's not even you that's doing the challenge…🐶
How to Film Your #Insta360Eats Video
1. Grab your 360 camera and shoot in 5.7K 360 AUTO.
You can film your Insta360 Eats video with X3, X2, ONE X, ONE RS 1-Inch 360 and ONE RS (with the 360 Lens).
2. Set up your shot!
There are two ways to do this:
🫐 Stand the 360 camera in the middle of your plate, bowl or dish;
🍬 Or attach it to the Invisible Selfie Stick clamped above;
3. Hit record and get eating!
Even the strangest food combos are welcome here...🍫
Meet the Judges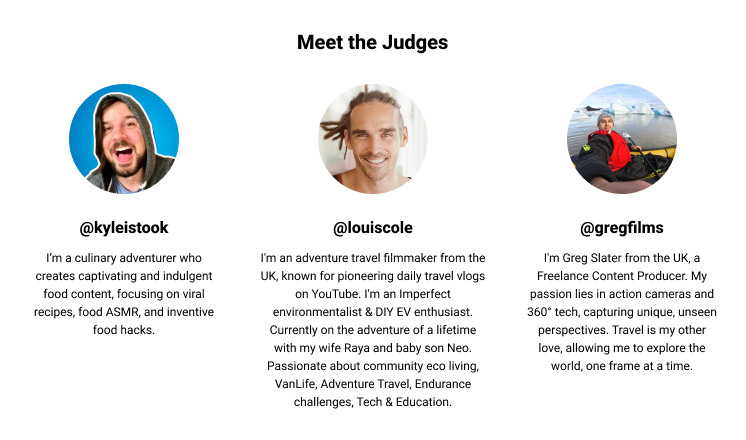 Remember to get your submissions in before November 29th, 2023 and include behind-the-scenes footage to be eligible. Good luck, and happy snacking!
---
Keen to keep up to date on Insta360 stories? Keep an eye on our blog and sign up for our mailing list.