In an era where digitization is redefining countless businesses and industries, the automotive sector is certainly no exception. Specifically when it comes to marketing, virtual car tours, once considered too difficult and a luxury, are now ultimately allowing modern dealers to thrive in a competitive landscape.
Insta360, leading the way in 360-degree cameras, has recently been working with Glo3D, a rising star in the virtual car tour space, to elevate how users view and engage with vehicles online.
First, it came for real estate, and now it comes to the automotive sector. Insta360's partnership with Glo3D proves just how simple it is to create modern, attractive marketing content for cars. Let's dive into how that happens.
Virtual Tours: For Cars?
On the rise in popularity, virtual car tours enable dealers to showcase vehicles in a dynamic, immersive manner. Much like real estate, tours give users a chance to get up close, with views of the interior (and exterior!) in high-definition clarity.
So when it comes to getting the best possible shots, what's the approach, the tools of choice? Let's break down a choice that is guaranteed to bring high-quality results without the need for studio space, expensive camera rigs, or lighting.
The Camera – Insta360 ONE RS 1-Inch 360 Edition
A blend of quality and portability. Top-of-the-class image quality thanks to its co-engineered Leica lens means 360 shots that stand out. The camera's exceptional HDR quality is a boon for low-light conditions commonly encountered in interior car photography.
The Insta360 ONE RS 1-Inch 360 Edition stands out with its modular design, enabling users to keep extra batteries on hand, extending the camera's usage duration. Especially beneficial for dealerships with high daily volumes, it eliminates disruptions due to battery charging. Simply mount it, get your shots, and keep moving.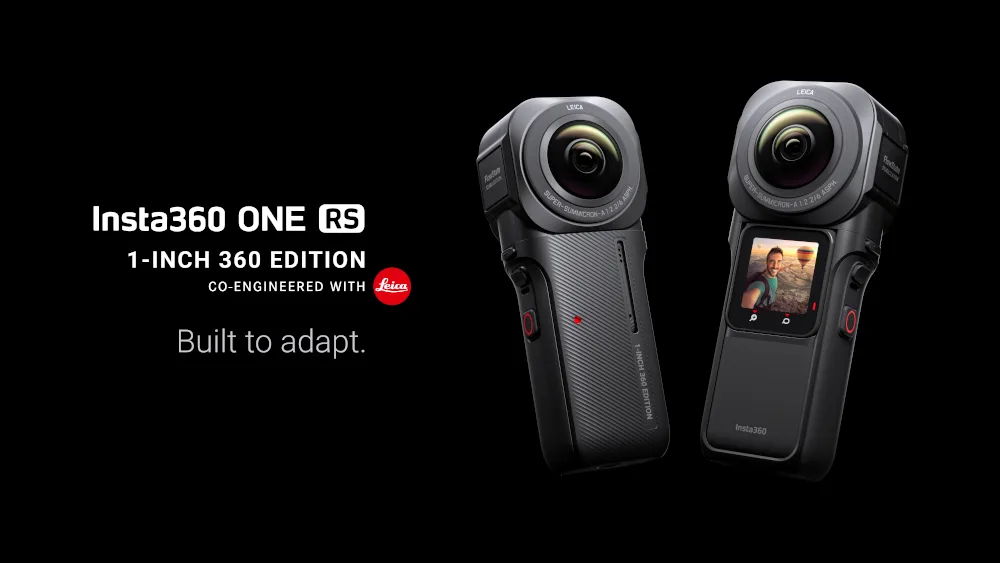 The Software – Glo3D:
Billing itself as a "Car Photography Studio in the Palm of Your Hand!"™, Glo3D is a comprehensive solution to elevate digital car tours. At its core, it covers nearly every aspect of the car presentation process. Using advanced AI and a sophisticated algorithm, Glo3D streamlines the user experience, effortlessly handling everything from the initial capture to the final synchronization and posting.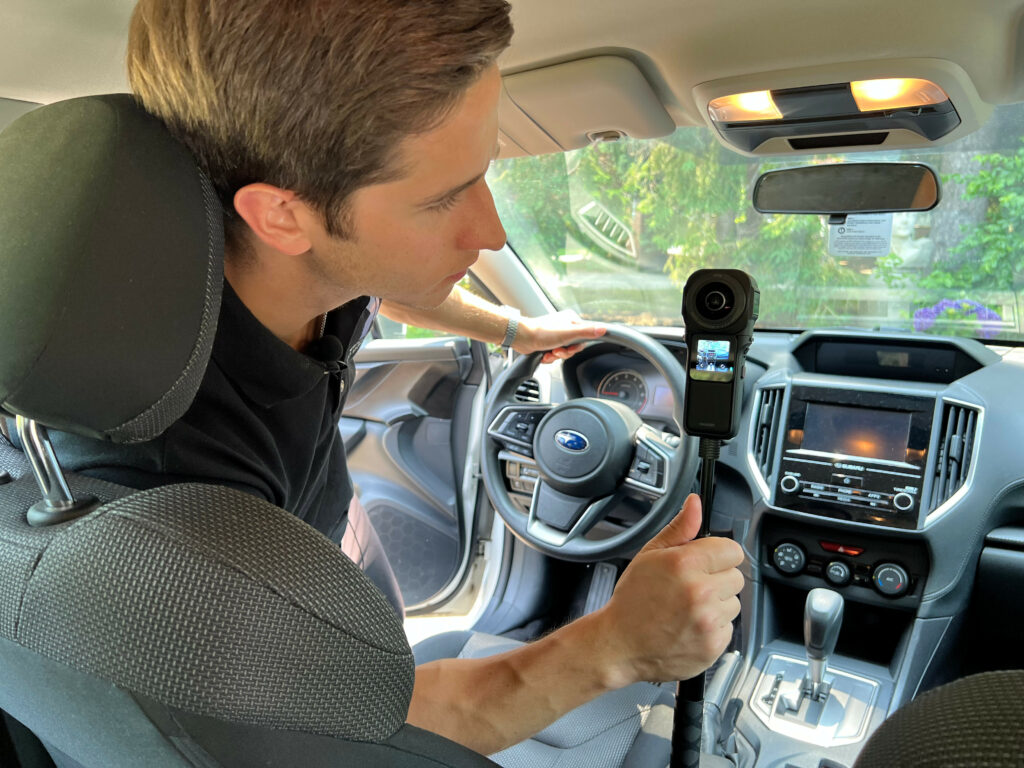 Glo3D stands out with its versatility. Understanding the diverse landscape of online car sales and marketing, Glo3D ensures seamless integration with a wide range of major platforms. This high degree of compatibility makes it an indispensable choice for dealers who want a solution that effortlessly fits into their existing systems, amplifying their reach and enhancing their presentation without any hitches.
The Glo3D-Insta360 Workflow Unveiled
A dealer can initiate a potential capture through a simple walkaround, snapping the exterior, and then into the interior using an Insta360 camera. By positioning the camera carefully within the center of the car, the camera works to capture a full bubble of the interior, using its algorithms to wipe out any evidence of the camera ever being in the shot!
The result? A comprehensive virtual tour, detail-rich, but without constant tweaks or effort needed to get the shot.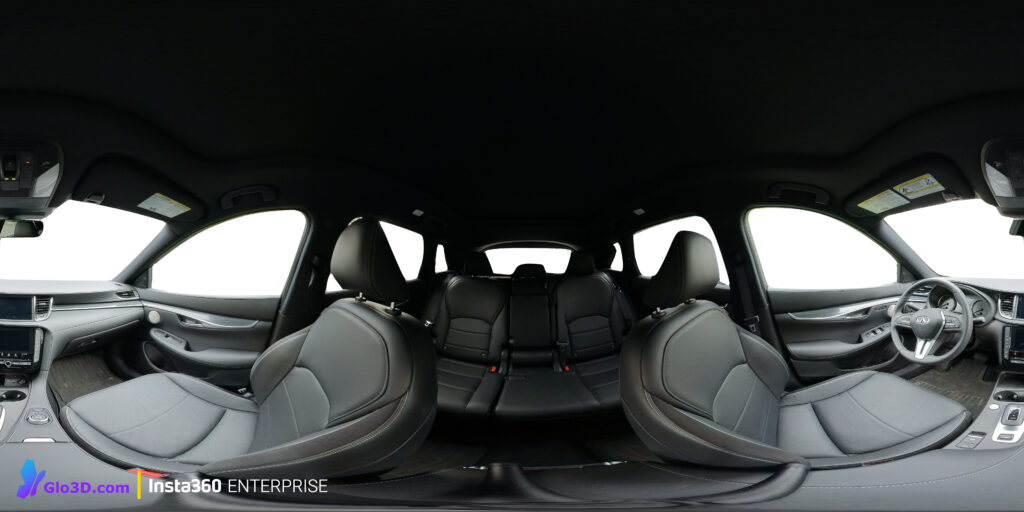 It's extremely simple to set up and deploy, within just 4 minutes, creating captivating photos, video tours, and interactive virtual tours, all synced automatically to a user's online platforms. Glo3D's state-of-the-art AI algorithm takes care of everything, from capturing to syncing with the user's inventory management, website, and social media. Its compatibility with major platforms and a plethora of features make it a hot choice for dealers currently.
Dealers even can craft distinctive digital showrooms with customized backgrounds and leverage advanced hotspot technology to highlight intricate details and report any damage. It's an extensive platform that offers all of the tools that dealers might expect. Ultimately, getting studio results without the need for any photography experience or huge space.
Why It's Changing the Game
The automotive digital landscape is undergoing rapid changes. As dealerships embrace virtual tours, there are three key reasons why this combo is proving to be a game changer for those in the industry.
It's efficient. Dealers can showcase vehicles comprehensively, highlighting features and potential damages.
It's an experience (for users!) The interactive nature engages and entices potential buyers, driving sales. 360 photography also enhances the transparency in the car buying process since it enables dealers to highlight features/reports of their cars by adding hotspots. Thus, potential customers can have a closer look at the car inventory, earning trust that standard photos can't simply offer.
It feels like an evolution. The Insta360 ONE RS 1-inch brings image quality and features that go beyond what simple action cameras typically can capture. Its portability combined with image quality co-engineered by Leica, brings a bright horizon for dealers who want studio-quality shots in no time.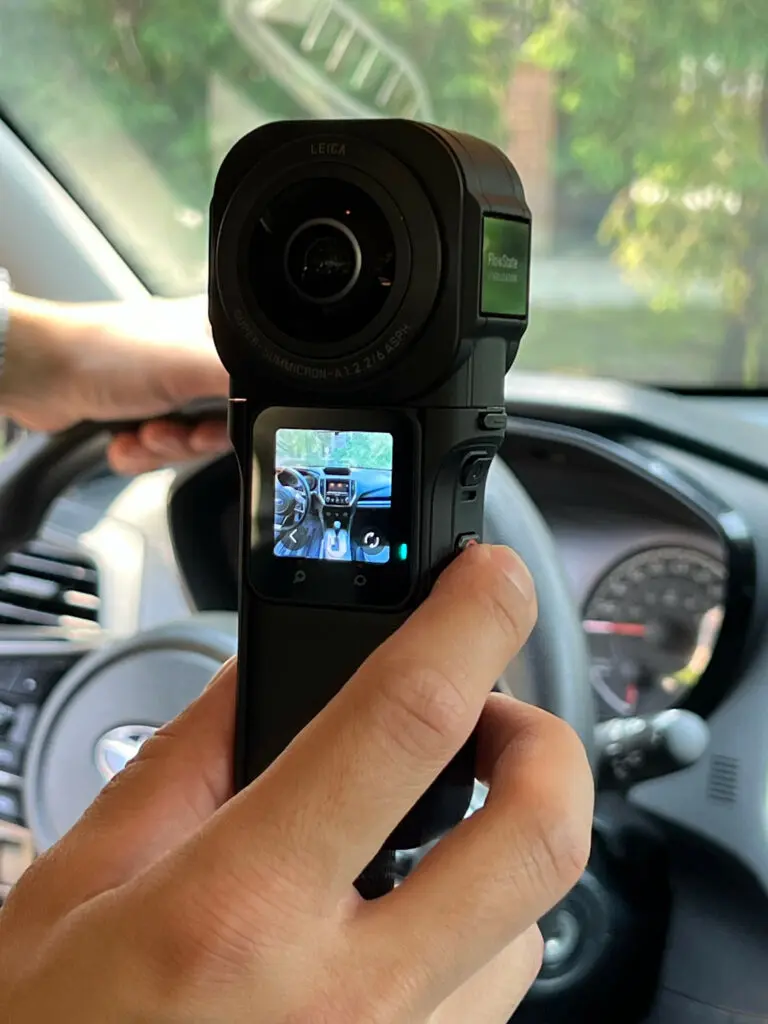 Redefining Automotive Digital Experiences
Future car buyers will lean heavily toward immersive online experiences. That's a fact.
Interactive options like 360-degree car photos and virtual tour videos are becoming pivotal decision influencers. Convincing content is king in this space.
The collaboration between Glo3D and Insta360 is a solid step in that direction. As the demand for immersive car tours skyrockets, work continues to provide consumers with unique, immersive experiences that help influence potential buyers. The road ahead is digital, and both Glo3D and Insta360 are carving a path ahead.
For those eager to delve deeper, explore Glo3D's website and discover the Insta360 ONE RS 1-Inch 360 Edition, the preferred tool for Glo3D car captures.

---
Keen to keep up to date on Insta360 stories? Keep an eye on our blog and sign up for our mailing list. You can also contact our Enterprise team directly to see how 360 cameras can benefit your business.