Immersive technologies such as virtual reality (VR) have seen surging adoption during the pandemic period, driving a strong demand for specialists in the field.
Blend Media, a company with years of experience in the immersive content industry, saw this as the perfect moment to create a dedicated job platform for immersive professionals: Blend Market. The platform helps match freelance creators looking for AR and VR jobs with businesses in need of their skills, utilizing Blend Media's specialist knowledge to provide an effective, personalized service. Whilst Blend Market is a self service marketplace, the team at Blend Media are also on hand to deliver immersive projects from ideas to implementation.
In this blog, we'll explain the Blend Market platform and what makes it stand out as a useful tool for both immersive content creators and businesses.
How does Blend Market work?
Blend Market is the first dedicated job platform for immersive content creators. While it operates in a similar way to other freelance platforms, such as Upwork, it is the first specifically for those looking to find and hire specialists in AR, VR, 3D or 360.
Creators can sign up to the platform for free. They'll then be asked to complete a portfolio, including a personal introduction, their skills and experience. Once set up, they can search for projects advertised by clients on the site.
Blend Market also uses a matching algorithm, overseen by their immersive/XR specialists, which invites specific creators to submit an offer on projects that fit their skillset.
When a creator finds a suitable opportunity, they are able to discuss the project with the client and submit an offer. If the client accepts, they must first fund the project on the Blend Market platform. This payment is then released to the creator after the project is completed or refunded if not completed.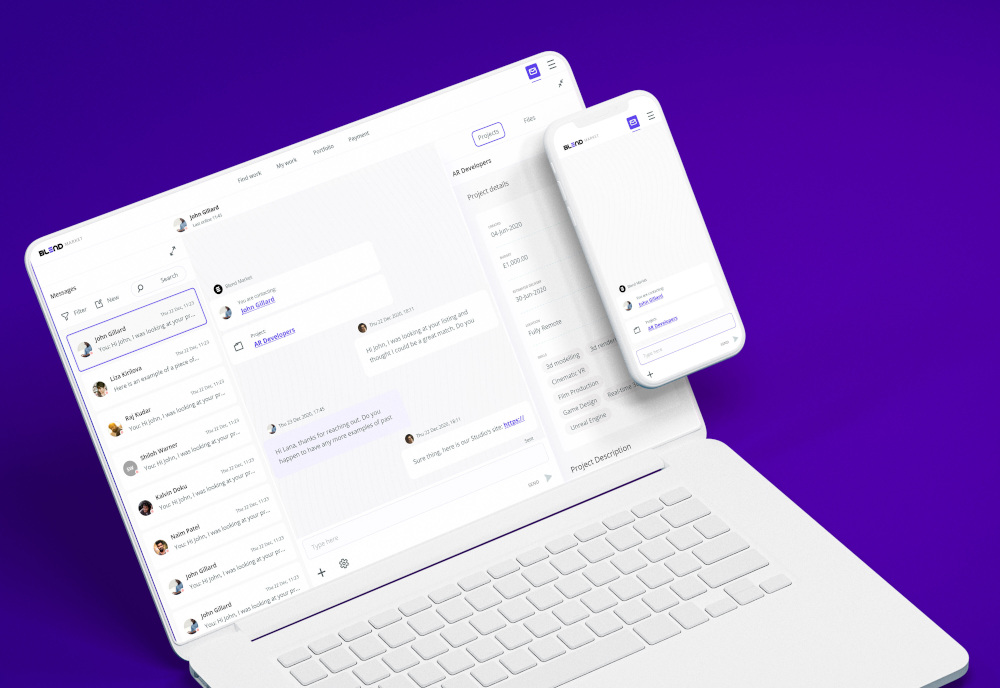 Why register as a creator on Blend Market?
Over the last five years Blend Media has built up a trusted reputation in sourcing and licensing immersive content. As such, although Blend Market was only founded in October 2020, the platform has already attracted a number of significant clients, including Deloitte, Disney, Universal Music and more. The platform currently has over 660 clients who regularly post offers of work on the site, a figure which is only set to increase.
Although much of the platform is automated, there is a team of industry experts behind the scenes, making sure everything runs smoothly for both the creator and the client.
Blend Market has enabled hundreds of creators to grow their portfolio of clients and ensures they are paid for their work in a secure and timely manner.
Some clients have specifically requested cameras such as Insta360 Pro 2 for their projects. This makes it an effective way for creators to recoup money invested in their cameras.
Who can use the platform?
While anyone is free to register on the site, the payment service used to pay creators, Stripe, isn't available in all countries yet. This means that only creators from certain countries can be hired (see here for the full list). The service is available in 44 countries already, but if your region is not on this list yet, check again in the future as new countries are regularly added to this list.
Top tip for finding VR jobs on the platform
To find VR jobs and attract clients, creators should make sure their portfolio page is up to date and that they take time to correctly list all their skills.
Blend Market uses an algorithm that matches creators to projects based on their skills, location and experience. This data is all sourced from the portfolio so it's important the information is correct.
How to get started?
For immersive content creators it's easy to sign up to Blend Market.
If you're a client, you can discuss your project or idea with the Blend Media team.
And if you need 8K+ premium 360 content for a project you can almost certainly find it in Blend Media's 360 library. 
---
Keen to keep up to date on Insta360 stories? Keep an eye on our blog and sign up for our mailing list. You can also contact our Enterprise team directly to see how 360 cameras can benefit your business.