For the first time ever, latency free 8K 360 video was live streamed to FOX Sports' Unreal Engine-powered new LED virtual production facility for the Super Bowl Opening Night Broadcast this year.
The Insta360 Titan VR camera and MeetMo.io 8K encoder live streamed footage of the Opening Night events at the Footprint Center in Phoenix to the studio set in Los Angeles. This footage was projected onto the LED walls behind the hosts to make it feel like the hosts were right there in the arena for viewers watching at home.
Together the teams from MeetMo.io, Insta360 and FOX Sports delivered an innovative solution that solves creative and production challenges faced by television studios across the world.
Here's how it happened:
1. Insta360 Titan camera captures the Phoenix arena in 8K 360
The first step of pulling off this game-changing solution was capturing the events live at the arena. Opening Night is traditionally a day for media to meet the Super Bowl teams in public, but for the first time FOX Sports' decided to bring this experience to fans, too.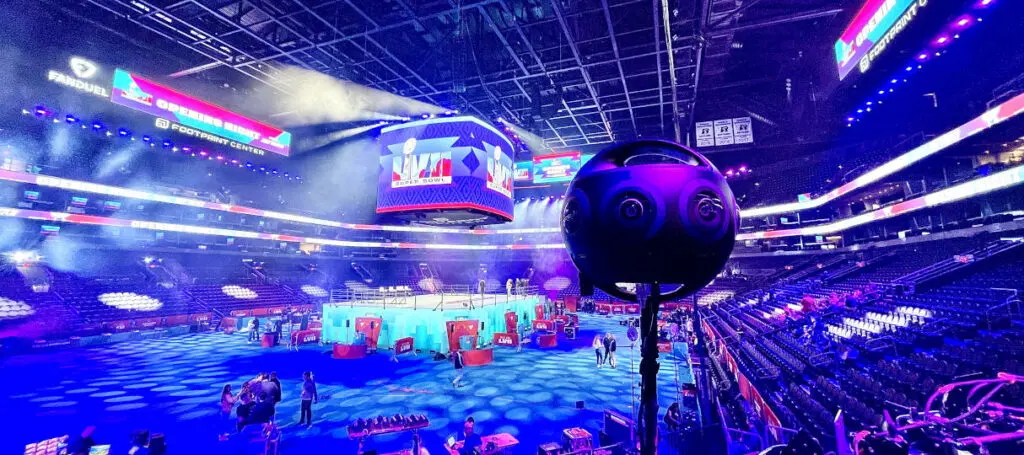 "FOX Sports has a history of production innovation especially around football and we figured this was a good chance to push the boundaries of our new set with cutting edge technology innovation. We loved the idea of pairing the MeetMo.io technology with the Insta360 camera. We knew we needed an ultra-high-resolution immersive camera that could livestream in 8K 360. Insta360 Titan was the only solution with 8K 360 encoding and decoding, stitching capabilities and finally the low latency we needed." Zac Fields, FOX Sports
Insta360 Titan captured true-to-life footage of the arena with excellent dynamic range and color depth.
2. MeetMo.io 8K encoder delivers the perfectly-stitched and secure live stream
Fresh off its maiden voyage with the NASA Artemis Launch, the MeetMo.io 8K encoder enabled the 8K 360 live stream directly inside the Unreal Engine.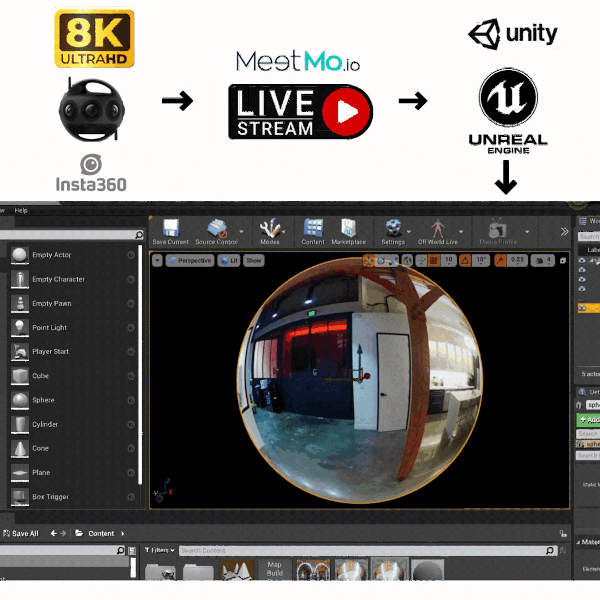 "It's always exciting for us to take on new challenges and innovate with new case studies. Zac approached us with a challenge, and we dug right in. From the onset the biggest challenge was bringing our technology into the secure FOX Sports networking system. Security was the most important aspect of this project, and the FOX Sports IT team was fantastic as we worked through these unique challenges," said Johan Romero of MeetMo.io.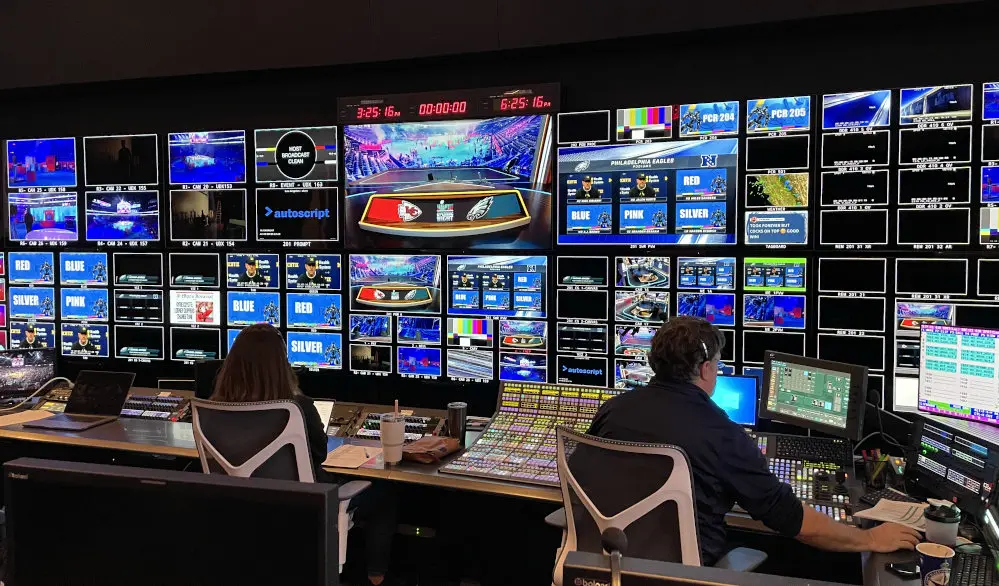 3. Unreal Engine powers the stream onto the LED walls in FOX Sports' virtual production facility
Then it was time to bring it all together into a complete remote solution. "In a very short time, we went from remote collaboration to remote telepresence. FOX Sports had brought their expertise in the Unreal Engine and their best practices on their new innovative set. Our job was to bring our expertise in our encoder, decoder and stitching to integrate an unmatched immersive experience for the viewers at home. The wide shot from the studio projected in the LED wall made it feel like the hosts were right there in the arena," said Andrew Schwartz, MeetMo.io Technology Director.
Unreal Engine Breakthrough
In the end the collaboration between MeetMo.io, Insta360, and FOX Sports was a testament to true collaboration and innovative spirit. Each team brought an expertise in production and experience in problem solving that resulted in a first in broadcasting history.
About MeetMo.io - MeetMo is a cloud-native platform that seamlessly connects devices, people and ideas. It enables real-time, remote collaboration in high resolution and with ultra-low latency. MeetMo.io represents a step-change in the way content is created and consumed.
About FOX Sports - FOX Sports is the umbrella entity representing FOX Corporation's wide array of multi-platform US-based sports assets. Built with brands capable of reaching more than 100 million viewers in a single weekend, the business has ownership and interests in linear television networks, digital and mobile programming, broadband platforms, multiple web sites, joint-venture businesses and several licensing relationships. FOX Sports includes the sports television arm of the FOX Network; FS1, FS2, FOX Soccer Plus and FOX Deportes.
MeetMo.io is no stranger to FOX. For the past three years Josh Mark and the FOX Entertainment Creative Services team along with Brave New Media LA has collaborated on the MeetMo.io platform for virtual events and remote production.
About Brave New Media LA - A content development and technology company that was created out of 25 years of new media experience.Their core ethos as disruptors within the Entertainment Industry makes them a trusted, unstoppable force at the pulse of technology, developing and delivering story experiences for all formats and screens.
About Insta360 - Insta360 creates boldly innovative products that help people capture and share their lives. With a "Think bold" mindset, Insta360 is reimagining the limits of action cameras, 360 VR cameras and traditional photography solutions. Powered by AI, the brand's video editing software is revolutionizing the way creators make engaging content. Insta360 is dedicated to helping a new generation of athletes, creatives, adventure travelers and professionals bring their ideas to life. For more details visit: http://www.insta360.com/
---
Keen to keep up to date on Insta360 stories? Keep an eye on our blog and sign up for our mailing list.