With their new 360 VR music video, American metalcore band I Prevail delivers an electrifying experience that can match—or even surpass—watching a live concert.
Watch for yourself the 5K VR music video on your VR headset or click and drag around the video below (warning: viewer discretion advised).
"DOA" is off I Prevail's latest album "Trauma", which was nominated for the Grammy Award for Best Rock Album in 2019. This new version brings on rapper Joyner Lucas, who released his debut studio album in March 2020.
Hugh Hou, a 360 VR specialist and co-founder of CreatorUp, served as the 360VR Director of Photography on the project. Ben Proulx directed the video and Project 2 Studios, a Grammy-nominated video and audio production company, and Virtuality, a Los Angeles XR creation studio, co-produced it.
We interviewed Hou to get a behind the scenes look at how he shot and edited this 360 VR music video with Insta360 Titan.
1. How did the idea to film a 360 VR music video come about?
Ben Proulx and Mark Rickard, founder of Virtuality, had been looking for a project for over a year to create a VR version of a traditional video, which could be shot concurrently.
The concept for "DOA"—whereby the entire scene was staged as a "black void"—proved an obvious choice. Ben Proulx directs all of I Prevail's videos, and had been discussing for some time the song's message and music video. I was hired as the 360VR Director of Photography and tasked to bring this vision into VR.
There are two versions of this music video: a traditional-format 2D version which heavily features the story and the VR "remix". To remain true to their collective vision, we decided to have the VR music video feature the standard video in activated "windows" inside the virtual space, with VR capture designed to focus on the performance.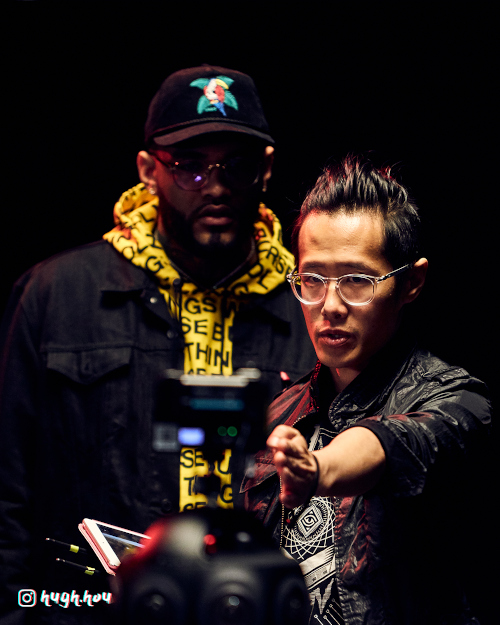 The VR version places more emphasis on the band performance and the feeling of being immersed in the void. The viewers are fired-upon with CG bullets throughout, then struck at the end, along with the band members. This creates a deeper emotional impact and pushes the story to a whole new level.
2. What was it like filming the band with a VR camera?
The raw emotion and power of the song kept the energy high, but all these guys are natural performers! We walked them through the technical things like stitch lines and focal points once at the beginning. And we showed them the playback so their comfort level grew with each performance.
Our goal was for the performance to be as close to their live shows as possible, so viewers would feel like they are in the room with the band. As filmmakers, our job was to keep the production moving along smoothly, then address any stitching issues or other technical problems in post-production.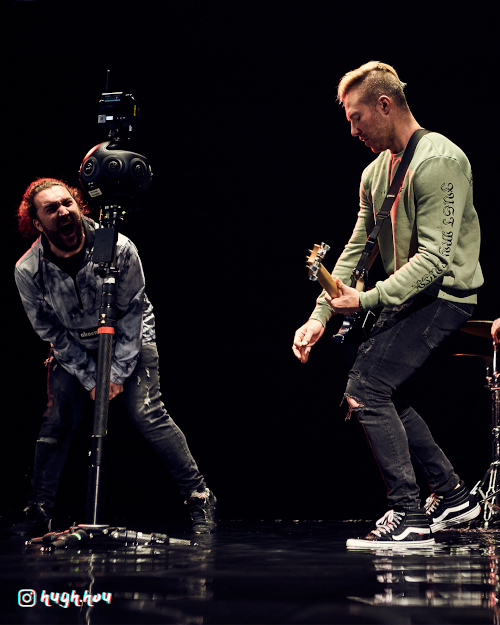 3. What did you look for in a camera to shoot this VR music video?
This project required us to shoot in very low-light conditions—the void tends to be completely dark with only a spotlight on the artists. At the same time, we needed to capture the reflection of the water on the artists' faces. Imagine the "upside down" of the Netflix show "Stranger Things"—that is the effect we were trying to recreate in VR.
Titan's 10-bit color depth was especially important to us during post-production to key-out certain colors.

Hugh Hou
This required a 360 VR camera that can capture an extremely low-light environment with the highest color depth. There is no VR camera on the market that can do that except Insta360 Titan, which has bigger image sensors and 10-bit color depth. Titan's 10-bit color depth was especially important to us during post-production to key-out certain colors to match the aesthetic of the original 2D music video without heavy rotoscoping works.
4. How did you bring it all together in post?
The post-production happened during the COVID-19 pandemic. So the whole team had to work remotely, which proved very challenging at times.
Thanks to the free proxy files automatically saved from the Insta360 Titan for each take, we could send the proxy files to our story editor, Steve Yoon, for a rough cut.

Hugh Hou
Thanks to the free proxy files automatically saved from the Insta360 Titan for each take, we could send the proxy files to our story editor, Steve Yoon, for a rough cut. Using the rough cut, we worked remotely with the band and director to get approvals.
Meanwhile, I integrated the VFX. The 3D VFX with bullets traveling through the 3D space is done with the latest Mettle Mantra V2—a VFX plugin that allows us to work in stereoscopic 360. Stay tuned for a tutorial on the CreatorUp YouTube channel on how to insert and animate 3D OBJ elements within 3D 360 coming soon. We then combined the rough-cut proxy edit and VFX for the final edit lock.
This was the first project I worked on using the latest Mistika 10, Mistika Boutique. We were able to keep both the monoscopic and stereoscopic versions in the same timeline, with different resolutions from 4K to 8K, in a truly non-destructive workflow. We did not touch the original lens files until the fine stitch stage.
After editing, we moved on to the fine stitch stage. This proved the most challenging part of this entire project. Thanks to the 10-bit color depth, we were able to use Mistika Boutique's powerful coloring and keying features to key-out the background. We also finished coloring at this stage and rendered out several stitched masters with each band member for some Boris FX Mocha voodoo.
As some of the actions are really close to the camera and at stitch line, we needed to render stitch passes to protect each member. We then layered them in After Effects, and used Boris FX Mocha Pro for rough rotoscoping wherever each band member overlapped actions.
Finally, we brought the combined cut into Davinci Resolve to get the color grading from the 2D colorist. This was done so we could keep the same vision and consistent look as the 2D music video.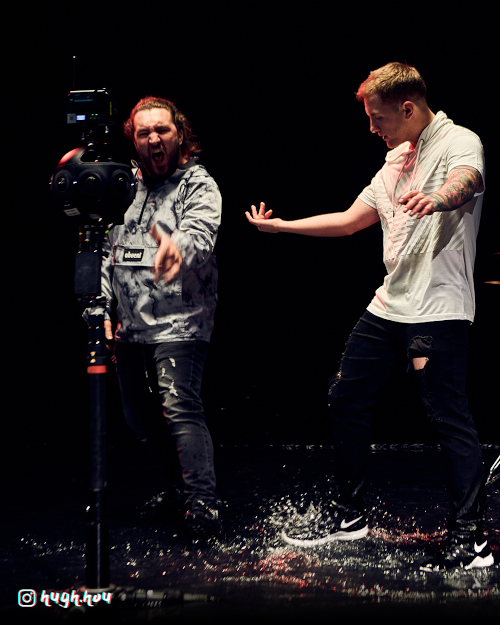 5. Are you working on a version with ambisonic audio?
For the YouTube VR release, we used the original music video audio. But we are currently working with the original engineer of the track, Tyler Smith, to create audio for an Oculus TV release. This version will have 16-channel 3rd order ambisonic audio.
6. What top tips do you have for other creators looking to film a VR music video?
Break some rules! In this project, we innovated by using 2D footage for a "picture-in-picture" effect in VR—people haven't really seen this effect before in VR. Also, since VR is such a new medium, now is time to experiment! No one can truly say what will or won't work in VR until they've tried it.
We hope the "DOA" video will inspire future filmmakers to push boundaries, and prove that VR music videos are alive and well!
Photo credit: Brian Doherty
---
Keen to keep up to date on Insta360 stories? Keep an eye on our blog and sign up for our mailing list. You can also contact our Enterprise team directly to see how 360 cameras can benefit your business.