Introducing the Insta360 Enterprise User Benefit Program! The brand-new program gives exclusive software benefits from leading virtual tour software providers when you buy any Insta360 Virtual Tour Kit. This new program makes Insta360 the all-in-one solution for any virtual tour business! Customers can now shoot immersive virtual tours with their premium Insta360 camera and enjoy free trials and exclusive discounts from FLOORFY, Kuula, and more!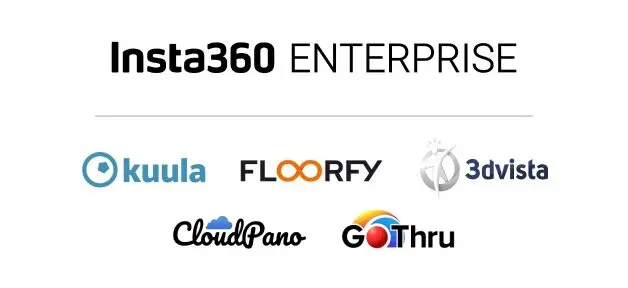 To access these amazing deals, simply follow these three steps:
Select your Insta360 Virtual Tour Kit
Choose your software benefit and proceed to checkout
Activate the code in the follow-up email and enjoy your benefit!
The Insta360 Virtual Tour Kit has everything you need to kickstart your virtual tour journey. Each kit includes an Insta360 camera and accessories such as the Invisible Selfie Stick and All-Purpose Tripod. What's more, all cameras are compatible with top software providers for an even smoother workflow.
With the Insta360 Enterprise User Benefit Program, these leading software providers now offer exclusive benefits! Choose from one of these incredible offers:
FLOORFY
Free 14-day trial of any plan
25% off any plan after the trial
FLOORFY is a virtual tour platform tailored for real estate professionals that maximizes online property marketing and sales. Their tools aim to increase engagement between agents and potential buyers by providing an immersive digital experience with 3D and 360-degree virtual property tours. With FLOORFY, real estate agents can effortlessly create 3D virtual tours, floorplans, HD media, and descriptions with an automated process.
Kuula
20% off all plans for an entire year (either 20% off the first yearly payment or 20% off the first 12 monthly payments)
Kuula is a virtual tour platform where users can easily create, edit, and share immersive 360 tours and photos. As a budget-friendly solution, Kuula makes virtual tour creation accessible to all, with easy-to-use tools and customizable features for individuals and businesses alike. Kuula has over 100,000 published tours created by users across 150 countries, making it a leading virtual tour solution.
3DVista
Free one-month trial of 3DVista VT PRO
5% off when you buy 3DVista VT PRO
3DVista is an all-in-one virtual tour solution focused on innovation and cutting-edge technology. They offer cross-device compatibility, 3D model integration, VR support, rich media options, customization, seamless integration, and offline viewing. Their platform enables real estate and tourism industry users to build customized, interactive 360 and 3D tours quickly.
CloudPano
Free one-month trial of CloudPano Pro Plus
CloudPano is an end-to-end solution for building and white-label virtual tours, offering essential tools for 360 photography and media companies. Their software includes hotspots, embeddable content, walkthrough transitions, floor plans, 3D dollhouses, and customizable themes. Their tools allow customized, interactive 360 tours and virtual experiences across various industries.
GoThru
Free one-month trial of GoThru Pro Plan
GoThru offers virtual tour solutions with seamless Google Maps integration and enhances the client's user experience with immersive virtual content. They provide tools for unique customization, 4K 360 video conversion, auto-leveled images, and Meta Quest support. GoThru helps over 350,000 tours daily across real estate, hospitality, tourism, and more to create, manage, and share 360 virtual tours and images.
Bring spaces to life.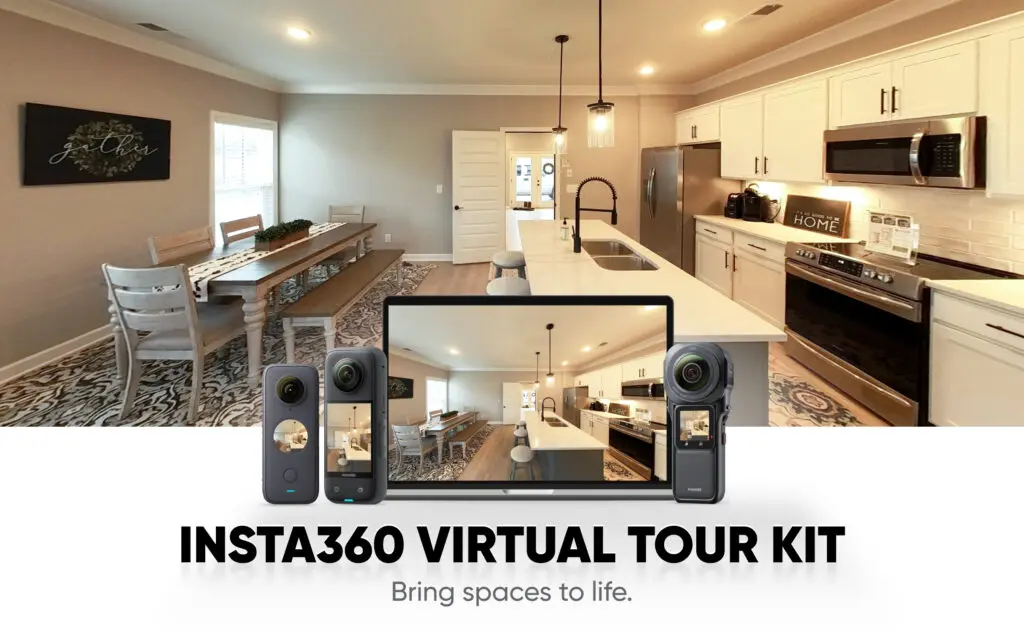 The Insta360 Virtual Tour Kit provides quality 360 virtual tours with true-to-life detail, excellent image quality, and color depth. Choose from quality Insta360 cameras and get an immersive capture of any space, even in low light.
Built-in features such as auto HDR keep your videos natural and vibrant while leading image stabilization FlowState keeps them level and smooth. And if that wasn't enough, Insta360 cameras have high-speed Wi-Fi connections, so you can preview and record your shots from a distance and transfer them to your device in a flash.

The Virtual Tour Kit is available for Insta360 X3, Insta360 ONE RS 1-Inch 360, ONE X2, and ONE X.
Buy your Insta360 Virtual Tour Kit today from the Insta360 official store and enjoy the Insta360 Enterprise User Benefit Program. Each software platform has its own unique offer—please check the website for full details and terms and conditions.
---
Keen to keep up to date on Insta360 stories? Keep an eye on our blog and sign up for our mailing list. You can also contact our Enterprise team directly to see how 360 cameras can benefit your business.