Comprehensive, easy-to-capture, 3D digital twins allow construction professionals to collaborate more effectively and make better decisions, saving time and money.
For decades, traditional point-and-shoot photography has been the go-to method for documenting construction sites. This method is inefficient and viewed as a nightmare to capture, organize and view. When critical details are missed due to incomplete documentation, costly errors can be made.
Cupix is here to change that. Imagine quick, hands-free capture paired with a Google-Street-View-like viewing experience which allows you to navigate a construction site virtually, from any location in the world.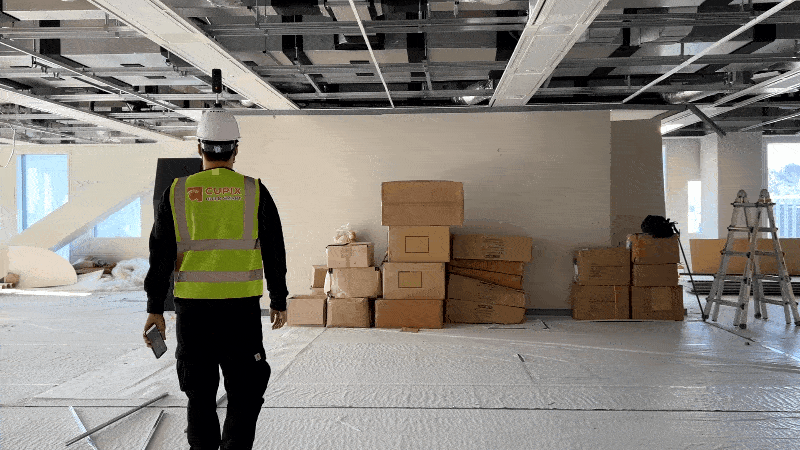 Cupix is a California-based tech company on a mission to deliver the industry's most powerful and easy-to-use 3D digital twin platform. Cupix's solution currently uses the Insta360 ONE X2 portable 360 camera.
Cupix's digital twin software enables architecture, engineering and construction professionals to optimize processes, apply analytics, reduce surprises, and protect profits throughout the entire building lifecycle–from design, to construction, to handover. Cupix's solution has recently become even more efficient, thanks to a new update that enables the use of ONE X2's timelapse function for construction documentation.
We interviewed Paul Collart, VP Strategic Engagement at Cupix, to learn more about their 3D digital twin platform using Insta360 cameras.
1. What is the value of a 3D digital twin for construction sites?
A camera has now become one of the most valuable tools on a construction site.
Photos are used to document site conditions, monitor job progress, verify compliance with contract documents and serve as a marketing tool for future clients.
By making the significant limitations of traditional photography a thing of the past, 3D digital twins have given the construction industry a new range of powerful but very easy-to-use tools.
Digital twin software allows project stakeholders to remotely walk a site, from any location, creating a truly immersive viewing experience. It brings huge improvements to the speed and efficiency of capture, organization and collaboration. It used to take hours to collect and collate digital site photos. Even then, users often had little context on the photos. Now it's all done automatically in the cloud and the 360 camera ensures that no important details are missed.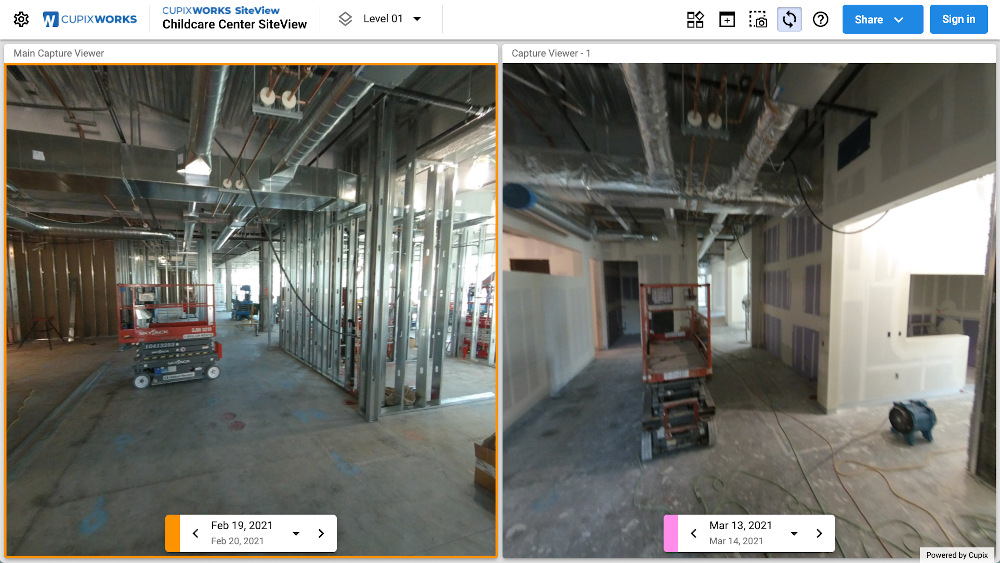 3D digital twins can even be captured at different times and then explored simultaneously. This side-by-side comparison shows project progression over time.
2. Describe the workflow of a construction site capture with Cupix and an Insta360 camera.
Simplicity is key.
The 3D digital twin workflow has been boiled down to simple, easy to follow steps allowing almost anyone to pick up a camera and capture valuable and actionable documentation.
We recently launched our new timelapse mode. It allows users to walk the construction site and shoot hands-free while the 360 camera shoots two images per second. With the reduction in images per second, we have found the sweet spot where Cupix produces excellent documentation while taking up minimal storage space. This improves the processing speed of the camera, and boosts shooting efficiency.
To capture with Cupix, a user can simply:
Connect Insta360 ONE X2 to the Cupix Capture app and tap "Start".
Walk around the construction site as you would normally until the preferred final position is marked. The camera can be easily mounted to a hardhat or tripod.
Then just save the recording. To capture another area, one would repeat the same steps above.
The Cupix Capture app then processes the images to align them with the floorplan, and your digital twin is born.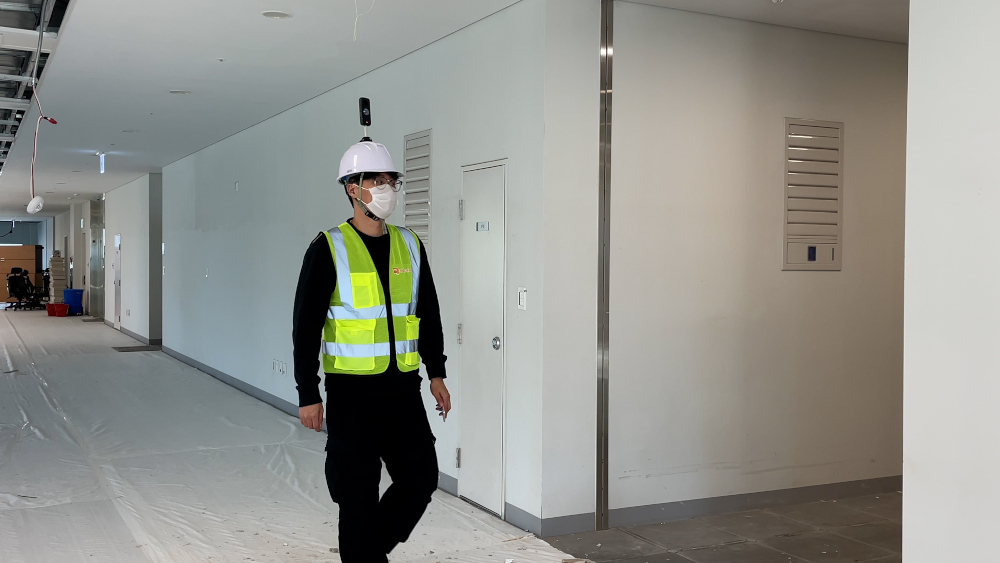 3. What did Cupix consider when selecting a 360 camera to capture digital twins for construction?
For construction site photo documentation, the key features we look for are high-quality image resolution, a lightweight and portable design, ease of use and affordable pricing.
Insta360 ONE X2 checked all the boxes.Paul Collart, VP Strategic Engagement at Cupix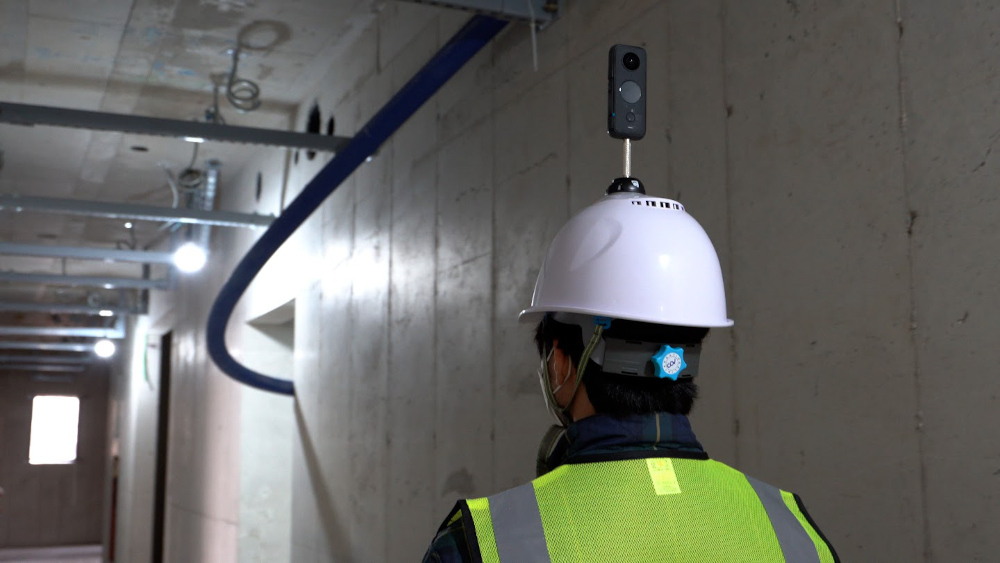 With Insta360's industry leading hardware and Cupix's cutting-edge software, it's the perfect match. By using Insta360 ONE X2, we ensure that our customers obtain both quick and high-quality construction documentation.
4. What are your customers saying about Cupix's 3D digital twin solution for construction?
Multiple companies are successfully using Cupix and the Insta360 ONE X2 camera on their job sites.
One nationwide construction company recently deployed several ONE X2 cameras to multiple sites in the United States. The company sent the cameras to different construction sites where everyone found them easy to adopt. The workers let us know that they were able to record in timelapse mode, creating digital twins quickly from accurate and high-quality captures. They all found the solution extremely helpful and easy to use.
Cupix significantly reduced the recording hours for filming both indoors and outdoors. The company finished the project successfully, including the project handover. They plan to deploy the Cupix solution further in 2022.
5. Why should companies choose Cupix? What sets it apart from other solutions?
Cupix allows users to create high-quality 3D digital twins quickly and easily.
Users can capture photos, videos and laser scans. Cupix brings these different elements all together into a clean, unified platform, allowing them to be viewed in 3D spatial context.
Our 3D digital twin solution offers a unified platform enabling users to access unique and powerful features throughout the entire building lifecycle. Our platform helps users from pre-construction to post-construction and with maintenance and operation.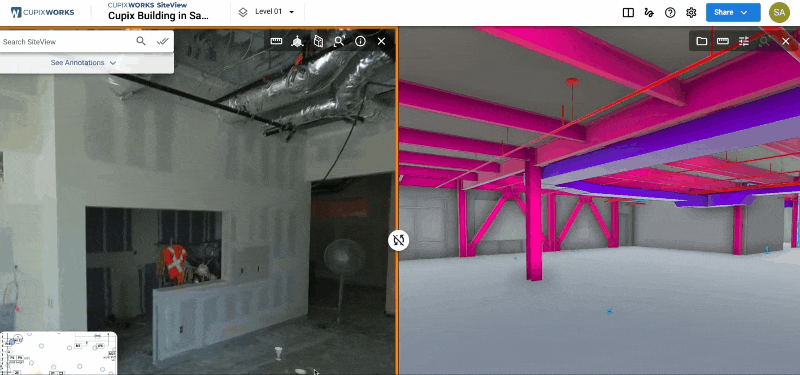 Cupix scales its pricing to the unique needs of each customer. Through partnering with Insta360, we can ensure that our solution is affordable and accessible.
We also assign a specialized Cupix CSM (Customer Success Manager) to each customer to ensure an easy and productive project journey.
6. Does Cupix have any upcoming projects or plans you can share?
In 2022, we plan to accelerate our product development with the launch of CupixWorks 3.0. Real-world user feedback is shaping this forthcoming update. It will include some notable enhancements that will enable end-users to experience an even more seamless workflow and navigation experience.
Alongside this update, we will soon announce unlimited capture time for Insta360 ONE X2 video capture mode. We look forward to launching these new capabilities and are excited to see what our customers will be able to achieve with them.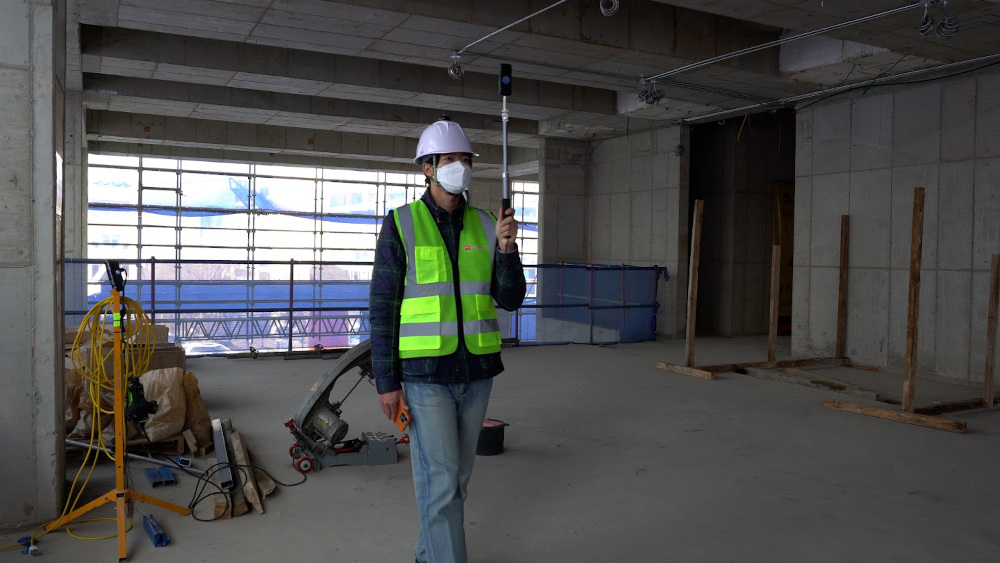 7. What do you think the future of the 3D digital twin market will look like?
We're excited about the future of the market. 3D digital twins are proving invaluable across multiple industries, and we anticipate the market to grow even more.
Digital twins currently replicate real-world assets and turn them into a 3D virtual model. With fast-changing technology and the increased adoption of digital tools, we think that 3D digital twins are going to become predictive in the near future. From using reality capture data and comparing 3D models to BIM (Building Information Modeling), 3D digital twins will evolve further to predict real-world data. This will deliver enhanced efficiency, improved safety, and all-around elevated results for users.
At Cupix, we've already started to assemble teams to leverage actionable data into insights, creating our beta program, SiteInsights. SiteInsights delivers innovative features including automated object identification and quantification of installation progress. Such early implementations are helping us shape best practices to understand real-world data and find the right solution for our users in this booming market.
---
Keen to keep up to date on Insta360 stories? Keep an eye on our blog and sign up for our mailing list. You can also contact our Enterprise team directly to see how 360 cameras can benefit your business.