The Himalayas were recently visible from Indian cities for the first time in decades as lockdown orders eased air pollution. But when life goes back to normal, the Himalayan region will still be facing rising temperatures and water shortages due to climate change.
Whether visible in person or not, people can now explore the Himalayas and the issues facing this region up close in virtual reality.
"Into the Himalayas" is a new three-part VR environmental film series produced for the United Nations Development Program (UNDP) by Riverbank Studios. The film is part of the SECURE Himalaya initiative of the Indian Government and UNDP to ensure the conservation of forest resources, land and biodiversity.
Watch a teaser of the film below in VR, filmed largely on Insta360 Pro 2 and ONE X. Read on to hear from director Gautam Pandey about using VR to tell wildlife and conservation stories. 
1. How did you get into VR environmental filmmaking?
I'm a wildlife filmmaker who is always filming in very challenging conditions. Riverbank Studios has been around for 47 years and is one of the oldest wildlife conservation film companies in India. It was started by my father Mike Pandey who is still the head of the company and created the larger vision of creating content that can trigger change.
Over the years we've made some environmental films which have made a deep impact on changing government policies and protecting endangered species. The biggest challenge has always been reaching the eyes and ears that need to see and hear the stories we want to tell. Cinematic 360 is a natural progression to help us engage our audience even more deeply.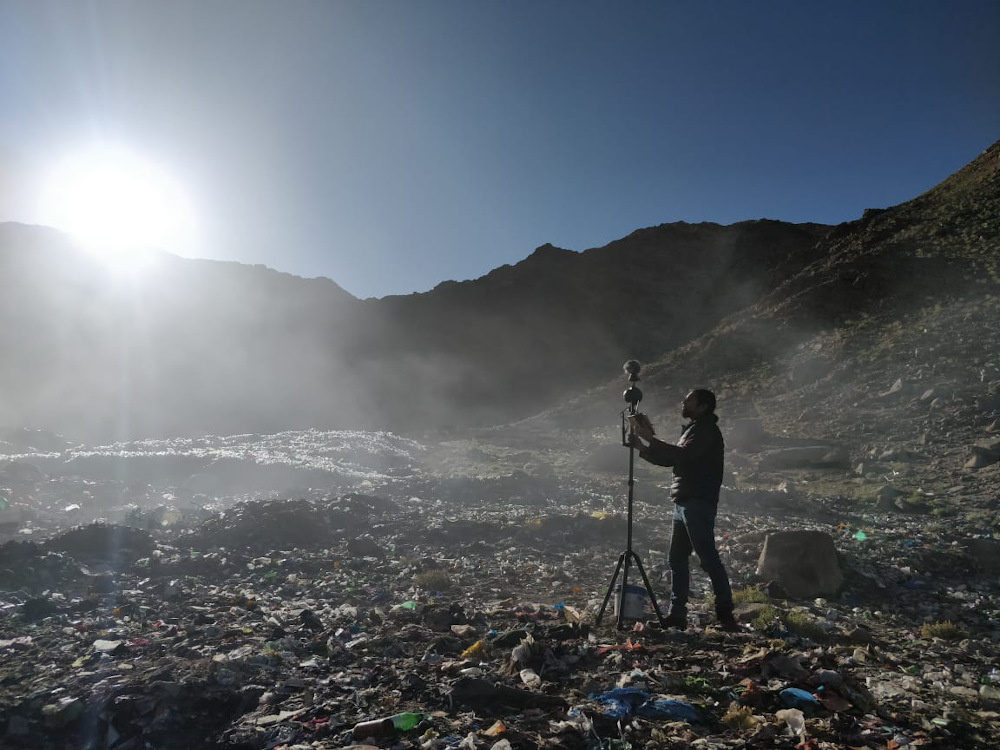 2. How does the environmental film explore Himalayan habitats?
This project was a series of four 360 environmental films for the United Nations Development Program (UNDP) about different habitats in the Himalayas, including wetlands, lakes and mountains.
The films are focused on the Trans-Himalayan region, an extension of the Tibetan plateau around the Himalayas. It is a very sensitive ecological area with many rare and endangered species of animals and plants. The Himalayas are still not fully explored and there are still many things to learn and discover.
The main aim for this filming project was to transport people to the Himalayas. The films can generate awareness about the mountains' spectacular beauty, the habitats and the issues that threaten the future of this region.
The first effects of climate change can also be seen here. Some indicator species like frogs have gone locally extinct, glaciers are melting at a faster rate and climate has become unpredictable. Areas have flooded where there used to be hardly any rain. Brown bears have woken up sooner from hibernation because it has got warmer.
With each habitat, there is a unique story and conservation issues that we have tried to show in the films. For example, one of the films is on water and is narrated in the local dialect. A young man remembers a folktale his grandfather used to tell him where a little boy learns that if the water vanishes, so does the village.
Water in the Greater Himalayas is precious, especially for farming communities who depend on snow melt during the summers. Over the last few decades, the climate has changed drastically. Glaciers and little streams have simply disappeared.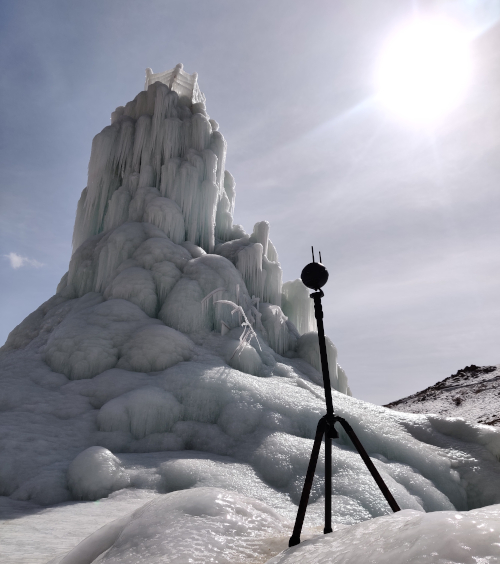 The people of Ladakh have come up with a clever solution that helps during the warmer months. In winter, they've devised a way to build "ice stupas" which are essentially artificial glaciers. They look beautiful, but they are actually proof that climate change is real.
3. What was the biggest challenge about filming Himalayan animals?
Our biggest challenge was to try and film the snow leopard in 360. When we started this project, I felt confident we could get some wildlife on the Insta360 Pro 2 but it felt like an impossible dream to try and film a wild snow leopard in stereoscopic 8K. I've filmed them before on a 4K camera so I knew how difficult it would be. We spent a lot of time trying to find the right locations, so we had a better chance at filming the wildlife.
For the last week of the shoot we teamed up with our friends at Habitat XR who've had a lot experience filming 360 and wildlife. But we knew there would no guarantees.
On the second to last day of the shoot, luck finally came knocking. A snow leopard had made an ibex kill and we were able to place our camera and trigger it from almost 800 meters away. We now have the first 360 footage of wild snow leopards in the world.
We also found that smaller Himalayan animals were scared of the camera. So, we removed all accessories and covered one side in camouflage tape. It helped, but the animals were still wary and took their time coming close. This is where good backup batteries and remote triggering was very helpful.
Next, we want to film Himalayan brown bears in 360. They're very rare and very little is known about their behavior, so it's going to be even harder than filming the snow leopard. Also, I think we will definitely need to build a protective case for the camera. Bears are known to pull apart unattended cameras!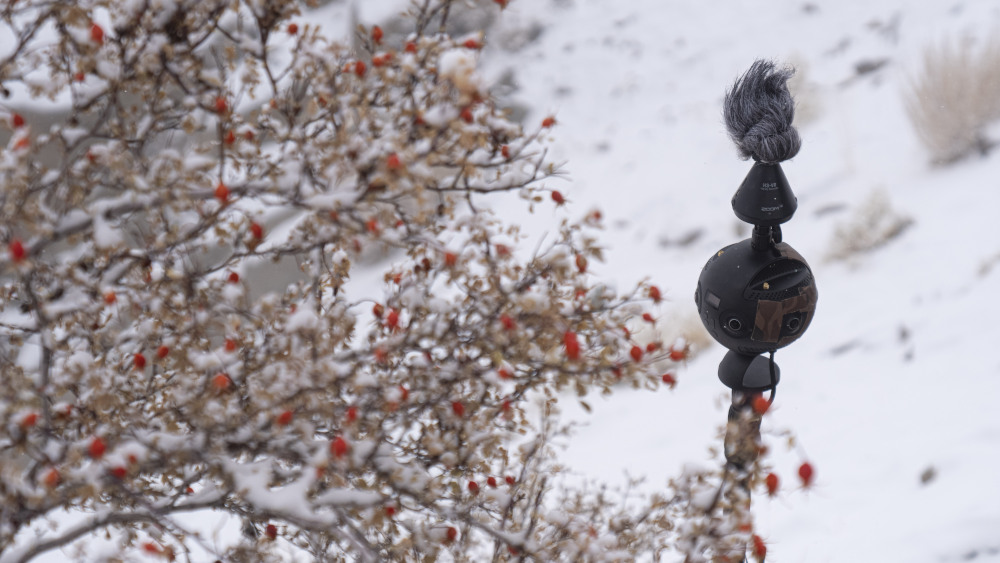 4. How do you select a 360 camera for shooting an environmental film?
We used a range of cameras for this project, including the Insta360 Pro 2. The most important features we look for in camera for shooting environmental films is:
8K stereoscopic footage
Good low light performance
Good battery life and ability to attach external batteries
No fan noise
Remote triggering
I loved Insta360 Pro 2's ease of use—we could be set up and filming something in minutes. The live preview was very useful, as well as the ability to shoot iLog and adjust exposure for individual lenses.
We also used the Insta360 ONE X for aerial shots. Though we would have loved to film the aerials with the Pro 2, we had to keep our budget in mind.
The Insta360 Farsight live monitoring system has worked really well and is really essential for filming wildlife. At one point, we needed more range and used a homemade WiFi with TP link to expand the monitoring range to 1 kilometer.
I also like the post-processing workflow and how the cards get copied out into folders. To speed up the process, we just used the preview files from the camera and renamed them according to the shot. This way we could have a rough cut ready very fast.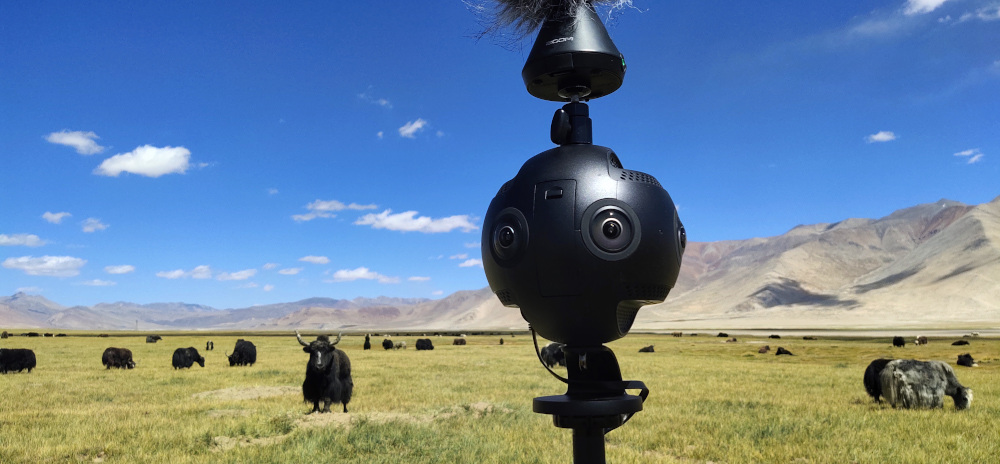 5. What was it like filming in such difficult conditions?
The Himalayan terrain is extremely difficult. We were working at an average altitude of 15,000 feet and temperatures of -15°C. At this height, climbing even a short distance feels like you've run a marathon. There are some areas which are very hard to reach and even harder to stay in for too long.
It's even harder to film in these conditions. Batteries discharge fast, everything feels heavier and the lack of oxygen makes your mind fuzzy. We even had to send two crew members back because they got altitude sickness and would have died if we didn't get them to a lower altitude.
The Insta360 Pro 2 performed extremely well considering all the difficult environments we were putting it in… very cold, wet, dusty, rocky, snowy. I think the only thing we didn't do is try and drown it! Even the battery life was better than expected. We had to use an external backup battery only for a few special situations.
6. Why do you think 360 cameras are a good tool for telling conservation stories?
I think stereoscopic 360 videos with just the right music and sounds can trigger a very strong emotional response in many people. I've showed films to my sister who has Down Syndrome and she was immersed immediately. She approached it from a very non-technical and pure way that allows for deep immersion. Young kids who have not experienced 360 video before also have similar responses.
I've also been showing the films to people who live in the areas we have filmed and it has been a beautiful experience for me to share this moment with them. I love that moment when they figure out they can turn their head and see everything and the look in their eyes when they take the VR headset off.
A few people have even cried watching the films. Since the deeper message in the films is about conservation, we wanted to touch people emotionally. We hope that people who see the films will be moved by what they see and support the conservation issues.
Check out more footage from the films on Riverbank Studio's Instagram and Facebook.
---
Keen to keep up to date on Insta360 stories? Keep an eye on our blog and sign up for our mailing list. You can also contact our Enterprise team directly to see how 360 cameras can benefit your business.