Due to strict COVID-19 isolation protocols, many Intensive Care Unit patients in Spain's hospitals have gone months without a visit from their family and friends. On average, patients spend up to three months hospitalized in the ICU and recovery—all without a single visitor.
Rafa Lanús, a photographer based in Barcelona, saw his VR camera collecting dust in his studio and had an idea. What if he could use virtual reality to bring these separated families together?
With a few of his friends, Lanús formed Reality Telling and reached out to Hospital del Mar, one of the largest public hospitals in Spain. Over the past few months, Reality Telling has now traveled to several families' homes and recorded messages for their loved ones using a VR camera, Insta360 Pro.
The ICU patients can then watch the video in a VR headset, experiencing it as if they were in the room together with their families. "We use VR technology to bring the warmth of home to the hospital and to help patients get out of the isolating environment of the ICU, at least for a brief moment," Lanús said.
According to the ICU doctors, the VR messages improve the patients' emotional state, and in turn, their recovery time. One of the first patients to watch a message from her family, Anna Bernal Martinez, said of the experience: "This is the best medicine that they can really give me. They can heal you, but this medicine really gave me so much joy that I didn't even know what to say. It gives you a lot of strength… it touched me so much." Watch the video below to see her reaction:
Humanizing the ICU with VR technology
For two years, doctors at Hospital del Mar, have been experimenting with programs to "humanize" the Intensive Care Unit (ICU). Hospital del Mar—the Hospital of the Seas—sits right across from Barceloneta Beach, overlooking the Mediterranean Sea. Dr. Judith Marín, who leads the ICU humanization project at the hospital, already made headlines last year by taking ICU patients on short trips to the beach to improve their emotional state.
Before bringing the families together, Reality Telling decided to film some test footage of a sunrise on the beach. They weren't sure how the patients would react to wearing a VR headset, but the test was a great success. "For 15 minutes, seeing the sun rising, listening to the sounds and watching people passing by is such a great way for patients to be away from their reality," said Lanús.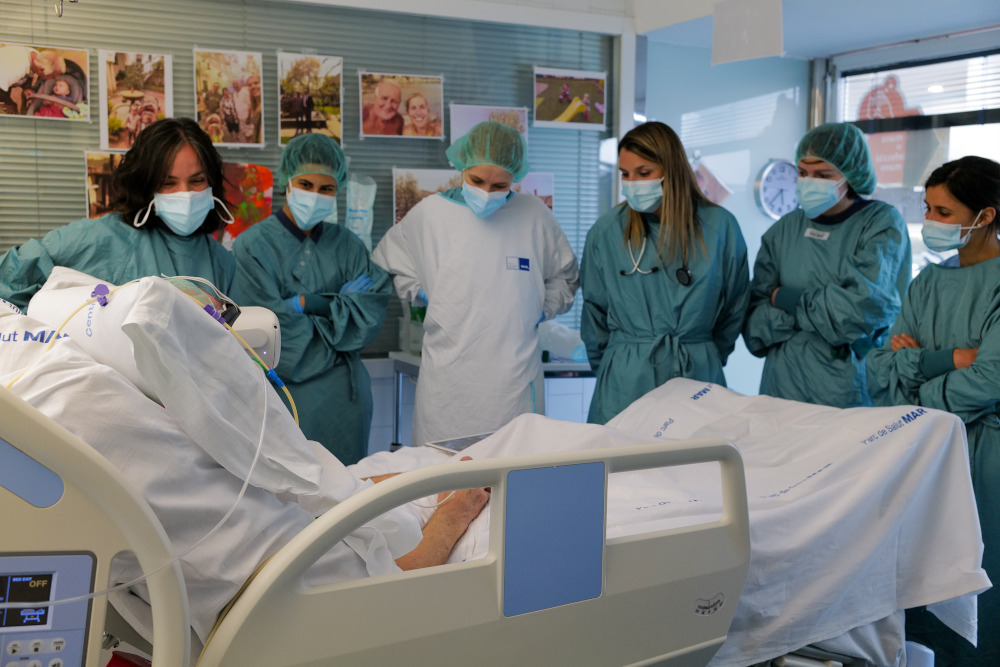 Next, Reality Telling got to work bringing families together. The first patient to receive a VR message from home was Anna Bernal Martinez, who had been in the hospital for more than two months without seeing her family. "We went to her daughter's house, where she and her sons sent the most adorable greeting to their grandma! Seeing Anna watching the footage was an amazing experience," said Lanús.
"The messages from home help the patients see the future from a more positive perspective."–Dr. Judith Marín, Hospital del Mar
Aside from improving the ICU patients' quality of life, Dr. Marín also believes receiving such a message from home helps the patients' recovery time too. "The patient's improved emotional state helps a lot to make the recovery process faster. The messages from home help the patients see the future from a more positive perspective, and it helps them to see that this quarantine stage is coming to an end and they will soon be at home," said Dr. Marín.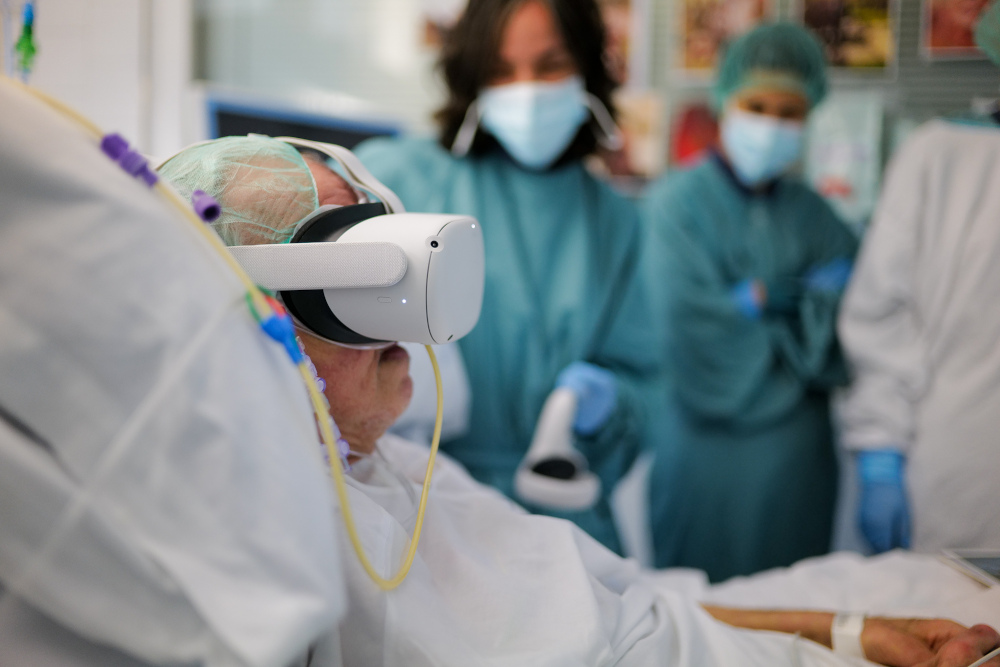 Although the hope is that all patients in the ICU recover, the VR messages can also be a way for ICU patients to see their families for the last time before they pass away. "Patients can see their families in a natural setting, with no masks and in their homes, for the last time," said Lanús.
A "reborn" camera
The Reality Telling team calls their Insta360 Pro camera "Renata" which in Latin means "reborn". From collecting dust in a studio to now bringing families together, the team has rediscovered the power of the VR camera with this project.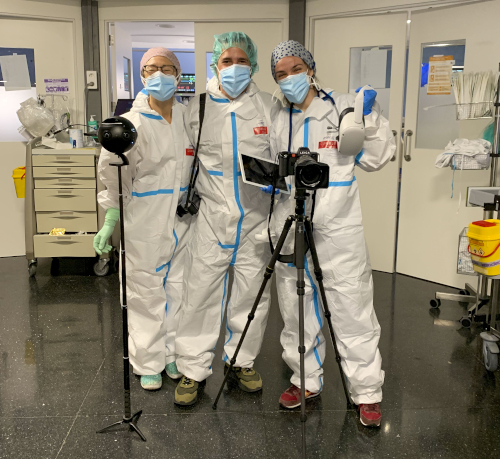 Looking forward, Reality Telling plans to expand their project to three more hospitals in Spain, as well as more countries. They already crossed borders when they recorded a message in Romania for another patient at Hospital del Mar. With the help of a friend, they filmed his house in Romania with his family and even his own vegetable garden. "He couldn't believe his eyes when he saw his house, thousands of kilometers away, while lying in the same bed he's been in for four months," said Lanús.
Inspired by the success of the project, Reality Telling is now also working on recording messages for pediatric oncology patients. They hope their project will inspire other VR content creators around the world to share their footage and help make more patients' dreams come true. "Just imagine a kid swimming with sharks, seeing his favorite performer live in a concert, watching a sporting event, or conquering the top of the world at Mount Everest while fighting a disease," said Lanús of the potential.
---
Keen to keep up to date on Insta360 stories? Keep an eye on our blog and sign up for our mailing list. You can also contact our Enterprise team directly to see how 360 cameras can benefit your business.