Head to a construction site anywhere in the world right now and chances are you might see a 360 camera. 360 cameras are becoming more and more common on jobsites thanks to the efficiency they provide for documenting construction progress. Contractors, project owners and engineers can now all stay on the same page with real-time data and imagery.
Key benefits of using a 360 camera for construction documentation include:
Ease of use: Any project stakeholder can capture a jobsite regardless of experience
Speed: All you need to do is snap a few photos or take a video as you walk through a space
Affordability: Compared to more sophisticated tools like lidar
But what 360 camera should you choose for construction? Here's the lowdown on why Insta360 RS 1-Inch 360 Edition might be the best camera for you.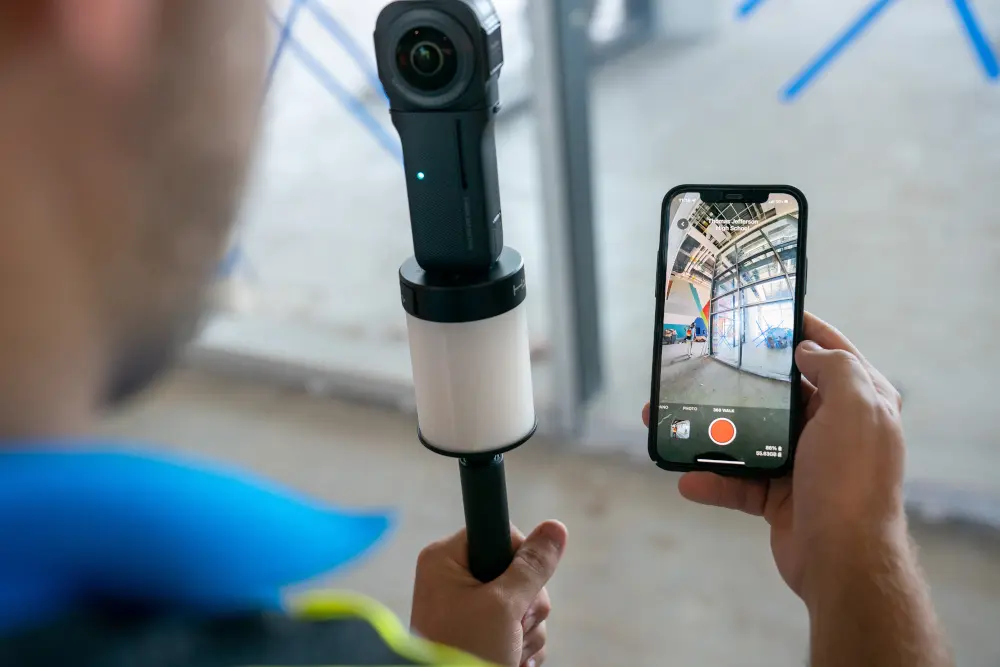 1. Premium Image Quality
Image quality is of utmost importance for construction site monitoring. Stakeholders need to be able to see progress clearly and ensure construction is up to spec.
Thanks to its dual 1-inch sensors, RS 1-Inch 360 offers crisp 6K 360 video and 21MP photos. As one customer of construction platform DroneDeploy said:
"The new Insta360 RS 1-Inch 360 camera quality is amazing, we are now able to have the same high resolution seen in static 360 images as in our entire walkthrough for the building. It is our new standard across all jobsites moving forward!"Wilson Haworth, Virtual Design + Construction Manager, Juneau Construction Company
2. Low-Light Performance
Another image quality consideration in a 360 camera for construction is its low light performance, as construction sites are often poorly lit. Poor low-light performance may lead to blurry, grainy or simply unintelligible photos.
RS 1-Inch 360's 1-inch sensors allow it to capture higher-quality HDR photos than competitor cameras, especially in tricky conditions. With a high signal-to-noise ratio and Leica's optical expertise, RS 1-Inch 360 can capture more details in low light environments with outstanding dynamic range.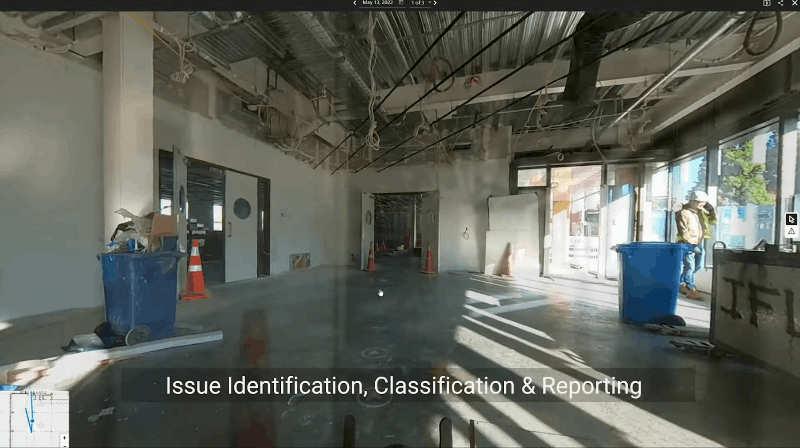 3. Ease of Use & WiFi Connectivity
Construction site capture work is typically done by on-site engineers, who often are not familiar with 360 cameras. It's essential that the 360 camera you select for construction is easy to use and requires little training.
RS 1-Inch 360 connects easily to your iPhone or iPad over WiFi, allowing you to control the camera and preview shots with a tap. The touchscreen offers easy access to all the settings and modes you could need. RS 1-Inch 360 also has a built-in 1/4" mounting point on its bracket, which makes it easy to mount on a selfie stick or safety helmet.
The capture and upload process is also fast thanks to a 6K 2fps video option. With this option, the camera automatically saves a 360 image every half second, helping conserve storage space for construction site shooting projects.
Insta360 continues to make some of the best photo documentation cameras on the market. The foundation of our partnership continues to be centered in providing the best possible reality capture experience for our customers and empowering them to capture their job sites any way they'd like to.Neel Sheth, VP of Product, OpenSpace
4. FlowState Stabilization
Image stabilization is another important factor for getting smooth and balanced videos that can be easily viewed by clients and stakeholders. Stabilization technology also eases the capture process for engineers, who don't have to worry about holding the camera perfectly steady while documenting a site.
Insta360's FlowState stabilization and 360 Horizon Lock technology is honed from years of development with our action camera lines. There's no need to worry about holding the camera steady as you step over an uneven construction site floor—RS 1-Inch 360 will always deliver smooth footage.
5. Long Battery Life
Large construction sites require more time to record from start to finish. A 360 camera for construction with long battery life and a replaceable battery design can help improve the efficiency of shooting.
RS 1-Inch 360's battery boasts a 1350mAh capacity and can be removed and replaced, so you can have multiple batteries for uninterrupted field capture.
6. Compatibility with Construction Management Platforms
Of course, once you've captured a construction site, there's the challenge of gathering all the photos and videos together and organizing it for easy review. Thankfully, many automated platforms now exist that can organize the content for you.
RS 1-Inch 360 is integrated with all leading construction site capture platforms, including DroneDeploy, StructionSite, OpenSpace and Cupix. Here's a brief overview of what the different platforms offer: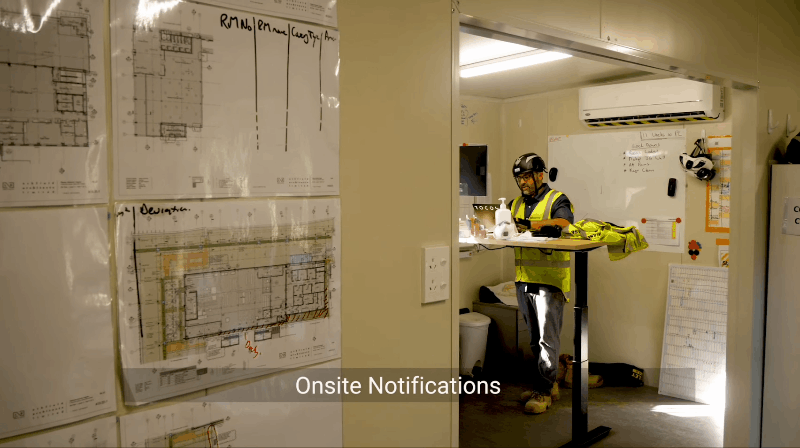 OpenSpace
OpenSpace provides next-generation reality capture software, powerful integrations, and the smart analytics tools. 360 cameras can be used to capture jobsites with unmatched speed and simplicity. Using tools like BIM Compare and AI-powered OpenSpace Track, you can understand job progress like never before. With automatic progress tracking, OpenSpace makes it simple to add notes, compare progress against a BIM model or compare progress compared to previous capture dates.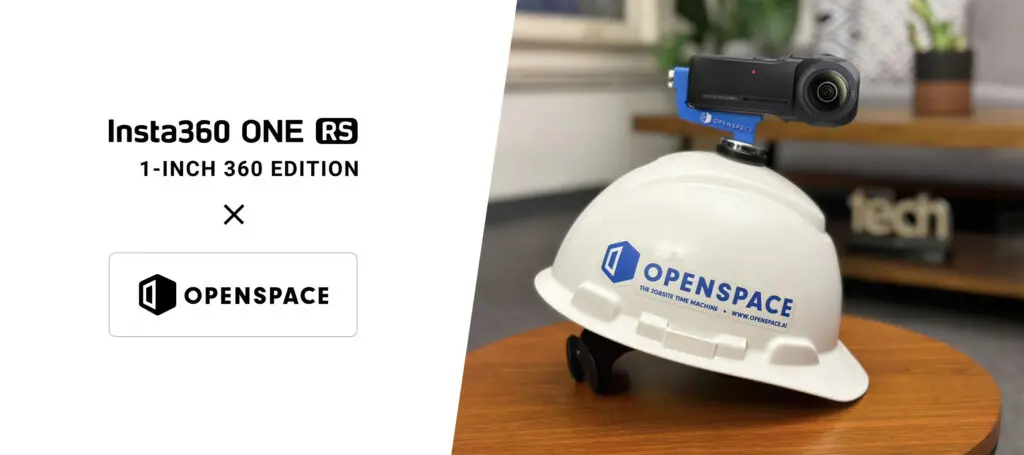 DroneDeploy
DroneDeploy is a leading reality capture platform with real-time sharable drone maps and 3D models. 360 videos can be uploaded to DroneDeploy to create a 360 walkthrough of your entire job-site, so you can compare changes over time and report issues using their inspection tools. DroneDeploy also offers a unique Ground Robotics solution, where you can equip a robot with the RS 1-Inch 360 camera. Robot missions can be scheduled to take place 24/7, both indoors and outdoors, even after employees have left the site. The robot will capture comprehensive and high-resolution imagery that is automatically uploaded to DroneDeploy, freeing workers from repetitive, time-consuming tasks.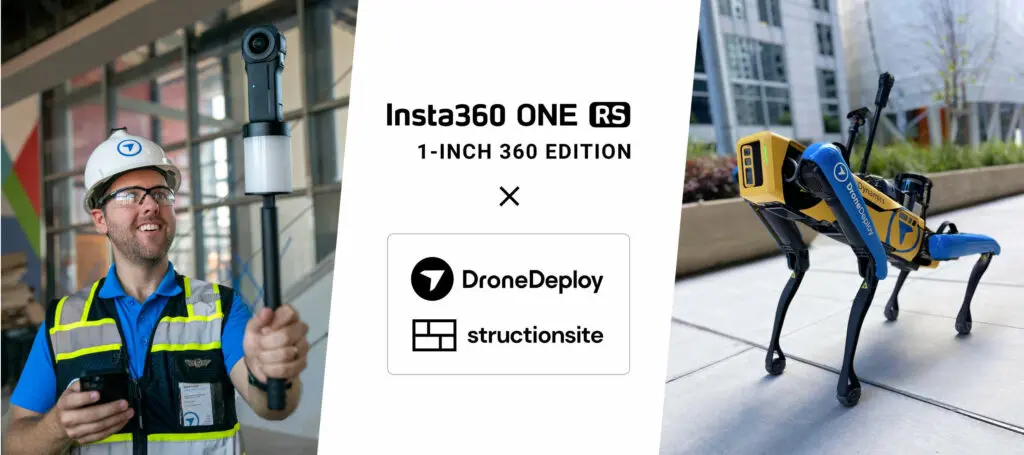 StructionSite
Recently acquired by DroneDeploy, StructionSite is a leading provider of interior reality capture for the construction industry. Their intelligent project tracking platform provides customers in-depth and organized insights into the status of work completed on a jobsite using 360° video, photo and AI-powered algorithm mapping. StructionSite's web and mobile applications are designed to easily capture project progress from every angle and at every phase of construction, giving contractors and project owners the ability to track projects, validate schedules and eliminate re-work.
Cupix
Cupix prides themselves on delivering an easy-to-use 3D digital twin platform to builders and owners everywhere. Their site capture technology is flexible and adaptable to work in multiple environments, from plain spaces to tight spaces, above-the-ceiling, rooftops and drone-mounted birds-eye view. You can also combine 360 camera data with other forms of point cloud data into their unified 3D digital twin platform — including terrestrial and hand-held LiDAR scanners, drone photogrammetry, robots, and custom-built reality capture systems.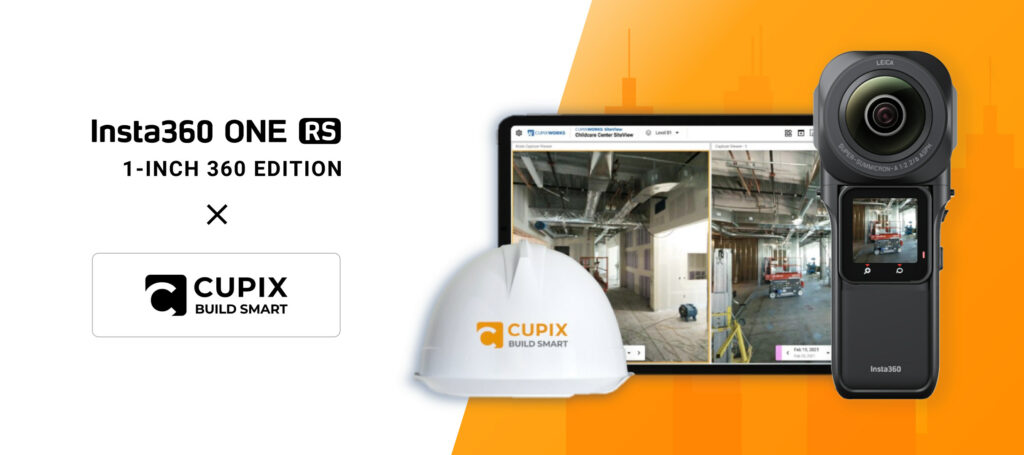 RS 1-Inch 360 Edition can be used with all of the above platforms. Simply walk your jobsite with the camera to capture and use your preferred platform to view the data in real time.
---
Keen to keep up to date on Insta360 stories? Keep an eye on our blog and sign up for our mailing list. You can also contact our Enterprise team directly to see how 360 cameras can benefit your business.