When was the last time you watched a professional sports game live in person? For a lot of people, it might have been before the COVID-19 pandemic.
Luckily for baseball fans in Korea, there was another way to watch the 2020 Korean Series playoff games live—in 8K VR. LG U+, Korea's third-largest telecom company, partnered with AVA Entertainment, a new media content provider, to VR live stream the games over 5G for the first time. Fans could experience the games on their phone in the LG U+ app or via a VR headset.
The team used three Insta360 Titan cameras and the Insta360 8K Live software to pull off this historic feat. We interviewed Justin Kim, CEO of AVA Entertainment to learn more about how he approached this VR live streaming project.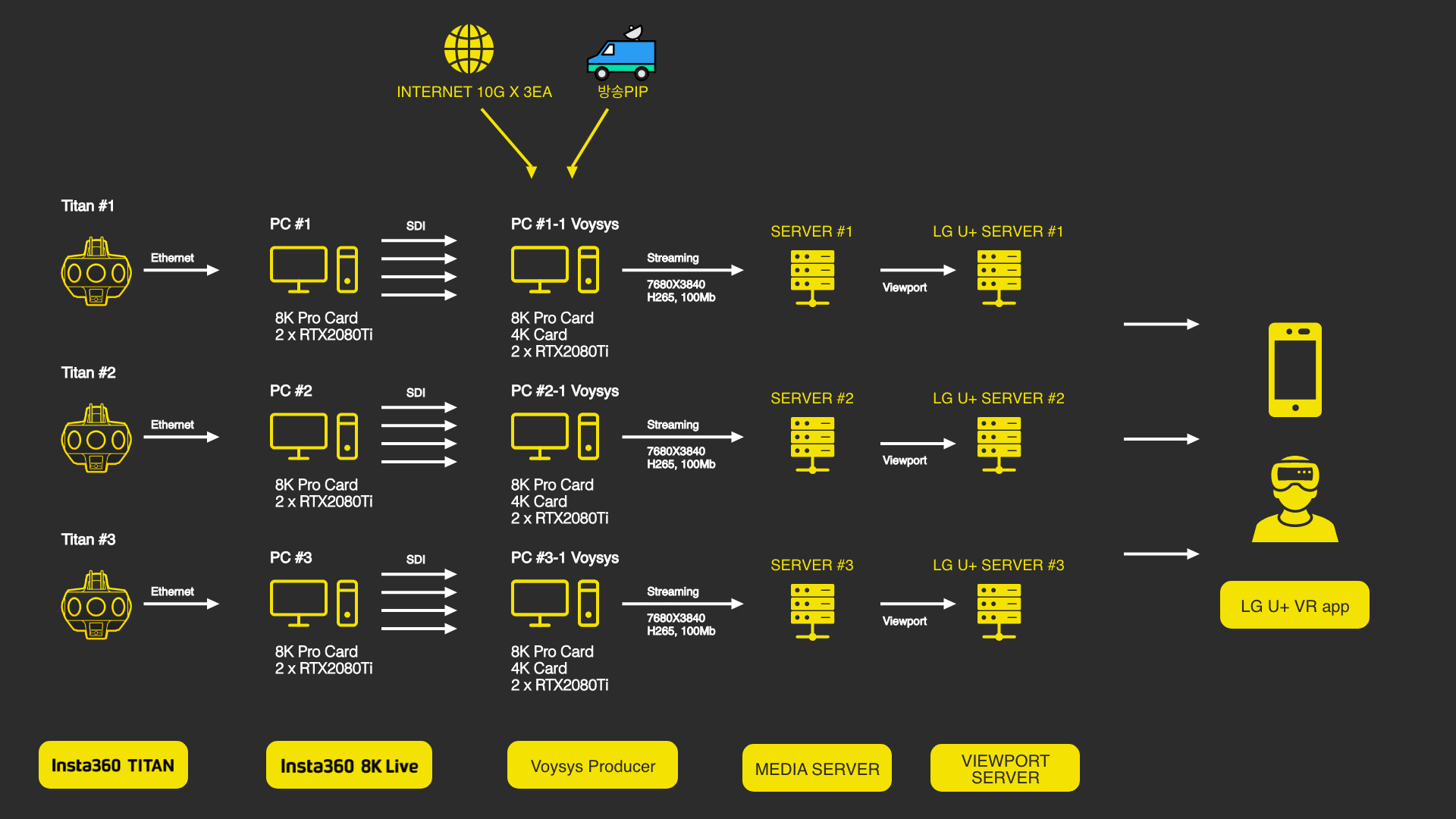 1. Could you briefly introduce AVA Entertainment and how this VR live streaming project came about?
AVA Entertainment is one of the leading new media content providers in Korea, with major clients like Samsung, LG, and three Korean telecoms (SKT, LG U+ and KT). Currently, we mostly produce VR content for these three telecoms and for local government projects. We are also proud to be a distributor of Insta360 cameras since the beginning.
Our client LG U+ is the official partner for the Korean professional baseball league (KBO). They wanted to broadcast the Korean league in VR, since games have been closed to the public due to COVID-19. LG U+ has their own VR app for their viewers and they thought VR live streaming would be much more effective than a traditional broadcast. And they were right! AVA Entertainment provided all the technical support in VR and delivered it in 8K.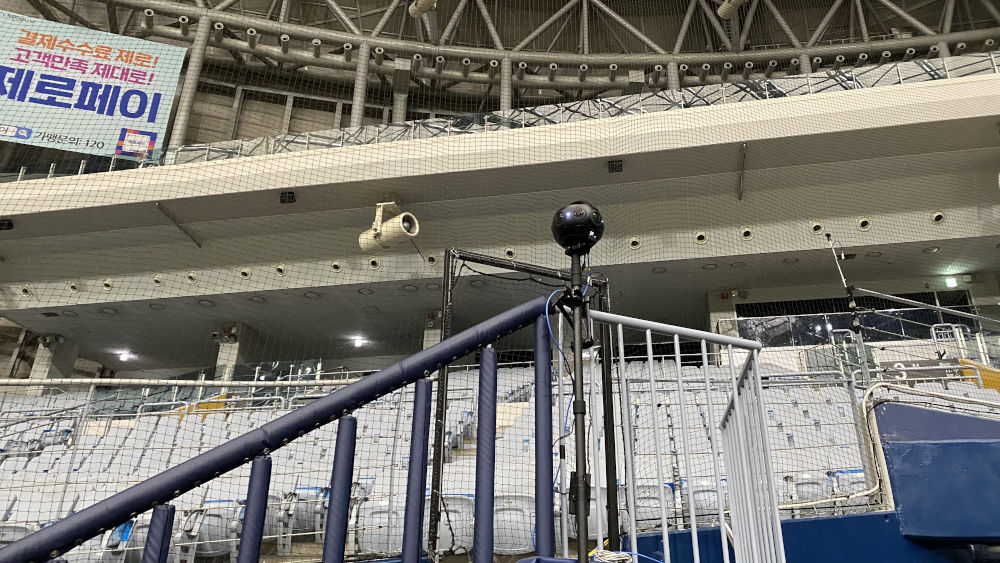 2. Why did you choose 8K VR live streaming, compared to 4K?
We have tested many 4K VR live streaming services with our other telecom partner, KT. But the quality of 4K live streaming is not enough to provide a true immersive experience. So our new client, LG U+ wanted 8K VR live streaming from the beginning. In addition, they wanted to test their 5G speed and show off the quality of their 5G service.
3. Can you briefly walk us through your VR live streaming workflow?
We used three Insta360 Titan cameras for this project. We set up the first camera behind home base, the second camera in front of first base and the last one in the home team cheering section. Then, we delivered each 8K live stream signal via ethernet to a dedicated computer running the Insta360 8K Live software. The Insta360 8K Live software was used to live stitch the eight feeds from each of the Titan's eight lenses together into one VR stream.
Then we delivered the stream via SDI to a second computer running Voysys VR Producer, a 360 live production software. In Voysys, we added the score board and Picture-in-Picture (PiP) 2D live broadcast. Voysys can support the 8K live stream from Titan and also provides more editing tools such as audio and video control, overlaid graphics and more.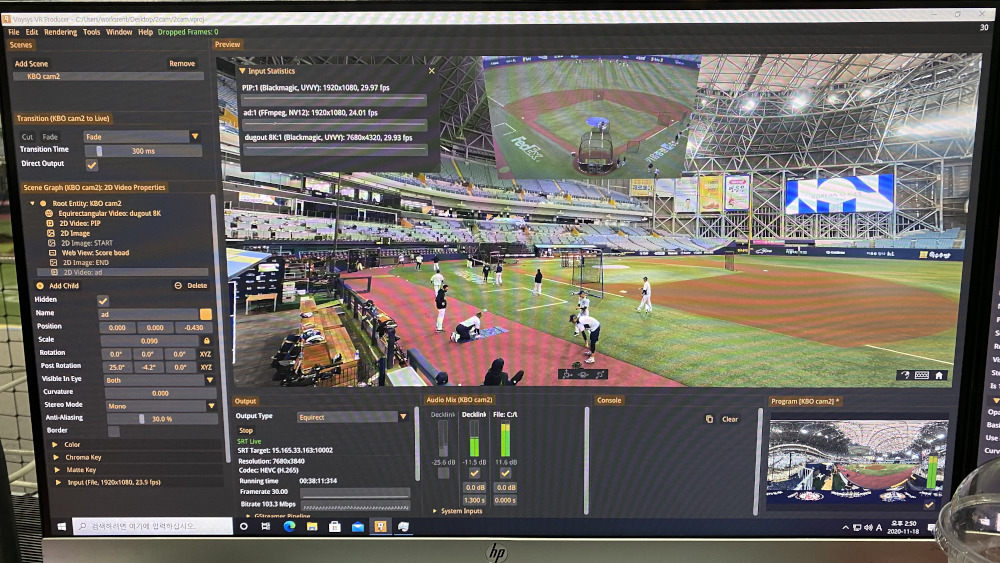 The 8K VR live stream was then pushed over 5G to the LG U+ official app. In the app, LG U+ subscribers could switch between all three Titan streams in real time to get different views of the game.
4. What was your experience like using the Insta360 Titan and Insta360 8K Live software?
We are very satisfied with the image quality of Insta360 Titan. As a distributor of Insta360 Titan, we recommended Titan to LG U+ as their VR camera for this project right away. LG U+ compared Titan with other cameras, and found in the end that Titan's image quality was the best.
"Insta360 Titan worked great with the Insta360 8K Live software. It was stable and fast, which made it easy to operate at the stadium." Justin Kim, AVA Entertainment
Since Insta360 also offers the Insta360 8K Live software, it was easy to deliver the stream in 8K from the site to the viewers' phones and headsets. The Titan was so stable while we were broadcasting for 5 hours at a time per game over the course of 6 days! This was another major deciding factor for us in selecting the Titan for this project.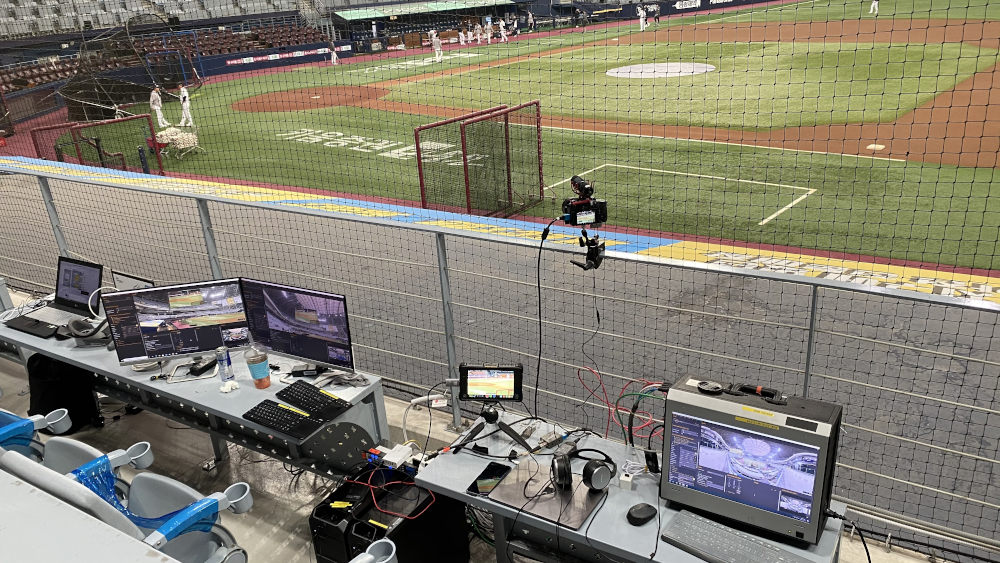 Insta360 Titan worked great with the Insta360 8K Live software. It was stable and fast, which made it easy to operate at the stadium. It performed well with our high-end computers and we had no problems with live streaming.
5. What were the biggest challenges you faced with 8K VR live streaming and how did you overcome them?
8K live streaming is always a challenge. But, LG U+ provided us with a lot of support, for instance by providing the content delivery network (CDN) and setup at the stadium. Due to the large size of the stadium, we had to use a lot of long cables on-site and position everything carefully. Fortunately, there were no spectators at the stadium, so we didn't need to worry about that aspect for this project.
We tested the setup many times at the office to identify any minor issues and solve them in advance.
6. What was the feedback like from LG U+ and the subscribers who watched the final live stream?
It was a successful project and overall it was well received by LG U+ and their subscribers. This project was LG U+'s first experience with 8K live streaming, so they did not promote it aggressively.
However, they liked the service we provided and we're already preparing together for the next event this year using the Insta360 Titan and Insta360 8K Live software. Due to COVID-19, there are now many opportunities for VR live streaming in other areas, like VR concerts and other sports games.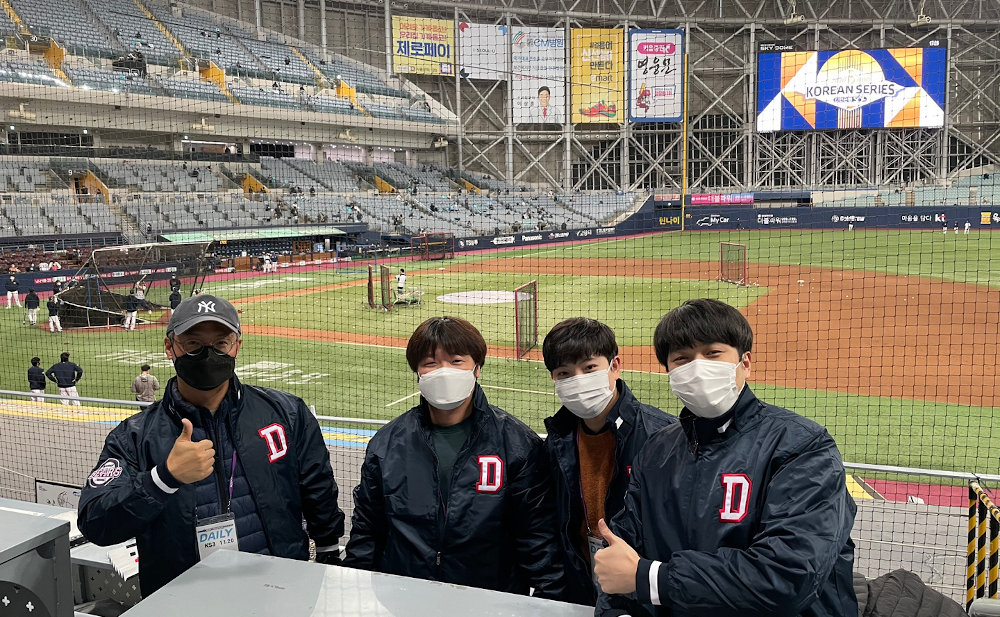 ---
Keen to keep up to date on Insta360 stories? Keep an eye on our blog and sign up for our mailing list. You can also contact our Enterprise team directly to see how 360 cameras can benefit your business.