On March 19th, 2021, the Mt. Fagradalsfjall volcano in Geldingadalur, Iceland erupted for the first time in 6,000 years. Located in the southern Reykjanes Peninsula, the region hadn't seen an eruption of this kind in 800 years, but Mt. Fagradalsfjall has now continued to emit fresh lava for over a month. Now for the first time, you can watch mesmerizing drone footage of the volcano's eruption in 8K VR.
For the best experience, make sure to toggle up the resolution, watch on desktop or a VR headset, and pan around to see different perspectives:
This immersive footage was shot by Ragnar Th. Sigurðsson, founder of Arctic Images, and drone pilot Arnar Þór Þórsson using the Insta360 Pro 2, an 8K VR camera. The project was sponsored by the Perlan museum, which hosts a state-of-the-art 8K planetarium and other exhibitions on Iceland's geographic wonders.
How the 8K VR drone footage of the volcanic eruption was shot
To get these up-close shots of the eruption, the duo mounted the Insta360 Pro 2 on a DJI Matrice 600 drone and flew it tantalizingly close to the volcano. During the flight, the lava reached temperatures as high as 1240°C degrees (2264°F), but the camera sustained the journey, delivering these epic shots.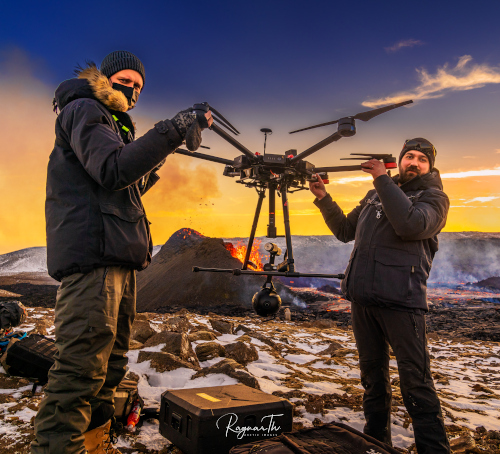 Camera weight and image quality are two common limiting factors for shooting VR drone videos. Insta360 Pro 2's lightweight form factor, weighing just 1.5kg, enabled the drone pilot to fly smoothly without the drone being weighed down by the camera.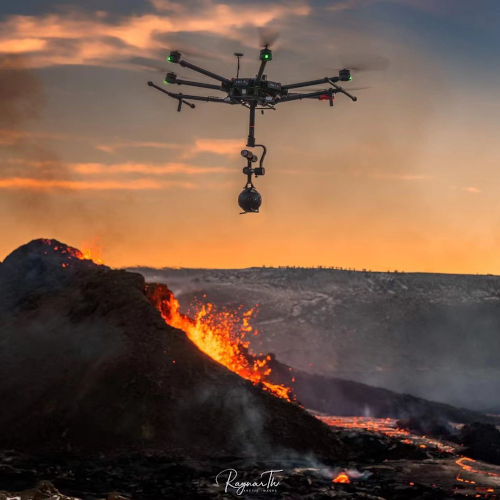 Insta360 Pro 2's cinematic dynamic range, 8K resolution and high bitrate deliver footage full of details that other cameras miss. Backed up by the camera's FlowState stabilization, the footage is extremely smooth and comfortable to watch on a VR headset.
The last piece of the puzzle was Ragnar's expertise behind the camera. A native Icelander and professional photographer for over 30 years, Ragnar's images have been featured in publications such as the New York Times, National Geographic, Times, Nature and Newsweek. Now with VR technology, Ragnar and other photographers can deliver deeply immersive experiences of the Earth's wonders to audiences around the world.
---
Keen to keep up to date on Insta360 stories? Keep an eye on our blog and sign up for our mailing list. You can also contact our Enterprise team directly to see how 360 cameras can benefit your business.