Technology is playing an increasingly central role in the higher education experience, no more so than with the use of virtual reality (VR). A survey reported by EdTech found that 28 percent of higher education institutions in the U.S. have engaged in some level of VR deployment, while industry estimates suggest around 60 percent will be using VR by 2021.
From allowing students to learn through immersive, interactive experiences, to bringing material to life and improving distance learning, the benefits of virtual reality in education have become widely apparent to educators and their students.
An innovative example of this comes from (CCM) in New Jersey, USA, with the successful launch of their 'Virtual Crime Scene Capstone Project'. This pioneering project is the first of its kind using Insta360 Pro 2.
In this project, virtual crime scenes were staged and captured by Photography and VR students using a 360 VR camera: Insta360 Pro 2. Back in the VR lab, students in the Forensic Science and Investigative Function courses put on the VR headsets and 'entered' the crime scenes. Their task was to investigate the death that had occurred, determine what potential evidence should be collected, and establish the manner and cause of death.
See what the students put together and explore their crime scenes right here: https://kuula.co/share/7c0Cl/collection/7l8nx?fs=1&vr=1&sd=1&initload=0&thumbs=1&chromeless=1&logo=0
Collaborative effort
The project came about after Professor Hrvoje Slovenc, program leader for Photography and VR at CCM, gave a training about VR technology and offered to collaborate with any department. Professor Brian Olson, from the Biology & Chemistry department, and Dr. Maureen Kazaba, from the Criminal Justice department, thought a joint project could help serve all of their interests.
For VR students, it is often a challenge to find practical, realistic ways to apply their new skills. While for Forensic Science and Investigative Function, the students must learn how to investigate a crime scene without attending one in real life. This made the 'Virtual Crime Scene Capstone Project' a win-win for all.
Shooting a virtual crime scene
The virtual crime scenes were set up by the VR and Photography students. The first half of the semester was geared towards teaching the students the specificities of capturing an engaging 360 space. The students were required to learn a number of skills including:
How to make 360 scenes beneficial to the viewer; to offer something that 2D images cannot
How to lead the viewer's gaze around a scene: horizontally, vertically, as well as close to far
How to use Insta360 Pro 2
How to do basic coding
Following this, the next step was for the class to put everything they had learnt into practice. Working in teams, they scouted locations, gathered objects of possible evidence, then applied investigative and forensic principles to arrange evidence in a scene with multiple possible interpretations. The goal was to make the scene look as it would if an investigator walked into a death scene. Once all this was set up, the VR students captured the scenes using Insta360 Pro 2.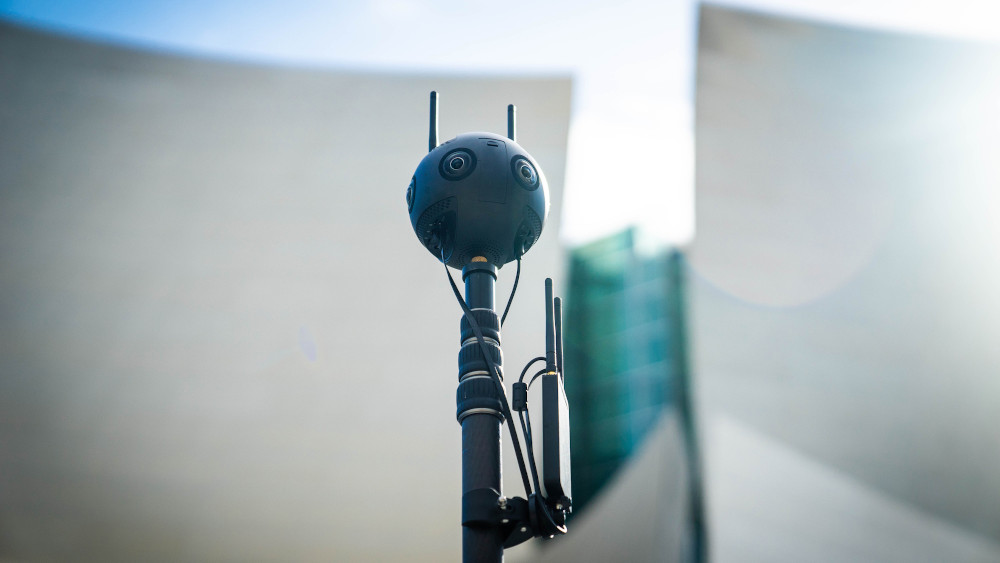 From learning how to use the camera, to shooting and processing the footage, both Professor Slovenc and his students were hugely impressed with Insta360 Pro 2:
"Insta360 has the best combination of quality and user-friendliness out of all the 360 cameras we tested." Prof Slovenc

"We were blown away by the results. The resolution was so great the investigating students could see and identify items of possible evidence scattered around the scenes. Both monoscopic and stereoscopic views provide an immersive experience, with a sense of being present at an authentic death scene. Now we can up our game with more detailed scenes as the Insta360 Pro2 can capture more than we expected."
Time to investigate!
With the virtual crime scenes prepared, the students of Forensic Science and Investigative Function were ready to begin their work. Moving through the crime scenes, students had to determine the cause and manner of death, with physical evidence to support their positions.
However, there was no one correct result being sought. After committing to one manner and cause of death, they were required to come up with a different theory, again supported by relevant evidence. This gave students a wonderful opportunity to develop their critical thinking skills and to learn to enter each new scene without preconceived determinations.
The lessons were also structured with partner and team components. This helped the students develop their interpersonal and collaborative skills, alongside the technical skills of the course.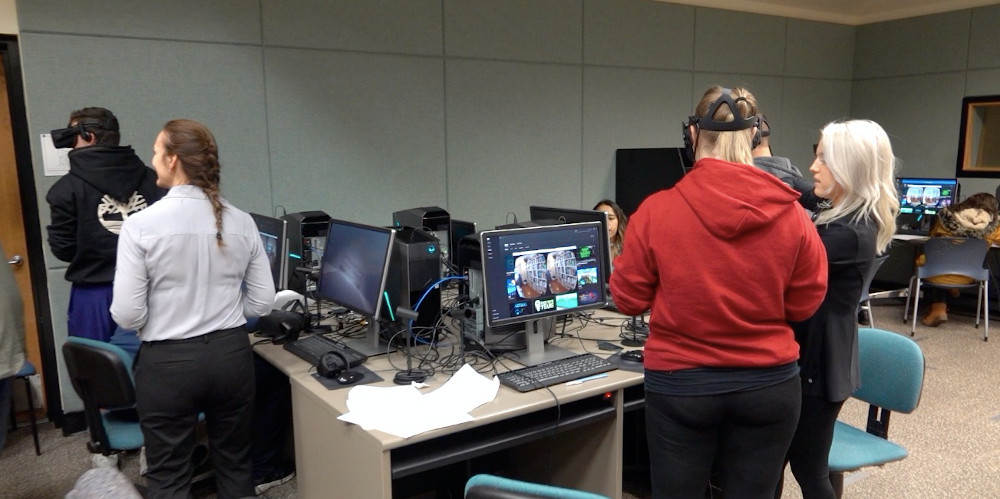 How did the students react to filming/investigating a virtual crime scene?
It is fair to say that the project was very well received by all three classes. The VR students were able to see their work being applied in an immediately tangible and useful way. "Instead of just learning about the technology, they could see how applicable VR is to many aspects of their future careers as makers," said Professor Slovenc.
For the investigating students the project was also highly beneficial. The sheer realism achieved in the virtual crime scenes meant students could apply everything they had learnt in a situation that was as close to reality as possible. This translated into high levels of motivation and participation. "The students' enthusiasm was palpable. It was exciting to see them so engaged while learning in the VR Lab," recalled Dr. Kazaba.
This was echoed by Professor Olson, who remembered that "Some students who previously had little motivation to work ended up shushing me during the virtual reality class because they were busy with their investigation."
A successful project?
Prior to beginning the VR project, the course was taught with just a physical staged scene for the class to investigate. While this will continue to be included as part of the curriculum, the VR component was a game changer in a number of ways:
More items could be included in the crime scenes. This gave students more evidence to examine and allowed for multiple theories to be explored. This was not possible previously due to limitations on time and space.
Unlike real crime scenes, students were able to take their time and revisit the scenes if needed. This provided a paced learning experience while they develop their skills and confidence.
Each crime scene filmed will become a part of the resources available to future students.
The inter-departmental collaboration meant that three classes benefited from the same project.
Ultimately, for the professors teaching the courses involved, many important goals were achieved through the project.
For Professor Olson, the most important lesson was to show students the complexity of a death scene and how every detail could have a huge impact on the outcome of a case:
"A single piece of evidence could have different meanings in different contexts. The interpretations of those meanings could mean the difference between obtaining justice and perpetrating injustice." Professor Olson

Meanwhile, Dr. Kazaba believes the virtual experience, which allowed students to explore multiple theories, helped highlight the need for open-mindedness and imagination. As a former police lieutenant herself, she believes these are very important qualities for both investigators and evidence technicians.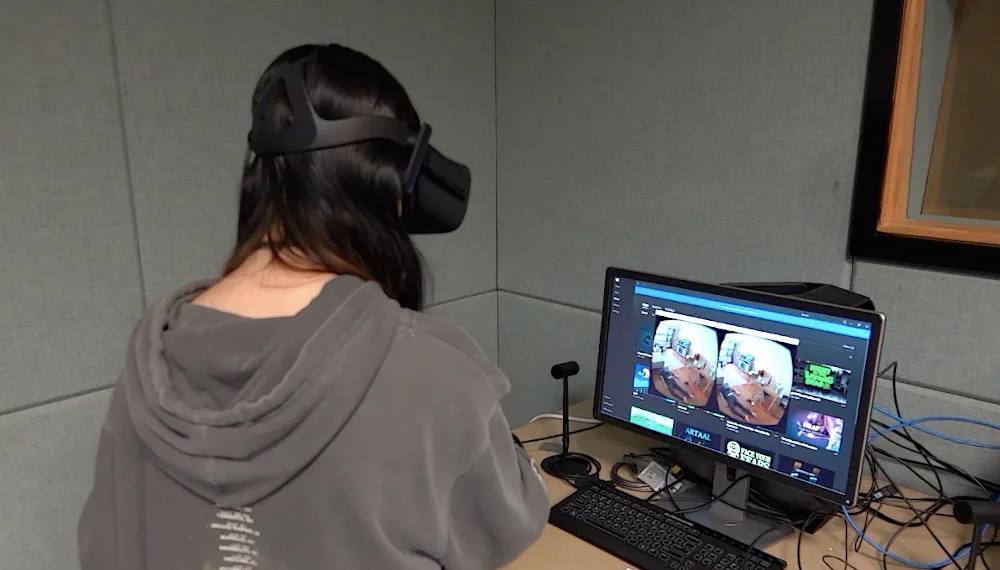 What further uses are there for virtual reality in education?
Virtual reality in education is used in a wide variety of disciplines and the possibilities are endless for bringing learning to life. Architecture students could use VR to design buildings, medical students could travel inside the human body, or history students could examine an ancient ruin, for instance. And given the increasingly affordability of VR solutions, all of these resources could be accessed by students both on and off campus.
"The use of VR technology is only limited by our imagination." Dr. Kazaba

The experiences of virtual reality in higher education are also likely to become more immersive and interactive, changing not just how courses are taught, but how university life operates.
As Professor Slovenc explained, "We expect that many more classes will be held online in the future. Since students will be denied real-life interactions in that context, one can see how virtual reality can replicate that interaction with avatars and social spaces… It isn't beyond reason to believe that the future of education may now be to bring the classroom to the students in the comfort of their own homes!"
How about VR use in real life policing and crime scene investigation?
VR is already widely used in law enforcement, with fully immersive trainings taken from body cam footage and other sources. Professor Olson expects it will soon become more widely used in crime scene investigation too.
Elsewhere, VR has huge potential in areas such as shoot/don't shoot situations. At CCM, for example, a firearms simulation is currently achieved through showing scenarios on a screen and using replica handguns. "It would be excellent to be able to add a virtual reality component, increasing the realism of those practice situations," suggested Dr. Kazaba.
For more info on CCM's 'Virtual Crime Scene Capstone Project' check out this report by New Jersey Spotlight News.
---
Keen to keep up to date on Insta360 stories? Keep an eye on our blog and sign up for our mailing list. You can also contact our Enterprise team directly to see how 360 cameras can benefit your business.