Everyone told the filmmakers at Habitat XR that filming African leopards in the wild was impossible. The solitary animals are notoriously hard to catch on camera and are declining in population around the world due to habitat loss.
But these filmmakers were inspired to catch the animals on camera for an educational project for kids. A passionate Belgian philanthropist asked them to create an immersive VR education experience on Africa's famously dangerous Big Five animals—lions, leopards, rhinos, elephants and buffalo.
Not only did Habitat XR manage to film the leopards, they even got one on a kill and another one sniffing the camera! Check out the full 8K 360 video below (be sure to toggle on 8K quality for the highest clarity). https://www.youtube.com/embed/6rZyQUpBIKY
By filming in 360 VR, Habitat XR has brought these elusive animals to life for children. In turn, they hope the experience can inspire children to care about these threatened animals and their environment—even if they can never visit themselves.
Read on to hear how Habitat XR filmed this VR educational experience in the African savannah with Insta360 Titan.
1. Could you briefly introduce yourself and this VR education project?
I'm Ulrico Grech-Cumbo, founder and CEO of Habitat XR, a production company formed in 2016. Our company specializes in using immersive technologies like VR, AR, holograms and projection mapping to reconnect people to nature.
The purpose of this VR exhibition was to expose the magic of the African bush to Belgian children and ignite a passion in them to come see it for themselves. We filmed in the famous Sabi region of the greater Kruger region, South Africa, over the course of 14 days. An exhibition was then put on in Brussels, Belgium in December 2019. All of the exhibition areas were turned into a wildlife photographic and immersive VR education experience.
We had a dedicated VR cinema area with a number of Oculus Go headsets for the children to watch the experience. We also developed a special auto-play app to help streamline the playback process.
2. Why do you think VR experiences are a good children's education tool?
I believe VR education isn't just good, it's unbeatable. The reality is our natural world is not doing well. There is less protected area in the world than ever before and it's more expensive than ever to visit it. Most people will never get to see these animals or environments.
We often say that VR democratizes access to nature. Jane Goodall says, "Only if we understand, can we care." VR education experiences allow people to care about things they may never witness in real life.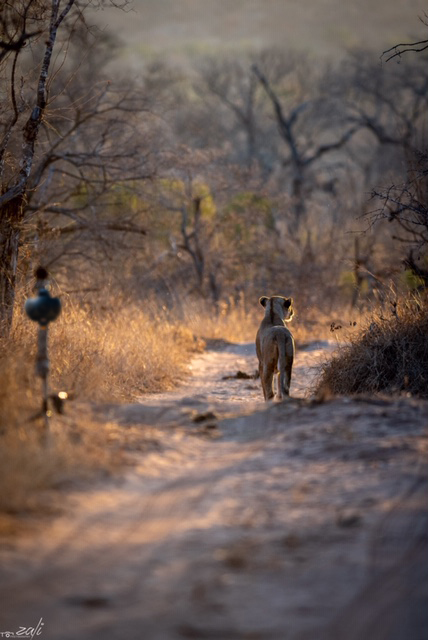 3. How did you film and edit the video for a children's audience?
We decided to mimic the style of a safari guide, as if you were on a safari jeep driving through a game reserve. The guide gives interesting facts about the animals visible in a way that is relatable to all ages.
This helped inform the editing style which was quite simple: a species-by-species account of Africa's Big Five. We tend to not write scripts until we've filmed all our content because often the animal behavior we captured will create plot points or viewer presence.
For example, as you can see in the leopard sequence, the young leopardess suddenly looks at the camera as if to acknowledge the viewer's presence. So, we reinforced that in the script by stating "Oh! she's seen you... stay very still!" We added a voiceover in English, French and Dutch for different versions.
4. What is important to you in a 360 camera for filming wildlife?
Filming wildlife is by far the hardest kind of live action filming you can do, especially in 360! Not only is our subject matter totally uncooperative, the conditions are harsh and the way we film is dangerous.
We have always filmed at the highest possible quality and resolution available in 3D 360. We needed quality cameras that could also deal with the hot African savannah, lots of dust and being shaken around in safari vehicles as we drive off-road.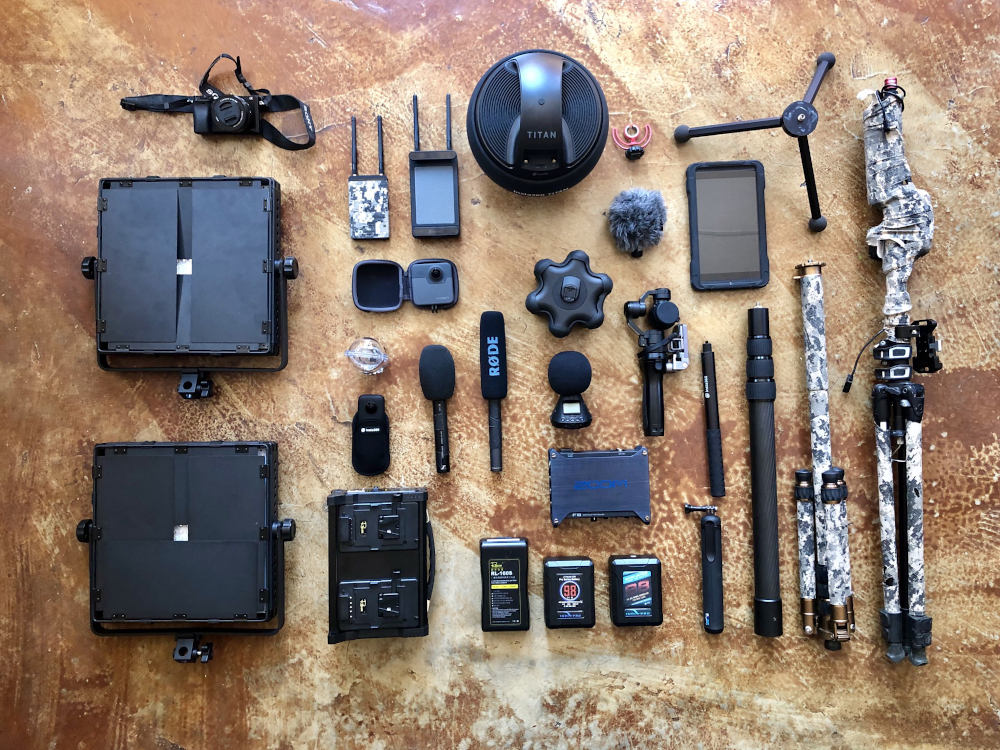 Because we need to get the cameras close to the wildlife, we often film on foot with our own team of highly qualified wildlife guides. We place a camera where we anticipate some movement and then we hide nearby behind some bushes and hope we don't get trampled, mauled or gored!
A preview system that gives us the furthest possible range for safety was highly advantageous, so Insta360 Titan ticked all of these boxes.
In addition to low-light scenes, we were able to film wild savannah leopards with the Titan, including this shot of one descending a tree. Everyone said this was impossible. We also filmed with the Titan a pack of wild dogs and some of the biggest elephants I have ever seen.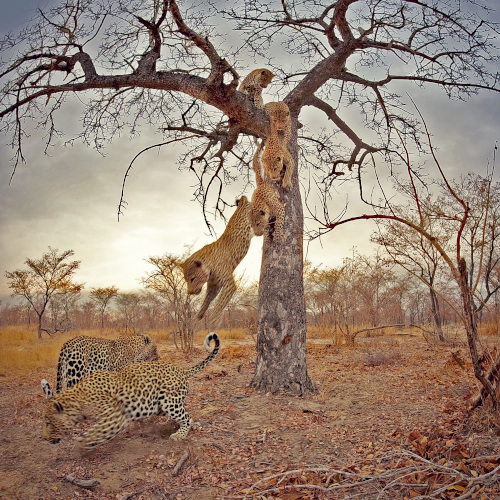 5. How did Insta360 Titan perform in filming wildlife?
What surprised us the most was how good the Titan is in low light. Filming wildlife is all about the number of hours you can clock filming. The more hours, the better the footage. For the past four years, we have been severely limited by the sun going down. Insta360 Titan gives us 2 to 3 extra hours every single day. Over a 14-day shoot like this one, that amounts to 30+ extra hours of filming time.
The other thing that was amazing was the bitrate of the footage and much deeper ability to color grade it than anything we've ever worked with before. You can see how beautiful some of those sunset shots are in 10-bit color.
"Much deeper ability to color grade the footage than anything we've ever worked with before."
The Farsight live monitoring system performed really well for us. It was a real game changer. It allowed us to be close to our camera, but hidden in bushes far enough away so that we don't get hurt by the wild animals.
"The Farsight live monitoring system performed really well for us. It was a real game changer."
The only exception was the first time we tried to use it—it was human error, not the Farsight though! We hadn't updated the camera firmware yet, but we found a fresh impala carcass which had been killed by a territorial leopard. We knew it probably left to drink water as they often do after feeding and we desperately wanted to get a camera down, which we were able to do.
Hoping for a return, we waited 45 minutes in the dark. Suddenly, we saw the reflecting eyes of a leopard coming back through the bush, but when we tried to press record, the camera didn't respond and we lost the shot! Needless to say, instead of having supper that night we updated all our firmware!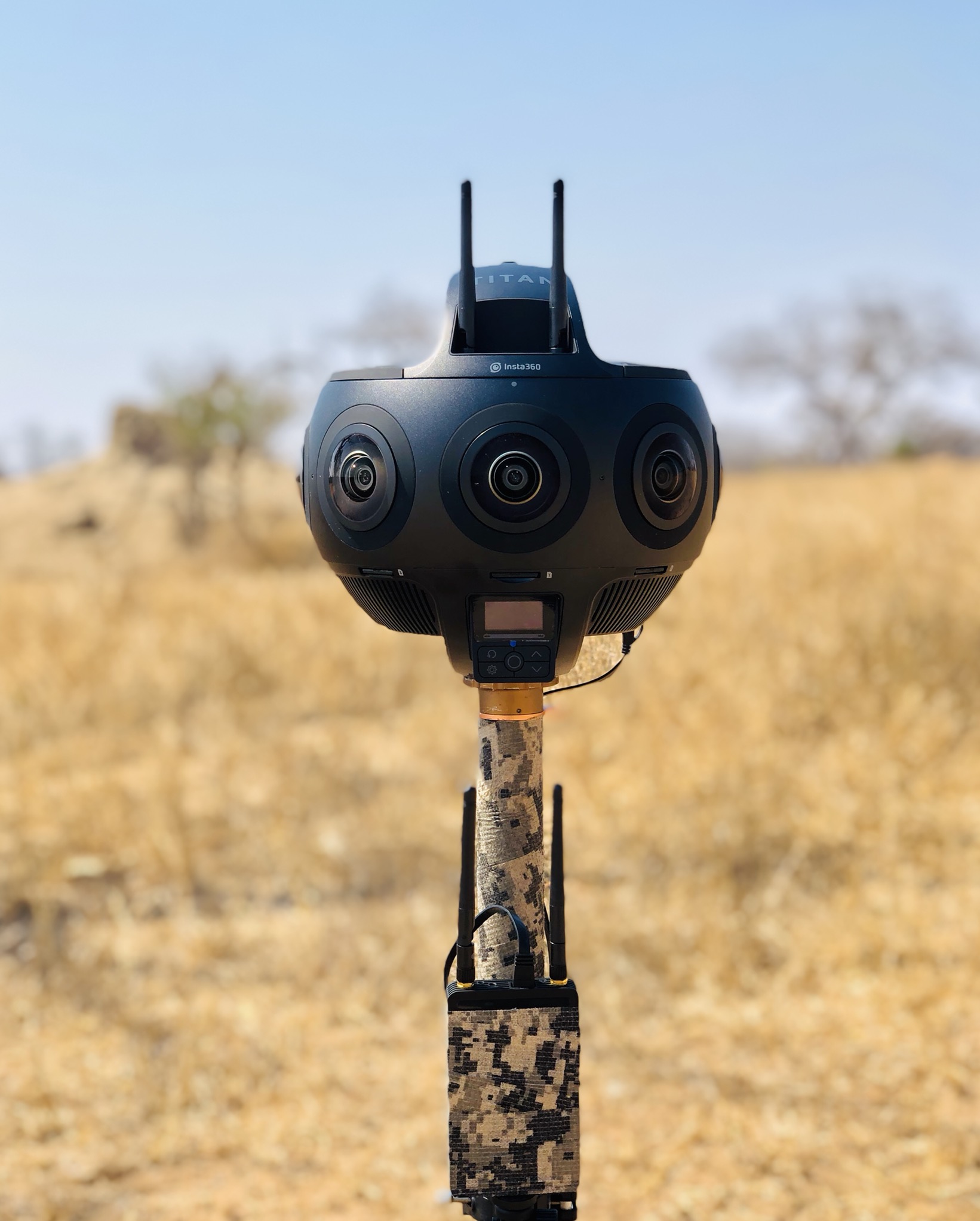 6. How did you manage to catch the leopards on camera?
Fortunately, we have a lot of experience filming wildlife but something we've never been able to film was leopards.
Filming wildlife in this format is all about predictability—anticipating where an animal is going to be just before it's there. A big part of that is being able to read animal behavior and know how it changes at different times of the day. This is something our cinematographer and wildlife expert Jared Reid has helped us understand so well.
The density of leopards in the Sabi region is very high though and we found numerous leopards. They also tend to love going into trees out there, so we used that to our advantage.
We were initially a bit nervous to put our new Titan down with the leopards as we've had many lions stealing our cameras before, but they did not care for them. This allowed us to get incredible shots of leopards ascending and descending trees right next to the camera!
---
Keen to keep up to date on Insta360 stories? Keep an eye on our blog and sign up for our mailing list. You can also contact our Enterprise team directly to see how 360 cameras can benefit your business.