A mental state. Meditation, even.
That's how Nathan Paulin sees highlining, the act of walking between two points while suspended hundreds of feet in the air.
In May, Paulin beat the world record for the longest highline, completing a 2,200-meter-long (nearly 1.4-mile) trek at Mont-Saint-Michel, a UNESCO world heritage site in France. To document the record-breaking feat, Paulin took the Insta360 X3 camera for a spin and captured the heart-stopping views from 100 meters high.
Paulin describes the experience as incomparable: "The feeling when I'm on the line… it's almost impossible to describe it. Sometimes I feel really powerful when I do that, but sometimes I also feel really small and I feel like I'm nothing. Being able to do that makes me feel free."
The man himself
Multiple world record holder Nathan Paulin has been highlining since the 2010s.
Paulin was hooked on the sport from a young age, when a friend introduced him to slacklining at 17. This involves starting with a tightrope loosely off the ground, as to get a feeling for balance, usually between two trees or something similar.
Once he got the feel for it, Paulin started highlining from greater heights. His most notable performances include highlining from the Eiffel Tower for charity and an immense 1662m long highline in the Cirque de Navacelles in 2017.
He's gained a significant following through his performances, and watching him in the zone is a true spectacle.
He also claims that he used to be afraid of heights, but we're not so sure about that.
Thinking bold
From the Chamonix glaciers, deep within Paris, to Brazil, Paulin has been on the hunt for grander locations and bolder stunts.
So, this time, the target: Mont-Saint-Michel, a tidal island off the coast of Normandy, France.
A UNESCO world heritage site, it's a picturesque location, perfect for someone like Paulin to tackle. A medieval Christian abbey sits tall looking over the island, and once Paulin and his team have everything in place, the results are simply stunning.
Armed with his Insta360 X3 camera, he took to the skies above the abbey, and the results speak for themselves. As a 360 action cam, Insta360 X3 captures impossible third-person views of Paulin's feat: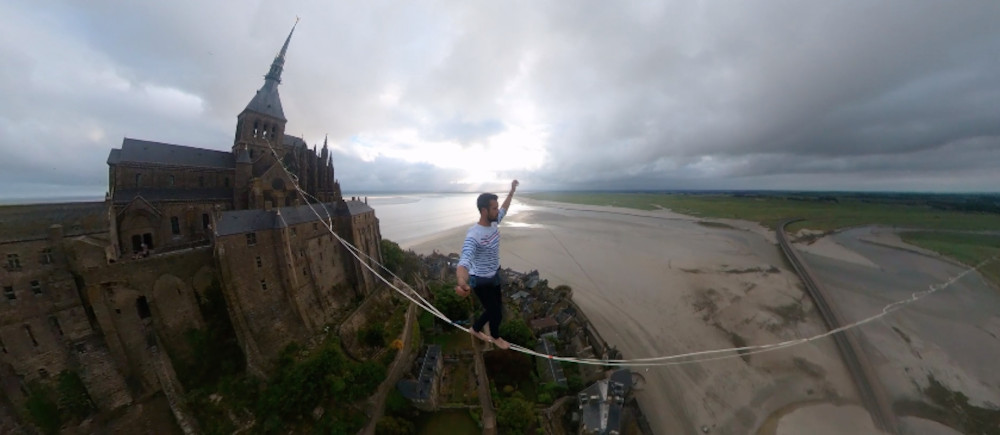 "It's between two points, no stabilization. Every motion that you put in… is going in the line and coming back to you. The only thing you face is yourself."
Paulin regards highlining as something akin to meditation, always having to focus on the present form. One misstep could be deadly, so it's important to stay focused and grounded (while suspended hundreds of feet in the air).
But never one to take all the credit, he regards his crew highly.
"My team is a big family. I bring many guys to help me. I can't do it alone, it's impossible… walking on the line is just the last step of the process... I share that with many people".
---
Keen to keep up to date on Insta360 stories? Keep an eye on our blog and sign up for our mailing list.