For the Man City FC content team, documenting the team's incredible treble-winning campaign has had them busier than ever, with entertaining, innovative footage needed for the club's 45 milion+ Instagram followers, 1 million+ YouTube subscribers, and more. A key player in the team's filming gear, alongside pro cinema cameras worth $6000+, is none other than Insta360 X3! Read on to find out why the team opted for this pocket-sized 360 action cam.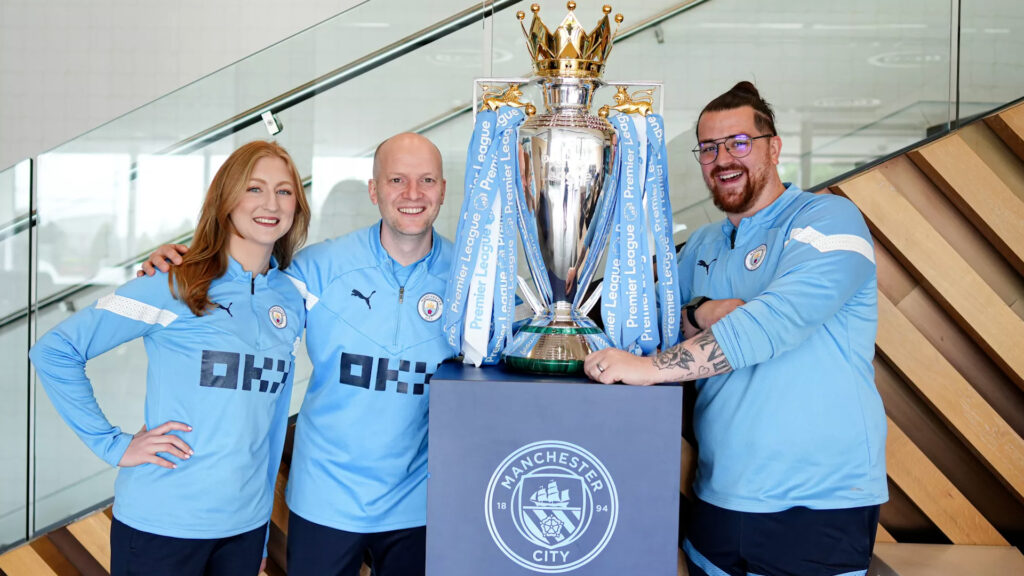 World Class Team, World Class Equipment
Before using X3, the Man City content team was also a regular user of its predecessor, ONE X2. So, what is it about these cameras that makes them so damn useful?
A key feature that makes X3 perfect for filming sports is the ability to reframe the footage, or in other words, to point the camera after the fact. This is helpful for two main reasons.
Firstly, keeping track of the fast-paced movements of players or a ball is no mean feat. Filming in 360 degrees, you don't need to worry about keeping up with lightning-fast subjects as you can make sure they're in frame later. This can even be done automatically thanks to X3's AI tracking technology, which can track people or objects and keep them centered in the shot.
The ability to choose the direction you're filming in later is also invaluable in situations where you don't want the camera to interfere or get in the way. Say, for example, a tense pre-game team talk. X3 can stay out of the way and still capture an immersive shot when you edit the footage.
Easy, Unique Effects
Another big benefit of X3 is its pure ease of use. The Man City content team can give the camera to any of the players and have them film with little to no instruction. This might be a natural, heat-of-the-moment reaction after a big win, or a "Javelin Shot" with Phil Foden.
And for a more light-hearted or fun angle, there's Insta360's infamous "Nose Mode". Allow Man City goalkeeper, Ederson, to demonstrate.
It's not just Man City that has been using X3 as part of their setup. Newly crowned champions of Spain, FC Barcelona, have also been at it on their recent open-top bus parade.
These creative effects are a huge plus for anyone looking to get unique shots or angles.
Whether you want to film a kickabout with your mates or the matchday antics of your amateur team, or for professional content creation purposes, Insta360 X3 can do things that simply aren't possible with a regular camera.
Find out more today about the benefits of adding Insta360 X3 to your creative arsenal.
---
Keen to keep up to date on Insta360 stories? Keep an eye on our blog and sign up for our mailing list.