If, five years ago, you happened to find yourself on the rural roads of Tuscany and you cast your eyes to the sky, you may well have seen something surprising. Rising from the trees not a bird, not a plane, but a personal flying drone. That's because here in the picturesque Italian countryside Jetson was working to change travel as we know it.
Now, Jetson's mission has become a reality. To record the trials and tribulations of building an innovative aerial vehicle, Jetson teamed up with camera company Insta360, with whom they share a belief in bold ideas. "Thinking bold is about believing in yourself, and accepting risk", Jetson founder and president Peter Ternström says of the mantra that guided their groundbreaking project.
Dreaming of a Flying Future
A long time ago in a galaxy far, far away… In 1980s Sweden, a young Peter Ternström had a life-defining moment. The release of Star Wars: Return of the Jedi left Ternström captivated by the way Speeders tore through the sky. Not quite an airplane, not quite a motorbike, they were unlike anything he'd ever seen before, and he was obsessed.
Tomasz Patan knows the feeling well. "As a kid I often stared at the sky, thinking about…how to get off the ground and just fly freely," he explains. Regularly skipping classes to build his own helicopters and airplanes, he knew that this would be a lifelong passion.
In 2017, Ternström reached out to Patan, and invited him to Italy to try to turn his childhood dream into a real life flying Speeder. "Life is about making your dreams come true, that's how you become a complete human being", Ternström says of the decision to start work on the project. Patan was soon in Italy, where the pair began their quest to change the way we travel and to make everybody a pilot.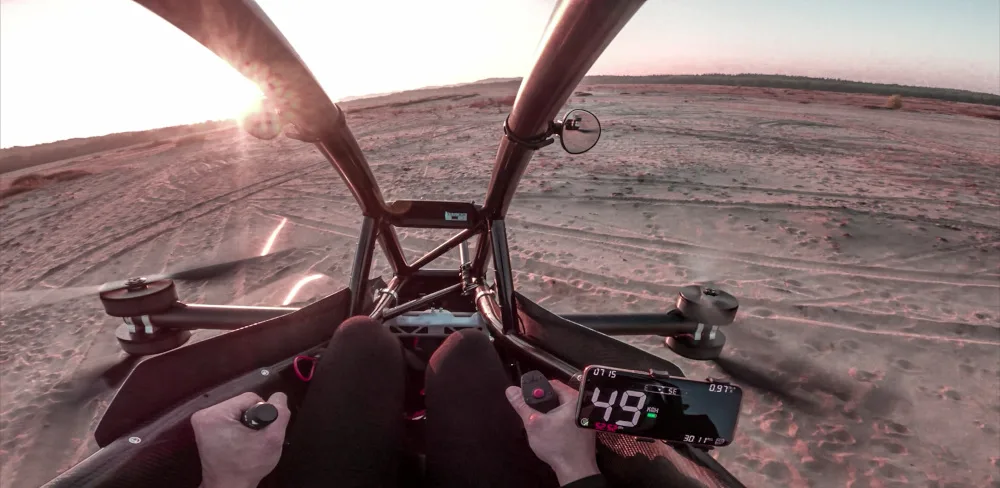 Built with Bold Thinking
"It almost sounded like a joke. At that time, we didn't believe that it was even possible," Patan says of the early days of the Jetson project. Ternström and Patan knew that to turn fantasy into reality would require some truly bold thinking.
With the desire to test the limits of what many thought was possible, the pair began to experiment. Attempting to build a drone that could take off and land vertically, and that was powerful enough to bear the weight of an adult, would be a major challenge.
By January 2018, they had a working prototype. A month later, the Jetson Aero Speeder completed its first manned flight in the idyllic Tuscan countryside. "I don't remember how it happened or what happened, I just remember it was an amazing feeling of your body becoming weightless," Patan recalls. Following a successful first flight, thoughts turned to how they could turn their prototype into a commercially available vehicle that would make the skies accessible to everyone and turn yards around the world into private airports.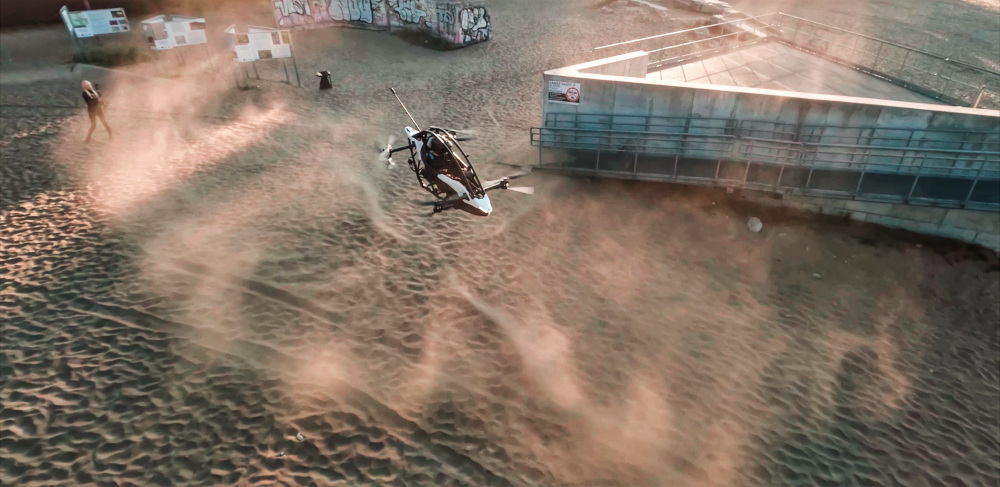 From Sci-Fi to Reality
Eventually, the Jetson ONE was born. Composed of a race car-inspired aluminum and carbon fiber frame and equipped with eight high-power motors, the ONE is an impressive feat of engineering. With a pilot sitting between the rotors in a lightweight chassis, it certainly wouldn't look out of place in the Star Wars galaxy that inspired it.
Capturing such a sci-fi innovation required a camera with equally out-of-this-world capabilities. The pair started using Insta360 ONE X2 to record the progress and the successes of their build.
Mounted to the back of the Jetson ONE with the Invisible Selfie Stick, Insta360 ONE X2 shot unobstructed third-person views in epic 5.7K 360. The Jetson team could choose all the best angles after the flight thanks to 360 reframing, while built-in FlowState Stabilization kept the videos super smooth. Patan adds, "Creating the Jetson ONE, I knew it was going to be something very special and revolutionary. I couldn't imagine not having the Insta360 ONE X2 to record the flights".
---
Keen to keep up to date on Insta360 stories? Keep an eye on our blog and sign up for our mailing list.