Cycling has become a hugely popular way to commute and get around all over the world, with many opting for greener, and less expensive methods of transportation. However, big cities such as London or New York can be pretty hostile to those who swap four wheels for two.
There are often few designated bike lanes and opposition to creating new ones. Meanwhile, many drivers are unsure about right of way, or reckless in their approach to cyclists. All this leads to regular accidents and sometimes even fatalities. Debates are frequently seen between drivers and cyclists, with finger-pointing at who should be on the road and who was in the wrong.
In the age of social media, cyclists have taken to posting clips of their journeys to highlight dangerous driving. A 360 camera can improve road safety by helping cyclists and drivers assess hazards, with 360 degrees to watch, analyze and share. Cyclists can reframe footage to show different angles, slow footage down, or zoom in to highlight issues and dangers. In essence, a 360 camera can show people exactly what happened, removing doubt or hearsay from the equation.
https://twitter.com/theJeremyVine/status/1638266252106911755
One person using Insta360 cameras to raise awareness of these issues is British broadcaster and avid cyclist, Jeremy Vine. Vine's Twitter has become a source of much debate with videos of his daily commute through Central London. These videos show the dangers he and other cyclists face and start conversations about how to make the road safer for everyone. He sat down with us to answer some questions on how and why he uses Insta360 X3 and Insta360 ONE RS 1-Inch 360 to film his infamous cycling videos.
Hi, Jeremy! Please could you tell us a bit more about yourself? Who you are, where you're from, and what you do.
That's a seriously broad question! I'm a dad, a broadcaster, a writer. I have a radio and TV show and I cycle a bit. Most of the time cycling in Central London is lovely. Other times it's not so good.
Why do you capture and share your cycling videos on social media?
I think the key word of the 21st century is "share". If you've got something to say, you want other people to hear it. And now tech gives us the platforms to do that. I reckon my videos shot with Insta360 cams have been viewed more than 20 million times.
What are the biggest dangers for cyclists on the road, particularly in London?
There are two things. The first is drivers who think "I'm not going to pause on my way out of this junction", even in daylight when cyclists are easily visible. The second big danger is being close passed by a large vehicle, leaving you feeling you've nearly lost your life. The bus move here was outrageous.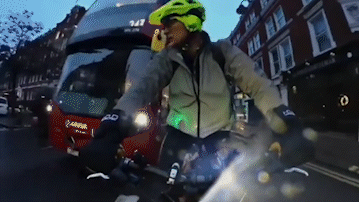 Why did you decide to use a 360 camera when cycling? What is the value of a 360 camera for road safety?
Firstly, it literally gives you eyes in the back of your head. You can see which drivers are dangerous or which drivers are on their phones, for example; you can also reconstruct an incident afterwards to understand why something went wrong. Secondly, you can get some really beautiful shots. I cycled through Hyde Park using the 15ft Insta360 Extended Edition Selfie Stick and it just looks incredible. It's a combination of enforcement and beauty.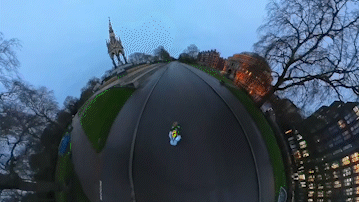 Can you describe your filming setup for us? Which Insta360 cameras, accessories, and mounts do you use?
I use two cameras, Insta360 X3 and Insta360 ONE RS 1-Inch 360. Mounting is really important — I mount the ONE RS 1-Inch 360 to my cycling helmet. The Helmet Mount gets stitched out of the footage and the camera looks really high. I then attach my X3 to the Handlebar Mount every time I ride. The two cameras together are quite powerful.
(Learn more about the Bike Handlebar Mount here.)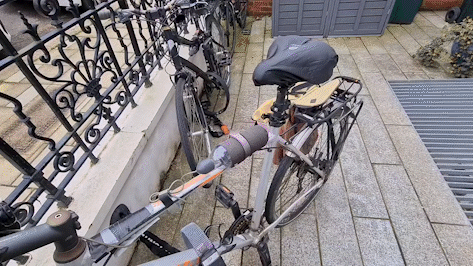 What features/functionality are important to consider when selecting a cycling camera and accessories?
You have to think about mounting — where you can actually put the camera safely, and how quickly you can detach and re-attach it. Also, battery life is crucial. If you have a 2.5-hour commute, you're going to need a camera that can power through. You've also got to think about how you get the footage off the camera. With Insta360 cameras, you can connect it to your iPad, tablet, etc., and it's easy to transfer your footage to then edit. I really love using effects such as Freeze Frame and Slow Motion in my videos.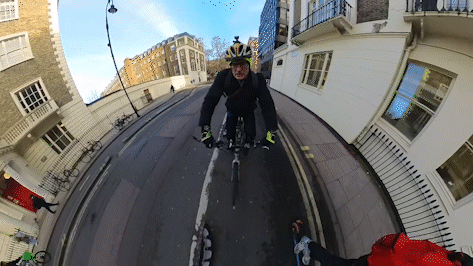 What message are you hoping to spread with your videos?
I just want drivers to be able to see what it's like to be a cyclist in the big city. If drivers knew what it felt like to have a car just pull out in front of them — like the one below — they wouldn't do it.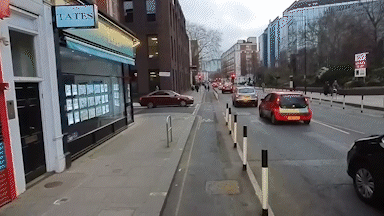 All in all...
Using a 360 camera such as X3 or RS 1-Inch 360 to film your cycling journey can improve road safety by visually showing the dangers cyclists face and how to prevent them. Sharing these videos can help to educate all road users on how to keep each other safe and prevent accidents.
A handy feature of both these cameras is Loop Recording. Similar to a dash cam, this mode allows you to set a loop duration that continuously overwrites footage, so you only keep the clips you need. If you're waiting for something but are unsure when it will happen, use this mode to prevent the camera's storage from filling up.
And it's not only about safety! Cycling with Insta360 cameras and mounts is a great opportunity to capture stunning footage of your ride. For awesome urban shots, X3 is a powerhouse of an action cam ready for adventure. Taking in the scenery? RS 1-Inch 360 captures breathtaking 6K footage, even in low light. Edit and reframe your footage later and you can end up with some seriously cool cycling shots to share.
Disclaimer: This interview is not sponsored. Jeremy Vine is a paying customer of Insta360 and any views he holds are his own.
---
Keen to keep up to date on Insta360 stories? Keep an eye on our blog and sign up for our mailing list.