What sort of futuristic technology is on your wish list for the next decade? What about a wearable Jet Suit? If Richard Browning has anything to do with it, Jet Suits are about to get a lot more popular.
Richard Browning is the founder of Gravity Industries, responsible for inventing the world's first body-controlled Jet engine powered Suit. He's been called a "real-life iron man" in the media and among his fans for his futuristic flights with the Jet Suit. His Jet Suit videos are constantly going viral, including his latest video shot on Insta360 ONE X2 with the Royal Marines.
Ask Richard Browning where his drive for innovation and adventure comes from and he'll say it's probably "in the blood." Before starting Gravity Industries, Browning spent 16 years at British Petroleum, revolutionizing how world trading worked by tracking the world's ships using a collision avoidance system. He was also a Royal Marine Reservist for 6 years.
Browning's late father was also a maverick and adventurer, as well as an aeronautical engineer. So from a young age, Browning says he got used to "taking things apart, making things and breaking things." Ever since he was a kid, he's loved to question "whatever is over the next hill" by doing whatever everybody else hasn't done before.
Now Browning's turning his sights on the evolution of human flight Jet Suits—with a 360 camera along for the ride.
How Richard Browning captures the joy of human flight
Richard Browning had no real purpose when he started Gravity Industries. He says he started it "purely for the joy of the challenge to see if it was possible." Beyond that challenge, now he is demonstrating the capabilities of human flight across the world alongside his team at Gravity Industries and inspiring a new generation of inventors to follow his path.
Capturing a futuristic flight demands a futuristic camera. With an Insta360 ONE X2 camera mounted on his Jet Suit using the Invisible Selfie Stick, it really feels like you're flying right next to him across the water. The stick disappears automatically in the footage, which Browning says "fools a lot of people."
"I've had people ask, is it a really good drone pilot hovering over my shoulder or is it even a bird with a camera?"
Browning says of the camera, "The Insta360 camera has been brilliant. With VR goggles, the footage really does look the closest you can imagine to actually flying. We've used it so much to capture what it feels like to be part of the action."
He also uses the camera's GPS stats function to overlay his Jet Suit speeds onto his videos. Watch him reach up to 50 km/hr below:
Jet Suit racing: the sport of the future?
When it comes to in-person entertainment, Browning has already demonstrated the Jet Suit at 111 events in 32 different countries since 2017. Now to scale the events, Gravity Industries is forming an international racing series for Jet Suits.
The concept is simple but sounds like a scene straight out of an action movie. During each race, a few Gravity Industries pilots race each other at iconic waterfront locations in cities around the world. All races are planned over rivers, lakes or seafronts in the case of a technical malfunction or accident. 
Browning says the racing series is similar to Formula One racing in that there's no main practical purpose behind it except for entertaining, "It's just a great way of entertaining, inspiring and pushing the technology forward." The upcoming races will be open to the public and Browning promises they'll be "a real spectacle to watch."
He's also looking forward to the possibility of live broadcasting from a 360 camera in the future. Browning thinks "It would be quite cool if you could steer the 360 video around in real time…watching different pilots and obstacles swoop past you."
Can you learn to fly a Gravity Industries jet suit?
But you don't have to sit on the sidelines and watch either. Browning insists that almost anybody can learn to fly one of his Jet Suits and become a "real-life iron man" too. The record for learning to fly a Gravity Industries jet suit is just 4 minutes, but Browning says even the average person can learn in just 15 minutes cumulative time in the Suit.
Browning compares learning to fly with the Jet Suit to learning to ride a bike. He teaches people to fly the Jet Suit using a tethering rope system where you can't fall any lower than your knee height—kind of like training wheels. This way, people feel relaxed and can learn without worrying about suddenly falling off.
Gravity Industries' Jet Suit design is different from many other Jet Suits because the jets are attached to the arms and feet. This means you can actually intuitively control and direct the Jet Suit with your body, rather than technical methods. If you splay your arms out, you feel like you're being lifted less. And if you point them downwards, you feel like you're being lifted more.
Browning starts teaching people to fly on very low power. As he gradually increases the power, they start to learn to control rotation and their stability. Browning says if you follow instructions, "you'll find lots of it is very similar to riding a bike and can be very quick."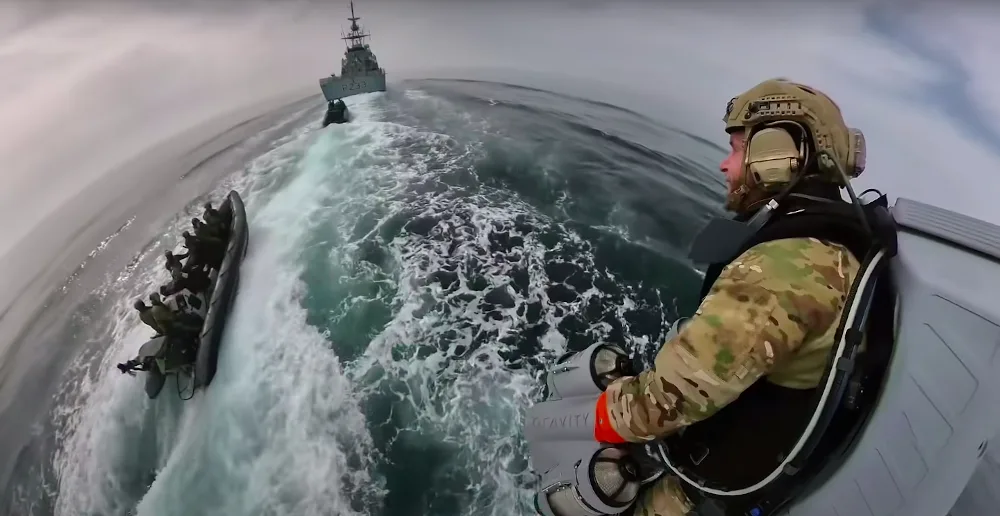 What's next for Richard Browning and Gravity Industries jet suits
Aside from Jet Suit racing, Gravity Industries also does a range of client trainings, TV and film work, and even cooperates with the military. All the while, they aren't slowing down their pace of technical development either.
Browning recently broke his own world record in November 2019 for the fastest flight in a body-controlled, jet engine-powered suit. The new record is 85 mph, far eclipsing his initial speed record of 32 mph set in 2017. He says he doesn't have any particular record ambitions in mind for the future but he "likes the speed and distance ones because they're good milestones to prove how far we've come."
Browning's also currently fascinated with the transition from VTOL flight (vertical take-off and landing flight) to aerodynamic flight using wing systems.
VTOL basically refers to aircraft that can take off, hover, and land vertically—like a helicopter.
But the biggest technical challenge with this type of flight is flight duration, because it burns a lot of fuel to stay in the air. That's why Browning is currently testing flying with wings, because "You need an awful less fuel with wings and you can also go a lot faster."
Gravity Industries has also used Insta360 footage for technical development purposes. Browning says they use the 360 camera a lot for post flight analysis:
"With a 360 camera, you can sit with VR goggles on and scrutinize in detail all the aspects of the wing movements."
"You can replay the footage and almost sit underneath the pilot, looking at the wing surfaces and see how they are all moving and stuff. It is very cool. That was quite a discovery."
He's currently trying out a leg wing now which he says is "proving to be quite effective." Check out this video of him testing the wing here:
While Jet Suits are still too cost-prohibitive for most to buy, Richard Browning is finding other ways to make the tech more mainstream. Like other extreme sports, you might not want to attempt Jet Suit flying yourself but it sure is fun to watch.
To learn more about Gravity Industries jet suits, check out our interview with Richard Browning below:
---
Keen to keep up to date on Insta360 stories? Keep an eye on our blog and sign up for our mailing list.