A drone fitted with Insta360 cameras flies through the blow of a whale and collects exhaled "snot" on a petri dish. This drone is called SnotBot®, a non-invasive, innovative drone solution from Ocean Alliance. By collecting important biological data with SnotBot, they can understand the threats against whales and the impact these threats are having.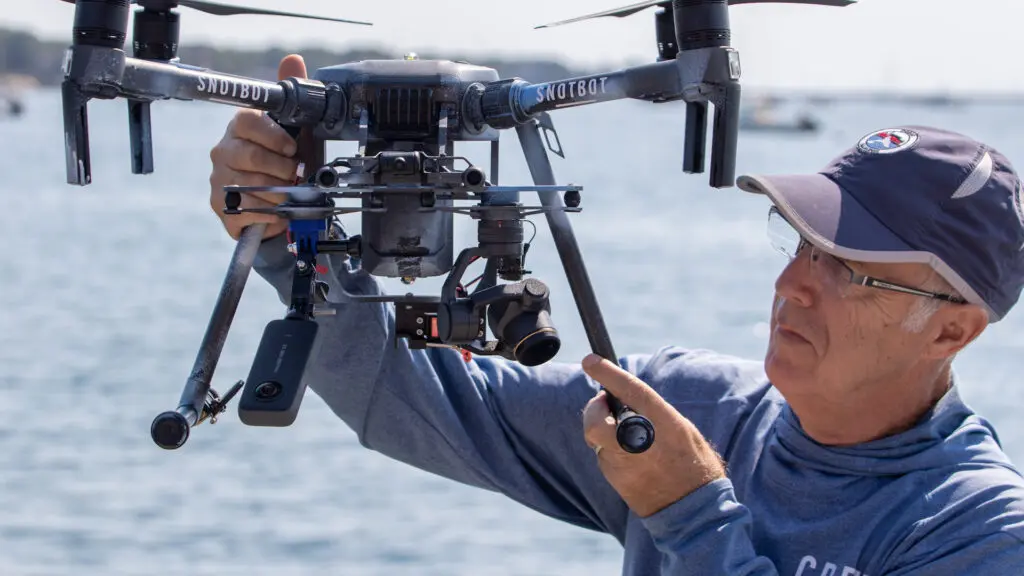 Ocean Alliance has used various Insta360 action cameras to aid their research from ONE X, ONE X2, to the pocket powerhouse, X3. Insta360 cameras have proven to be a key part of their mission and have documented their expeditions creatively and interestingly.
Ocean Alliance's Mission
Whale biologist and conservationist Dr. Roger Payne founded the non-profit organization Ocean Alliance in 1971, focusing on whale research and conservation. Their mission for over 50 years has been to protect whales and their ocean environment.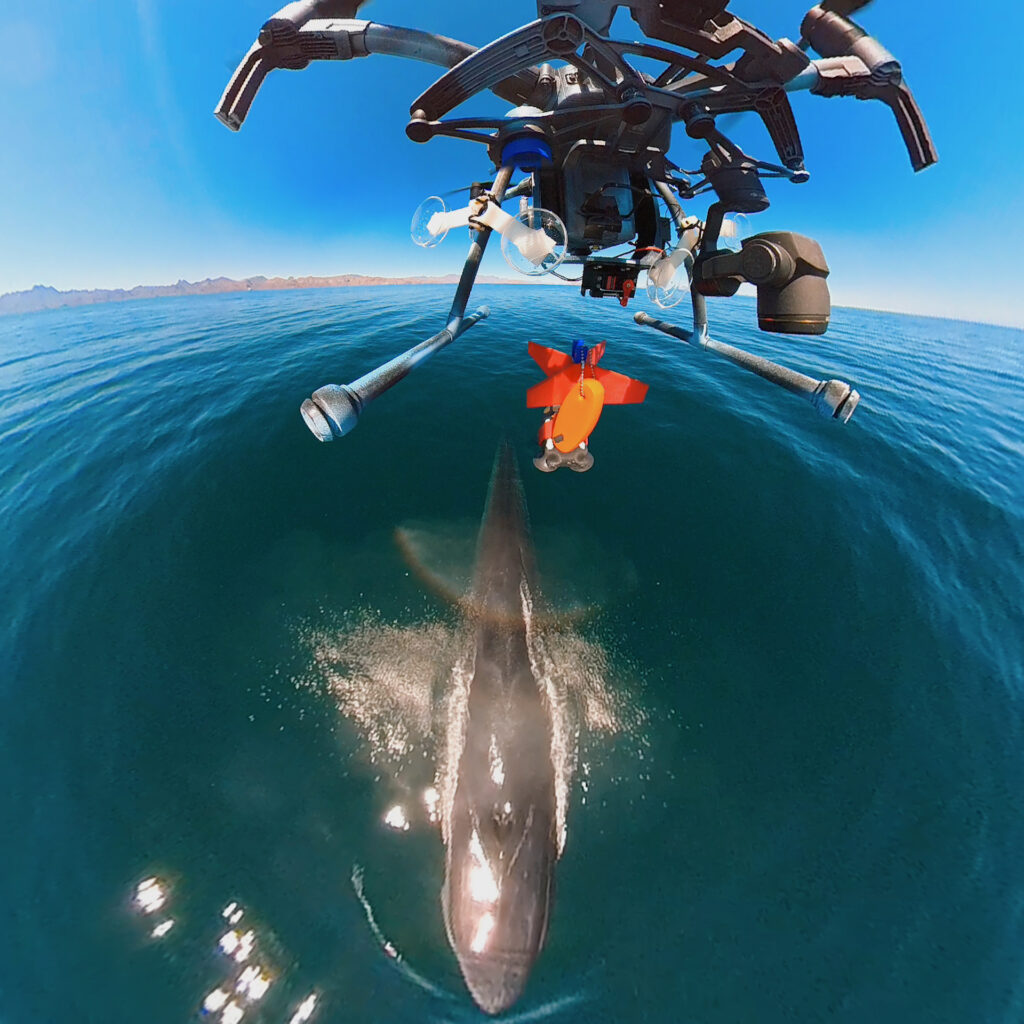 Why? Commercial whaling, particularly from the 20th century, devastated whale populations. Despite efforts from the Save the Whales movement, of which Dr. Roger Payne was a part, many whale species have not recovered.
Now new dangers such as climate change, noise pollution, and chemical pollution threaten whales. These new threats are diversifying and intensifying, leaving many whales critically endangered. Ocean Alliance is helping to save whales from extinction through research, scientific collaboration, public education, and the arts. Their datasets have shaped whale science, particularly through their innovative and unique methods — meet SnotBot.
What is SnotBot?
Ocean Alliance launched SnotBot, a modified consumer drone, in 2015. The main goal was to develop an easy-to-use, affordable, scalable, and replicable tool. Ocean Alliance uses SnotBot worldwide to conduct biological health assessments of free-ranging whales without the animals knowing.
To conduct health assessments of animals, you need biological samples from that animal. In the past biologists have had to chase an animal down to collect a physical biopsy sample. This is an invasive procedure that could further stress an endangered species.
In 2013, Ocean Alliance realized that when whales exhale, they are blowing priceless biological information into the air like DNA, hormones and microbiomes, so they developed an affordable tool to collect these biological health indicators in a non-invasive manner. CEO of Ocean Alliance, Dr. Iain Kerr, recognized drones had enormous potential in whale science, and SnotBot was born. Look closely, and you'll see attached to SnotBot is none other than Insta360 X3.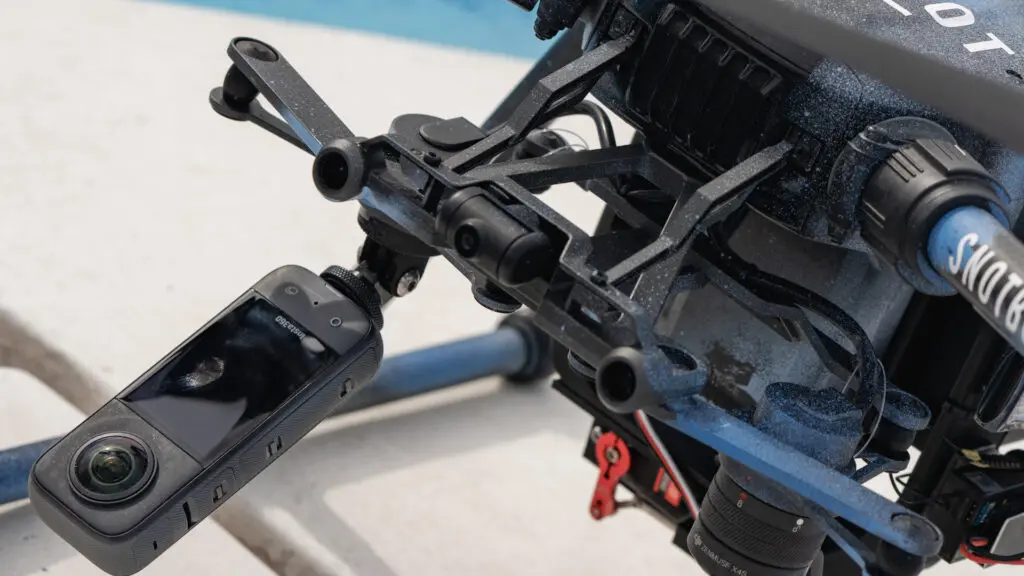 Why Ocean Alliance chose Insta360
"With our Insta360 cameras not only do we get amazing footage but we also get solid documentation of the drone flight and the experiment." Dr. Iain Kerr, CEO of Ocean Alliance
The slim shape and compact design of X3 make it perfect to incorporate into the SnotBot drones to aid their research. One of the most impressive views of SnotBot is achieved by reframing X3's footage to look back at the drone with the camera mount perfectly stitched out. The effect is this amazing "floating camera" view.
"A lot of people are a bit mind-blown when they see 360 footage for the first time...people often ask why we're filming the drone with another drone, not realizing it's actually a 360 camera." Chris Zadra, SnotBot pilot
Unexpected things happen all the time working with marine mammals. You could miss vital information if you're looking the wrong way for just one second. Having Insta360 cameras on board means all those special moments are captured to look back at and study later. With 5.7K 360 video and the ability to reframe later, nothing is missed by having the camera pointing in the wrong direction because you don't even need to point the camera.
For more on reframing and how it works, check out this article.
Another thing when studying whales? It's going to get pretty wet. Luckily, X3 is waterproof to 33ft (10m) straight out of the box. Water sports, diving, and clouds of whale snot are no issue for X3's rugged, watertight design!
Besides research and documentation, they can quickly edit these moments in the Insta360 app for social media. With 360 videos, you can edit the same clip in several different ways with different views and effects, so one good video can produce tons of great content. Engaging, visually interesting videos are vital for an organization that uses social media to raise awareness and garner support for its important cause—one video with X3 has over 30 million views on SnotBot's Instagram.
How Ocean Alliance use X3
"The Insta360 cameras have been fantastic research tools...whether it be collecting whale snot for health assessments or dropping data tags on whales to better understand their underwater lives." Andy Rogan, Science Manager of Ocean Alliance
Ocean Alliance has various 3D printed mounts to secure X3 to the drone. Just before launch, they hit the Shutter Button and start recording. Thanks to X3's 1800mAh battery, there's plenty of power to film the flight. They set X3 to 3K or 4K50fps, allowing the option to shoot in slow motion for those really epic moments.
However, it's not just about capturing mind-blowing footage. X3 has proven valuable in gathering information, such as evaluating the state of an entangled or distressed whale. With 360 degrees of capture, the camera sees things that are impossible to see from a boat. By attaching X3 to a drone or a response vessel, they get remote underwater, surface, and aerial views of the whales and their entanglement.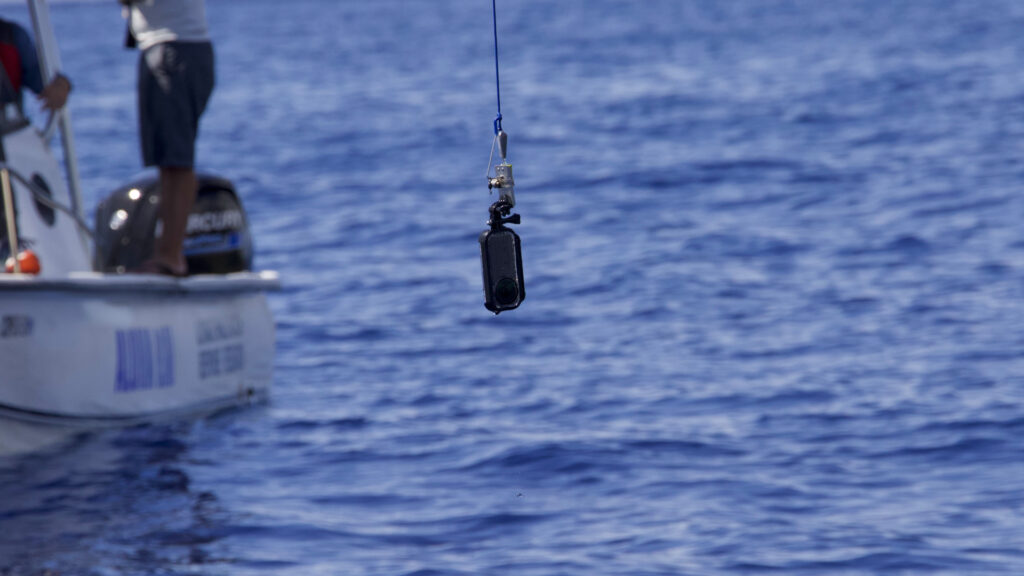 This can help conduct operational assessments, plus its size and resolution allow it to provide full views of the situation.
"If we are the whale doctors, the Insta360...cameras are our stethoscopes - a primary means to assess them and the entanglement." Edward Lyman, Natural Resource Specialist and Regional Large Whale Entanglement Response Coordinator
The future of SnotBot and Insta360
Insta360 X3 has proven invaluable to Ocean Alliance's SnotBot program and overall contribution to whale science.
Natural Resource Specialist Edward Lyman says, "It [X3] could very well become one of our principal assessment and documentation tools."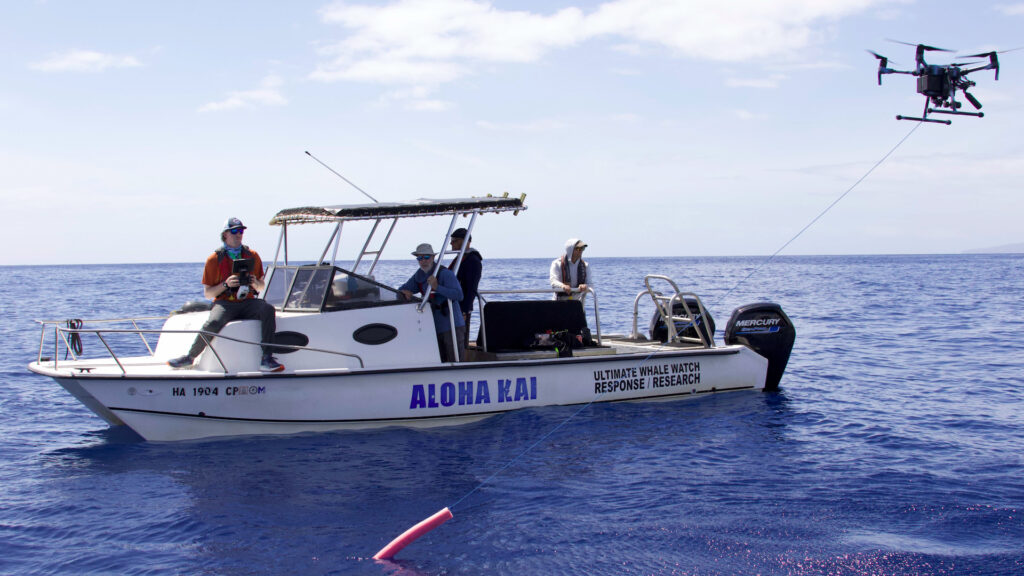 In the future, Ocean Alliance will continue to use Insta360 cameras more frequently. They aim to better document their work in the field and share clips of the SnotBot crew in action.
Ocean Alliance aren't yet ready to reveal their exciting plans for X3. However, they are developing ideas for using Insta360 cameras with drone-based data collection methods to capture some never-before-seen angles.
Find out how you can help Ocean Alliance and their incredible mission by visiting their website.
---
Keen to keep up to date on Insta360 stories? Keep an eye on our blog and sign up for our mailing list. Looking for a high-quality 360 camera for your project? Contact the Insta360 Enterprise team today and see how we can help you.